Trail Information
Trail Name: Homestead Mesa Trail
Location: Near Boulder, Colorado
Date: November 3, 2019
Time at the Trail Head: 12:30 pm
Trail Length: 3.3 miles (hiked extra 1.0 mile)
Elevation Gain: 613 feet
Elev. at Trail Head: 5,908 feet
# of Hikers Passed: 50+
# of Mnt. Bikers Passed: 0
# of Horses Passed: 0
Mosquitoes: 0
Trail Research
As always, I start out visiting AllTrails.com. This is my favorite source for trail information.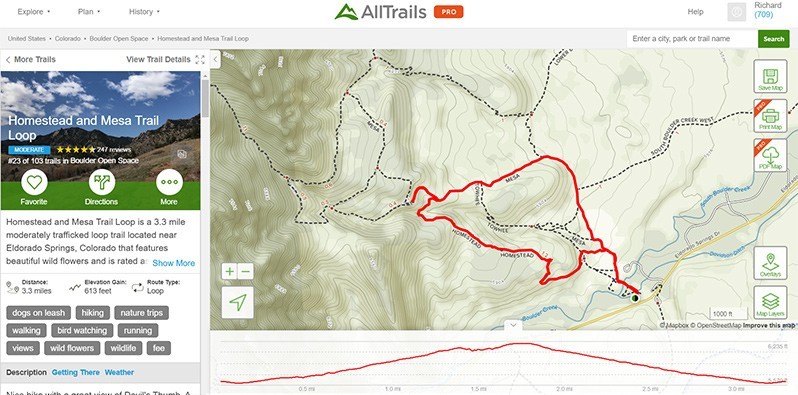 You can see from the map that this is only a 3.3 mile trail with an altitude gain of 613 feet. The trailhead starts near Boulder, Colorado at an altitude of 5,908 feet.
I picked this trail as it seems to be mentioned a lot among the locals. I also like having trails like this that I can take friends and family to that are not use to the altitude in Colorado.
Lastly, I have driven by here several times and was always in awe of the scenery and even stopped and watched the sun set over the Flatirons several times, only to find out that this is a popular trail just south of Boulder, Colorado.
The Drive to the Trail
The drive from Parker to Boulder is through Denver and surrounding suburbs, but as you can see, the views are still fantastic.

The trail is easy to reach and is paved until you enter the parking lot, which is gravel. Make sure you have $5 on you if you are not a Boulder resident, as there is a parking fee. I was told that it is monitored and tickets will be given out.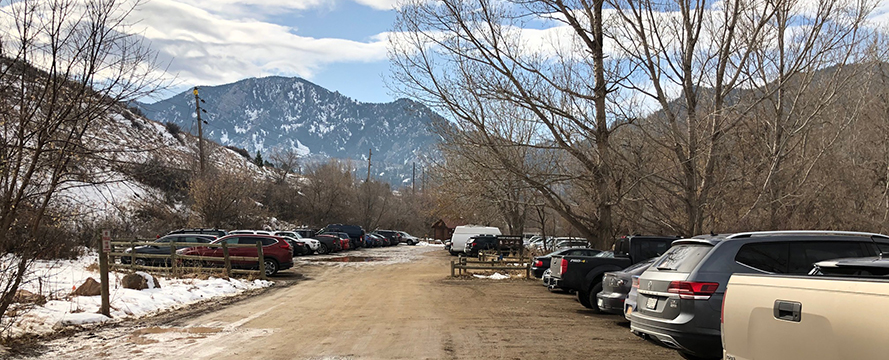 My Day on the Trail
The trails in this area are very popular, so parking is a challenge.
There are bathroom facilities at the trailhead so you can enjoy some of the benefits of the outdoors. We had three days of snow about 5 days prior to the hike on this trail. We received about 7 inches of nice white, wet snow, so the to 50 degree days made this hike extremely muddy, for at least half of the hike. It was still a beautiful hike.
The first thing I noticed on this hike, due to the snow and mud, was the need for trekking poles. I slipped multiple times going up and down the mountain. I stopped and talked to someone with trekking poles and they said that they were a must, in his opinion.
LEKI Micro Vario Carbon Trekking Pole Pair - 110-130 Blue
Exclusive AERGON grip features a hollow core construction to save weight and create an edgeless, rounded grip for comfortable gripping at all angles especially for "palming" on steeper terrain. Thermo foam grip material for extra comfort, light weight and insulation in colder weather. Built in 8deg Positive Angle in LEKI grips keeps wrist in neutral position and provides more efficient pole plants.
Air-textured "no bulk" security strap maintains design dimensions of grip; efficient wicking and fast drying; adjusts and secures strap adjustment without buckles. Extended foam grip for traversing and climbing. SPEEDLOCK 2 lever locking mechanism is simply THE strongest external locking system in the world as rated by TUV, and the only locking systems to meet the minimum holding force recommended by TUV.
100% High Modulus Carbon shaft sections for reliable, lightweight performance in all conditions. PE coated, Kevlar reinforced tension cord for long term reliability. ELD (External Locking Device) gives easy access to release the assembly tension of the pole for quick knock down and packing. Maximum tension between shaft sections made possible by internal (serviceable) spring in lower shaft.
Carbon section ends are protected by machined Aluminum sleeves for extra long wear. Machined Aluminum connectors help to center shaft sections for quick, snag free assembly. LEKI's original Carbide Flextips provide secure hold on all terrain and surfaces for years of adventure; easily replaced in the field.
Interchangeable basket system allows a variety of different sized LEKI baskets to be easily screwed on/off for different seasons/uses thanks to offset threads that keep the baskets securely in place.
The entire hike was gorgeous. Not only was the weather great, but the views were stunning the entire way, plus I think the snow makes it more beautiful.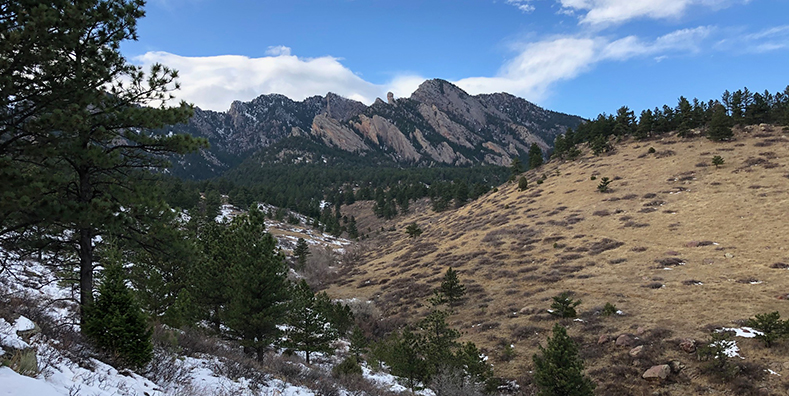 You start out on a wide graveled trail near the bottom. I chose to go "clock-wise" around the trail, so I started up a single-track trail pretty quickly. There were great views of the mountains to the south of the Eldorado Canyon State Park and also of the Mesa looking to the southeast. It was hard to see the flatirons for the first mile on the trail but soon I started to get some great views of the mountains on the west side of Boulder.
I reached the top of the Homestead and Mesa Trail loop but had not seen the homestead yet, plus I knew I would see some better views if I went a little higher. I was rewarded with some incredible mountain views and, finally the homestead cabin. I'm not sure how old the cabin is but it looks like someone had done some work on it recently.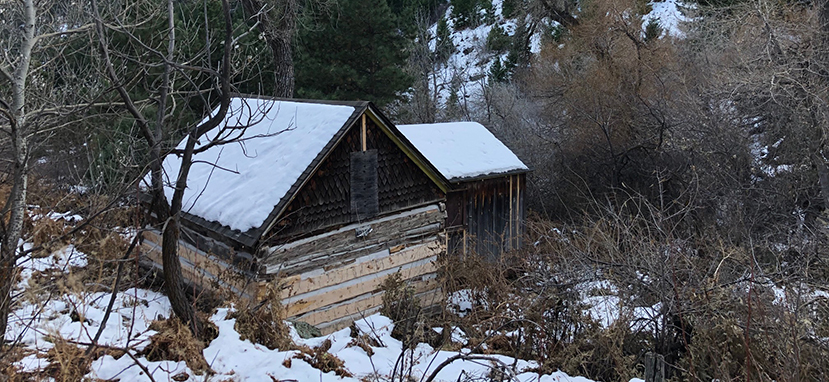 Near the cabin is a great looking rock outcropping that jets out high above in the mountains. It is a spectacular looking view.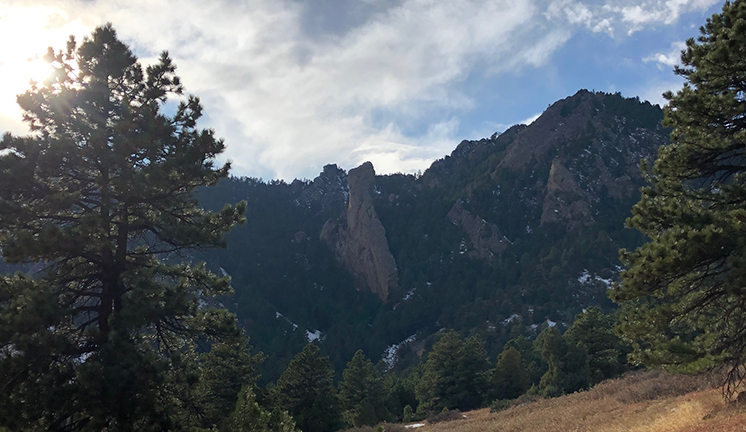 The sun had started setting over the mountains as I started back down the trail, so I was able to get some more great photos and videos.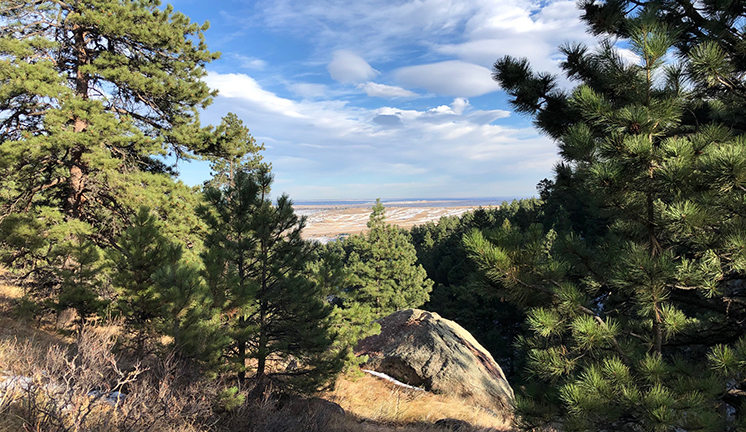 On the way down, the trail turned back into a wide path and I can see why. There were a lot of hikers on the trail. When I reached the trailhead, I was greeted by at least 10 photographers, taking pictures of families and high school seniors for their senior pictures. I don't like heavily traveled trails but it's nice to know where some good ones are if you want to get out quickly.
Trail Recommendations
This is a great trail on the northwest side of Denver, that is easy to get to and has some incredible views. It is heavily traveled and you should get to the trail as early as possible.
Everyone was extremely friendly and I enjoyed the hike and grand view, but there are a few things I would recommend for a hike in Colorado in November:
Waterproof hiking boots
Trekking poles
Check out the video of my hike at my YouTube Channel.
I would love to here if you have a great trail to visit. Leave a Comment below or send my an Email.
Return to Home Page
Bestseller No. 1
Trekking The National Parks | The Award-Winning Board Game for Family Night
Best-Selling & Award-Winning National Parks Game: Winner Of The Mensa And Parent's Choice Award. See the many 5-star reviews!
Created By National Parks Enthusiasts: This couple traveled to every single national park and then worked with their son to make the game.
Fun + Educational: It's the perfect recipe for a family game night! Appeals to a wide range of people: outdoor lovers, board game players, and gift givers. One of the best board games for kids 8-12 and up!
Share the Joy of the National Parks: Share your memories, and dream about where you'll travel to next. Grandparents, Adults, Teens, Tweens, & Kids can all play
We are proud to be a small, independent business, founded by two people's mutual love of the national parks. We always donate a portion of all proceeds back to nonprofits making a difference around the world.
Bestseller No. 2
Trekking The World | World Travel Board Game for Family Game Night
GREAT GIFT IDEA. Makes a unique and meaningful gift for kids and adults
EXPERIENCE NEW CULTURES. Travel the world from your kitchen table during family game night.
GOOD FOR ALL AGES. Whether you're looking for fun family games, games for teens, or geography board games for kids 8-12, this game delivers. Grandparents, Adults, Teens, Tweens, Girls & Boys will all enjoy exploring the world together
GIANT WORLD MAP. Gorgeous art and design featuring destinations across every continent. One of the best gifts for globetrotters.
We are proud to be a small, independent business, founded by two people's mutual love of the national parks. We always donate a portion of all proceeds back to nonprofits making a difference around the world.
Sale
Bestseller No. 3
Bestseller No. 4
Trekking the World: China
Amazon Prime Video (Video on Demand)
Damon Redern (Actor)
Re:Source Media (Director) - Re:Source Media (Producer)
English (Playback Language)
English (Subtitle)
Sale
Bestseller No. 5
Trekking in the Alps
Used Book in Good Condition
Reynolds, Kev (Author)
English (Publication Language)
256 Pages - 07/15/2011 (Publication Date) - Cicerone Press Limited (Publisher)
Homestead and Mesa Trail (Flatirons)