Trail Information
Trail Name: Raccoon Trail
Location: Golden Gate Canyon State Park, Colorado
Date: December 29, 2019
Time at the Trail Head: 1:30 pm
Trail Length: 4.0 miles
Elevation Gain: 754 feet
Elev. at Trail Head: 9,137 feet
# of Hikers Passed: 7
# of Mnt. Bikers Passed: 0
# of Horses Passed: 0
Mosquitoes: 0
Trail Research
I was at a meeting recently when someone told me about one of their favorite trails in the Front Range in Colorado. They told me about Golden Gate Canyon State Park.
After some quick research on the state park, I noticed there were probably 20 or more trails to choose from. After consulting with both of my kids, we opted for the 4.0 mile Raccoon trail.
It had snowed about 6 inches or more in the last two days so we knew there would be fresh snow on the ground plus the forecast was for 15 degrees F for the day. I briefly thought about sleeping in and staying warm by the fire but we opted to get out and enjoy the Rocky Mountains.
Drive to the Trail
We got a late start on the trail but I figured that would be fine as the temperature would not get above 15 degrees F for the day, so I didn't think the trail would be crowded with hikers.
It was a beautiful drive through Denver, into Golden and then on to the Golden Gate Canyon State Park.
We had to be careful on the drive as there was still some significant snow and ice in the shade of the mountains from the recent snow fall.
The drive on Golden Gate Canyon Road was relaxing and beautiful. The snow was fresh and most of the pine tress still had snow in their branches.
We reached the turn off into Golden Gate Canyon Park but the entrance was closed. After closer inspection, we could see that Colorado State Highway 57 was close to another park entrance so we decided to drive on further and try it.
After reaching the turnoff, we were rewarded with an open park entrance and the trailhead to the Raccoon trail.
My Day on the Trail
It was a gorgeous day, except for the 12 degree F temperatures. I was wondering how well our dog Ranger would do and it didn't take long for us to realize he needed to go back to the SUV. Fortunately for me and my kids, Caleb and Grace, we had brought along face masks or face warmers, which made a tremendous difference.
We thought it wasn't that cold until we took of our face masks off and about froze right there on the trail.
Seirus Innovation 2885 Polartec Ultra Clava for Complete Head, Face, and Neck Protection - Breathable Windproof Waterproof - TOP SELLER, Black, Small/Medium
POLARTEC FLEECE - Provides a thermal insulation with proven durability, lightweight warmth and fast drying characteristics. A versatile combination for all cold weather activity
WINDPROOF AND WATERPROOF - Seirus exclusive Weathershild tri-laminate fabric keeps you warm in the coldest, wettest conditions
COMFORTABLE - Weatherproof combination of Lycra outer and Fleece inner with a wicking lining keeps your skin dry
4-WAY STRETCH - Will stretch to fit over goggles and central breathing holes provide increased ventilation
VERSATILE - 3-in-1 Ultra Clava can be worn as a face mask, neck gator, full hood, or a combination of these
The trail has at least 6 inches if not a foot of fresh snow but many hikers with snowshoes had been before us so the trail was packed down pretty good. We put our ICETrekkers on and pulled out our Leki Trekking Poles and that was good enough for today's hike but there were a few places we were thinking snowshoes would have been helpful.
It was nice that the trail is extremely well-marked, even in the snow, so we were never lost on the Raccoon Trail.
We were only about 1/4 mile down the trail when Ranger started limping and holding up a paw, then he tried to turn around several times and head back to the SUV. Ranger loves the snow but he likes it better when it's around 30 degrees F, not 12 degrees.
Grace decided to take Ranger back to the SUV as she didn't have the right boots on for this hiking trip. She has great boots but they vented, even though they are waterproof. They are hiking boots that are best used in the Spring, Summer and Fall, not the dead of winter.
So much for two of our hiking buddies. Grace gets out a lot with her Search and Rescue team so she was happy to stay in the SUV with Ranger and read a great book, while surrounded by gorgeous scenery.
Well, Caleb and I decided to head farther along trail, looking for some great photo and video opportunities and it wasn't long before we were rewarded with many.
Soon we came upon a less traveled section of the trail and this is where we wished we had some snowshoes.
We have done some preliminary research and have settled on the MSR Lightning Ascent snowshoes, which are some of the highest rated, meant for more mountainous terrain, but are also some of the most expensive.
MSR Lightning Ascent Backcountry & Mountaineering Snowshoes with Paragon Bindings, 25 Inch Pair, Cobalt Blue
Ultralight (4.33 lbs) technical snowshoes with superior traction for mountaineering, aggressive backcountry pursuits, and rugged terrain
360-degree Traction Frames deliver edge-to-edge grip, especially on traverses, while durable steel DTX crampons provide serious bite on alpine steeps
Paragon bindings feature a one-piece contouring strap that wraps securely around boots, for a glove-like feel that eliminates rigid pressure points, and provides easy alignment and foot control
Ergo Televator heel lift bar flips up to increase uphill efficiency, provide help on steep ascents, and reduce fatigue
Snowshoes measure 8 x 25 inches, weigh 4.33 pounds/pair, and can carry up to a 220-pound load; bindings fit men's shoes sizes 4.5-15; made in the USA
Note: Every hiker we saw on the first section of the Raccoon Trail had snowshoes on.
Eventually, we started climbing on the Raccoon trail and were rewarded with some beautiful views of the Rocky Mountain National Park (RMNP) and Longs Peak.
You can see Long's Peak on the right side of the next photograph.
We were near the high point of the Raccoon trail now and had come upon a Lookout or Viewing Area. It provided some easy access of a park road, which was open, for those who want to drive to a beautiful view, rather than hike to it.
I believe they call this Panorama Point.
Lastly, here is a photograph of the four freezing hiking buddies from left to right. Grace, Rick, Caleb and Ranger below.
It was a stunning day on the Raccoon Trail, but make sure your ready for anything, including freezing temperatures.
Trail Recommendations
The Golden Gate Canyon State Park in Colorado had many trails and breath taking views. The hard part will be picking which trail you wan to hike.
The few things you need on any Colorado trail in the winter are:
Great (warm) waterproof hiking boots
ICETrekkers
Trekking Poles
Snowshoes
Warm clothing (layered)
Face Mask or Warmer
I highly recommend the Seirus Ultra Clava breathable hood. It is a thicker material that keeps you warm but not so much that it causes you to sweat. It has a breathable mask with nose ventilation and I didn't realize how warm in kept me in 15 degree F temperatures until I took it off and about froze to death (slight exaggeration).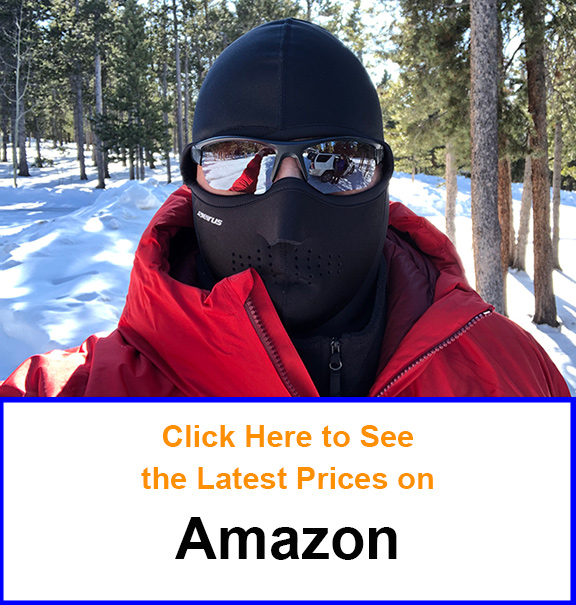 There are other things, such as matches, in case you get lost and stuck out overnight, but this list can go on and on.
We loved this trail and the area and will be going back to it again, in the winter and summer.
Check out this short video of the Raccoon trail on YouTube.
I would love to know if you have had any experience on this trail or have other trails you love to hike. Leave a Comment Below or send me an Email.
Return to Home Page