I recently hiked a trail near Conifer, Colorado, called the Legault Mountain Trail. I hiked it without trekking poles or ICETrekkers and I ended up falling 4 times, with one being a hard fall that caused my left shoulder to pop.
After that trip, I researched the best trekking poles on the market for hiking and headed over to Amazon and placed my order for Leki Trekking Poles | Micro Vario Carbon.
I have hiked several trails since then that were snow and ice packed and have not fallen since I bought them.
Leki Trekking Poles | Features
Lightweight
Smallest Pack Size
Edgeless Thermo Grip
Lock Security Strap
Thermal Grip Extension
Speed Lock 2 (Extremely Fast Adjustment)
Reduction of Peak Impacts by Approximately 40%
Trekking Basket 2.0 Compatible Flextip
Flex Tip Short for the Perfect Grip
Leki Trekking Poles | Personal Experience
The Leki Trekking Poles were the first I have ever purchased or used so it took me a few minutes after opening the package to see how easy it was to lock the poles into place and then I spent 30 minutes watching YouTube videos on how to use the trekking poles correctly.
The Leki Micro Vario Carbon AS trekking poles are beautifully constructed. They area easy to lock into place, quick to adjust and just as fast to break down and put into my pack.
Everyone I have shown these to have been extremely impressed by how lightweight they are and how easy it is to adjust them for different heights and various uses on the trail.
I have heard about problems with poles hat don't have adjustments or if they do, the locking mechanism has problems after a while. The Leki trekking poles have only 1 locking mechanism and plenty of adjustment at the flick of a lever. I have been very impressed with the solid construction so far.
The strap and strap locking mechanism is easy to use and adjust, and my hands and wrists feel relaxed when hiking.
I researched trekking poles thoroughly before making my purchase and it was obvious they had some great features. After the Leki trekking poles were delivered and after using them on several trails, I couldn't be more happy with my decision to purchase them.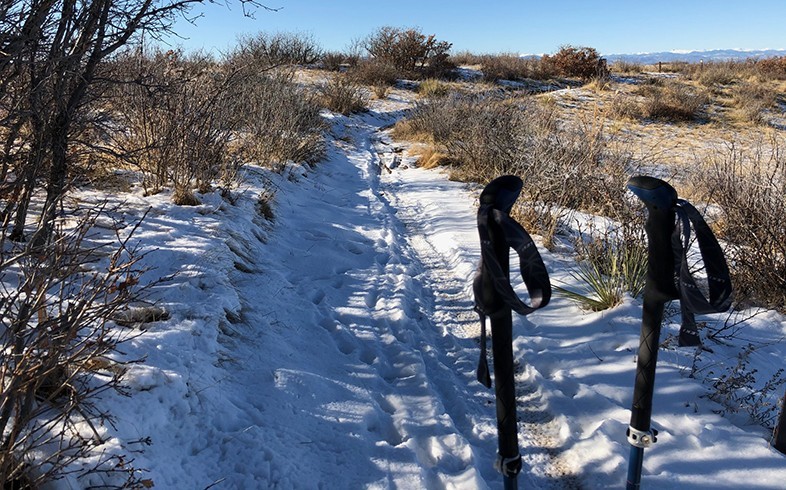 The only downside is, everyone in my family now wants to use them. I guess I will be buying more of them.
Bottom Line
After reading and watching how to properly use Trekking poles, I have taken them out on at least three hikes, and I have not fallen since. I have hiked on gravel, mud, snow and ice and I have had much more confidence on the trail, especially when it comes to hiking in mud and snow.
There have been several hikes where I wanted to hike on the edge of the trail where there was more packed snow and less ice or mud and the trekking poles allowed me to walk on the slope and use the trekking poles to steady myself.
The trekking poles have also been a great help when hiking down steep trails which make my legs feel better after the hike and has helped to me keep from slipping many times.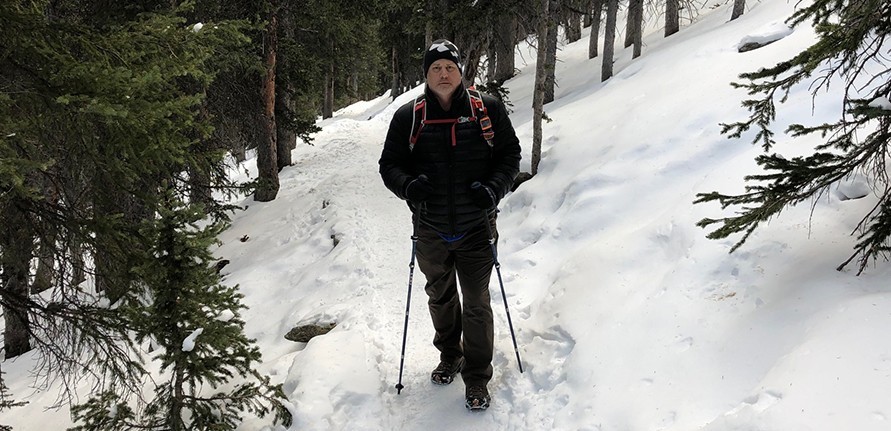 I use to think that trekking poles were useless and spent 30 years hiking without them, until moving to Colorado. It quickly became abundantly clear that trekking poles were essential here with the steep slopes and when hiking on snow and ice.
Checkout my video of the Leki Trekking Poles on the trail.
The Leki Trekking Poles are lightweight, adjustable and easy to store. I highly recommend them to anyone looking for quality trekking poles.
LEKI Micro Vario Carbon Trekking Pole Pair - 110cm-130cm Blue
Exclusive AERGON grip features a hollow core construction to save weight and create an edgeless, rounded grip for comfortable gripping at all angles especially for "palming" on steeper terrain. Thermo foam grip material for extra comfort, light weight and insulation in colder weather. Built in 8deg Positive Angle in LEKI grips keeps wrist in neutral position and provides more efficient pole plants.
Air-textured "no bulk" security strap maintains design dimensions of grip; efficient wicking and fast drying; adjusts and secures strap adjustment without buckles. Extended foam grip for traversing and climbing. SPEEDLOCK 2 lever locking mechanism is simply THE strongest external locking system in the world as rated by TUV, and the only locking systems to meet the minimum holding force recommended by TUV.
100% High Modulus Carbon shaft sections for reliable, lightweight performance in all conditions. PE coated, Kevlar reinforced tension cord for long term reliability. ELD (External Locking Device) gives easy access to release the assembly tension of the pole for quick knock down and packing. Maximum tension between shaft sections made possible by internal (serviceable) spring in lower shaft.
Carbon section ends are protected by machined Aluminum sleeves for extra long wear. Machined Aluminum connectors help to center shaft sections for quick, snag free assembly. LEKI's original Carbide Flextips provide secure hold on all terrain and surfaces for years of adventure; easily replaced in the field.
Interchangeable basket system allows a variety of different sized LEKI baskets to be easily screwed on/off for different seasons/uses thanks to offset threads that keep the baskets securely in place.
Please leave a Comment Below or send me an Email if you have any questions or opinions about these Leki Trekking Poles.
Return to Home Page
Sale
Bestseller No. 1
Trekking The National Parks - The Award-Winning Family Board Game
Best-Selling & Award-Winning National Parks Game: Winner Of The Mensa And Parent's Choice Award. See the many 5-star reviews!
Created By National Parks Enthusiasts: This couple traveled to every single national park and then worked with their son to make the game.
Fun + Educational: It's the perfect recipe for a family game night! Appeals to a wide range of people: outdoor lovers, board game players, and gift givers. One of the best board games for kids 8-12 and up!
Share the Joy of the National Parks: Share your memories, and dream about where you'll travel to next. Grandparents, Adults, Teens, Tweens, & Kids can all play
We are proud to be a small, independent business, founded by two people's mutual love of the national parks. We always donate a portion of all proceeds back to nonprofits making a difference around the world.
Sale
Bestseller No. 2
Trekking The World - The Best Board Game for Family Night
GREAT GIFT IDEA. Makes a unique and meaningful gift for kids and adults
EXPERIENCE NEW CULTURES. Travel the world from your kitchen table during family game night.
GOOD FOR ALL AGES. Whether you're looking for fun family games, games for teens, or geography board games for kids 8-12, this game delivers. Grandparents, Adults, Teens, Tweens, Girls & Boys will all enjoy exploring the world together
GIANT WORLD MAP. Gorgeous art and design featuring destinations across every continent. One of the best gifts for globetrotters.
We are proud to be a small, independent business, founded by two people's mutual love of the national parks. We always donate a portion of all proceeds back to nonprofits making a difference around the world.
Bestseller No. 3
Trekking the Great Wall
Amazon Prime Video (Video on Demand)
Paul Rabiger, William Lindesay, William Lindesay (Actors)
Christian Twente (Director) - Kathleen Cromley (Producer)
English (Playback Language)
English (Subtitle)
Bestseller No. 4
Bestseller No. 5
Trekking Poles for Hiking Collapsible - OMDEX Upgrade Ultralight Folding Aluminum Alloy 7075 Hiking Pole Pairs, Hiking Sticks Lightweight with Quick Lock System, Foldable Walking Sticks for Men Women
ULTRALIGHT AIRCRAFT GRADE ALUMINUM - Crafted with aircraft grade 7075 aluminum is more durable and light. Added metal reinforcement ring on each section to enhanced the joints, which is meant to withstand pressure and impact far superior to other poles - Crucial if hiking on rocky terrain or supporting heavier weight. And the ultralight offers the advantage of less swing weight, which makes them easier and quicker to move. Over the course of a long hike, this means less fatigue.
SUPER LIGHTWEIGHT & COMPACT - Folding OMDEX-Z poles offer the best compactability with the smallest collapsed length. OMDEX-Z trekking poles collapse down to a portable 15 inches (38 cm), thanks to its retractable tri-fold design. Only 10.5 oz per pole, they hardly add any weight while walking. When not in use, it's nice to have OMDEX trekking poles that can pack down small for storage in your pack or luggage for travel
ERGONOMIC LIGHTWEIGHT EVA FOAM GRIP - OMDEX hiking poles have a ergonomic grips that have a 15-degree corrective angle to keep your wrists in a neutral and comfortable position. This shape provides good support for casual walking and very light hiking. Also, the soft and the comfortable EVA foam can absorbs moisture from sweaty hands and insulates hands from cold, shock and vibration. The extended EVA shafts allow for a strong grip in extreme all terrain environments
SIZE FOR MOST HIKERS - The length of the pole can be adjusted quickly and easily using an innovative metal flip lock technology, which is easy adjust, locks tight and sturdy than other plastic lock. The height of the poles has adjustment range of 20cm from 115cm to 135cm that fits for men, women, teenager with height between 5'2'' (159cm) to 6'5'' (195cm). Each package comes in pair with holder bag.
ABSOLUTELY SATISFYING HIKING GIFT - Get this upgraded OMDEX trekking pole set immediately for you or your adventure enthusiast friends. These come with a carrying bag and a full set of rubber accessories for trekking, hiking, nordic walking and backpacking, etc. We are quite sure that you will be super-impressed with the durability, portability, versatility and high quality of our trekking poles. Grab a pair today and hit the trail tomorrow!