I fell 4 times on the Legault Mountain Trail but I haven't fallen since I bought the ICE Trekkers Diamond Grips.
The ICETrekkers have been a life saver and I now enjoy hiking so much more, especially on snow, ice and mud.
Take a look at the ICETrekker features.
ICETrekker Features
Aggressive Traction
Transition from Gravel to Ice and Snow Effectively
Made with Steel Aircraft Cable
Patented Beads with Hundreds of Biting Edges
Tough Rubber Sling
Rubber Remains Elastic in Sub-Zero Temperatures
Easy to Put on and Take off
Snug Fit
Self Clearing
Multiple Sizes to Choose From
Personal Experience with ICETrekkers
Let's get right to the bottom line. The ICETrekkers are extremely easy to use and I have not fallen once on a trail since I have started using them.
All four of my last hikes in November and December have been on snow packed, icy and/or muddy trails but these ICETrekkers have made my life much easier on the trail and it's nice having the confidence that these grips give me.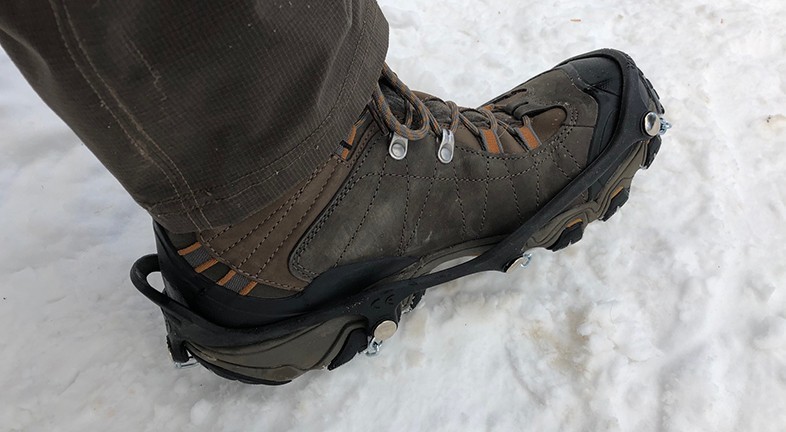 I recently hiked the Chief Mountain Trail near Idaho Springs, Colorado. It was snow packed from the trailhead to the Chief Mountain peak. I thought I might not need the ICETrekkers, since I also have the Leki Micro Vario Carbon AS Trekking Poles, but it only took me about 50 feet on the trail before I stopped and strapped on my ICETrekkers.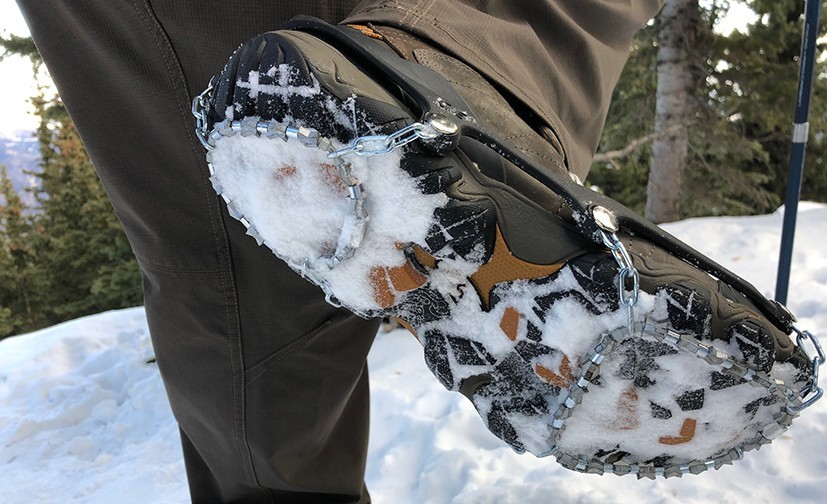 My daughter thinks she is tough enough and doesn't need them but my son tried his on and really liked having the extra grip they provide. He still doesn't have any trekking poles but at least he has better grips on his boots.
Check out my Leki Trekking Poles if you would like to learn more about them.
I found that the ICETrekkers were extremely easy to pull on and take off quickly. I never had to sit down or fight with them. I was able to pull them on my boot with only one hand.
I noticed the more experienced hikers on the trail all had ICETrekkers on or some other version of them. It really does make hiking more enjoyable and safer.
The Bottom Line
You don't need ICETrekkers on every trail but strap them to your pack, as my son and I have done, so you will always have them when you need them.
Hiking is a lot more fun when you have confidence in every step you take. It's also a lot safer and will help keep you out of the emergency room.

Take a look at my YouTube video on the ICETrekkers on a few trails I have hiked recently.
I would love to hear from you in the Comments Below if you have some kind of grips for hiking or if you have an opinion about them, or you can send me an Email.
Return to Home Page
Bestseller No. 1
ICETrekkers Diamond Grip Traction Cleats (1 Pair), Large (Men's 9.5-12/Women's 10.5)
Shoe grips designed to provide aggressive traction in winter walking conditions
Made of case-hardened steel alloy and strung on steel aircraft cable
Riveted to tough rubber sling that fits tennis shoes, boots and dress shoes
Sling remains elastic even in subzero temperatures to keep grips secure
Self-clearing design prevents snow and ice buildup
Bestseller No. 2
Bestseller No. 3
Bestseller No. 4
ICEtrekkers Shoe Diamond Grip (1 Pair), Small
The greatest innovation in Ice Cleats is the Diamond Grip Chains
Great on Snow, packed Snow, and Ice High performance Ice Trekkers
Sturdy rubber sling designed to hold to your shoe and maintain flexibility in sub zero temperatures.
ICEtrekkers are the ultimate ice cleats
Bestseller No. 5
AGOOL Ice Cleats Snow Traction Cleats Crampons for Shoe and Boots Non-Slip Overshoe for Walking on Snow and Ice Rubber Walking Cleats Anti Slip Crampons
SIZE: S【Women(4-5.5)/Men(2.5-4)】,M【Women(6-8)/Men(4.5-6.5)】, L【Women(8.5-11)/Men(7-9.5)】, XL【Women(11.5-14)/Men(10-12.5)】, XXL【Women(14.5-17)/Men(13-15.5)】
INCREASED SAFETY: Walk traction cleats enhance the road holding in the snow/ice. Excellent traction on ice and snow to help to avoid those treacherous slippery conditions
EASY TO WEAR OFF: Overshoes are made of Thermoplastic Elastomer material, lightweight, durable, highly elastic, easily stretch over existing shoes or boots
BENEFITS: Special steel stud shape design - make it more easy for walking climbing, easy in the snow. Portable and lightweight,compact design makes them easy to store in small places, storage bag is convenient for carry
FUNCTION: Aggressive cleats and treads prevent slips and falls on ice, snow, and wet pavement, reduce body injury. The Crampons Overshoes are perfect for all kinds of sport shoes, climbing boots