Do you feel bad? Go Hiking!
Yesterday I was feeling like I had a slight tickle in my throat, which was most likely congestion of some sort. Other than that I was feeling pretty good.
I woke up at 6 am and was at the trailhead ready for a beautiful hike at 7:45 am. Nothing had changed with my health but the congestion was still there. It wasn't a full-on cough, but a slight tickle in my throat. At least that's how I would describe it.

It was a great hike in the snow in the Rocky Mountains at Mount Falcon, near Indian Hills, Colorado. The only issue was that the sky was mostly over cast, but it was still a gorgeous day.
I felt great on the hike but as soon as I climbed into my truck, and turned on the engine, my head started burning up, the same way you would feel if you had a full on fever.
I was burning up and chilled all the way home and all evening. I headed to bed early and didn't set my alarm as I was hoping some rest would help.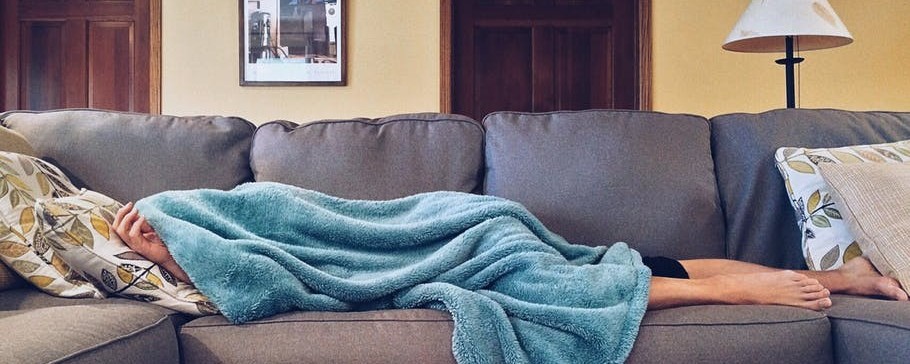 I started sweating around 11 pm and I don't think I stopped sweating until 3 am. I have learned through life experiences and some advice that sweating at night typically means your fever has broke.
I woke up feeling pretty much back to normal, except for a sore throat.
I decided to get my butt out of bed and head to work. I had to make a quick stop at Lowe's and I started talking the cashier when checking out and I told here what had happened since my hike yesterday.
She's the one that told me, "if you feel bad, take a hike."
I thought that was a cool saying but I have to caution anyone who reads this that doing physical activity while feeling bad or after recovering from an illness, can make your illness worse or cause a relapse.
What I'm mostly referring to here is if you feel down emotionally, or have some congestion or a cold, that doesn't mean you have to stay inside by a nice warm fire, even though that sounds pretty awesome right about now.
I was following Body for Life many years ago and one of the things Bill Phillips said once was that you don't have to stop working out just because you have a cold. You may not feel like working out but you don't have to lie around on the couch or in bed.
I hope no one takes this as medical advice because I am an engineer and not a doctor or nurse, but I believe there is some truth that you can get up and do things but just make sure you are dressed appropriately and don't exhaust yourself.
I guess the next best thing to do if you're not feeling well, besides reading a book in front of a fire, is to take a scenic drive and at least see something beautiful.
I would love to hear your thoughts or Comments on this or send me an Email.
Back to Home Page
Sale
Bestseller No. 1
Bestseller No. 2
BALEAF Women's Hiking Cargo Pants Outdoor Lightweight Capris Water Resistant UPF 50 Zipper Pockets Black Size L
Crafted of lightweight, breathable, water-Resistant and quick-dry fabric, the women's hiking pants keep you cool and fresh all day
Stretch-woven fabric build-in UPF 50+ to provide great protection against harmful ultraviolet rays
The women's hiking pants with four zip-closure security pockets provide great convenience. Elastic waist with drawstring, articulated knees make the pants perfect fit
These athletic pants feature adjustable cord lock around the cuffs to keep bugs out when hiking and make the pants hem freely so that more convenient for sports. Great for hiking, climbing, traveling, or your favorite outdoor pursuit
According to our customer's feedbacks, these women's lightweight hiking pants may run a litter larger. If you prefer a snug fit , please choose one size down. Machine washable
Sale
Bestseller No. 3
Bestseller No. 4
Outdoor Ventures Women's Convertible Pants, Quick Dry Hiking Zip-Off Pants, Stretch Lightweight Cargo Pants Black
[Humanized Design] Outdoor Ventures zip off pant legs make for a easy change like other brand zip off pants from pants to shorts. But for more convenience, we added the design of the "BOTTOM HEM ZIPPES". It can be converted into shorts easily without haveing to take your shoes off. It's suitable for spring, summer and autumn, when the season change.
[Stay Cool and Dry] This women hiking pants pull moisture (sweat) away better and quicker than regular pants from your body so you stay cool and dry longer and the fabric will not get too clingy and heavy and it dries up quickly for extreme comfort while workout.
[Best Choice for Outdoor Active] Outdoor Ventures zip off leg pants features 4-way stretch, wear-resistant and breathable fabric which protects your legs when passing through the jungle. They also make of UPF 50 sun protection fabric, so you wouldn't worry about the harming sun rays.
[Functional Collection] This fishing pants with zip off legs have 4 pockets---2 deep front zipped pockets and 1 back zipped pockets to storing more things as phone, wallet, earbuds; one right thigh zipped pocket to storing flshlight, whistle and compass.
[Unique Choice] Our women cargo pants for men can be your go-to-pants for its great versatility, design, flexibility and comfort. Suitable for casual and outdoor recreation, such as hiking, travel, bicycling, walking, running, camping, mountaineering, hunting, climbing, etc.
Bestseller No. 5
Salomon Men's X Raise GTX Hiking, Grape Leaf/Black/Black, 12.5
Waterproof Hiking Shoes: The Salomon X Raise hiking shoe features a modern, athletic look and is packed with features to protect your feet including a Gore Tex membrane, Quicklace system, and reinforced heel and toes
Any Path Your Way: With an all terrain grip, the lightweight Salomon X Raise Gore Tex waterproof hiking shoes weigh 10.22 ounces and feature a generous, cushy fit to keep your feet comfortable for longer
Adventure Awaits: Whether you love a local day hike or hitting the trails for a multi-day adventure, Salomon makes innovative hiking and backpacking shoes and boots for men and women to help you go the distance
Time To Play: Whether you are into trail running, hiking, backpacking, or mountaineering, Salomon has shoes and gear for kids, men and women to help you conquer a new distance, personal record, or event
Since 1947 Salomon has created innovative outdoor sports gear; From running and hiking to backpacking, skiing and more, our shoes, boots, bags, apparel and accessories help make any path your own