Do you feel bad? Go Hiking!
Yesterday I was feeling like I had a slight tickle in my throat, which was most likely congestion of some sort. Other than that I was feeling pretty good.
I woke up at 6 am and was at the trailhead ready for a beautiful hike at 7:45 am. Nothing had changed with my health but the congestion was still there. It wasn't a full-on cough, but a slight tickle in my throat. At least that's how I would describe it.

It was a great hike in the snow in the Rocky Mountains at Mount Falcon, near Indian Hills, Colorado. The only issue was that the sky was mostly over cast, but it was still a gorgeous day.
I felt great on the hike but as soon as I climbed into my truck, and turned on the engine, my head started burning up, the same way you would feel if you had a full on fever.
I was burning up and chilled all the way home and all evening. I headed to bed early and didn't set my alarm as I was hoping some rest would help.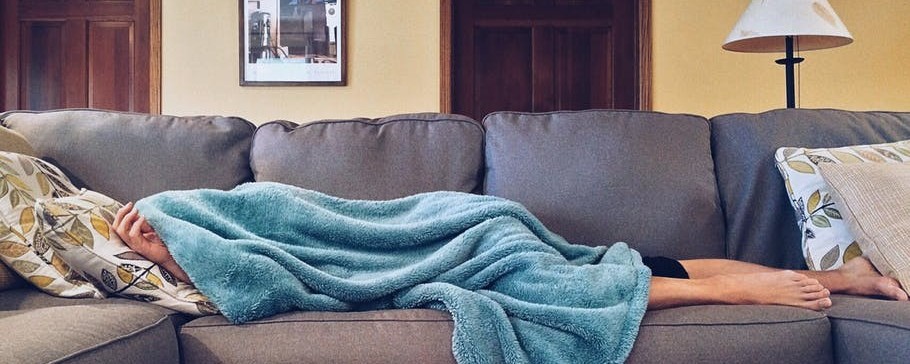 I started sweating around 11 pm and I don't think I stopped sweating until 3 am. I have learned through life experiences and some advice that sweating at night typically means your fever has broke.
I woke up feeling pretty much back to normal, except for a sore throat.
I decided to get my butt out of bed and head to work. I had to make a quick stop at Lowe's and I started talking the cashier when checking out and I told here what had happened since my hike yesterday.
She's the one that told me, "if you feel bad, take a hike."
I thought that was a cool saying but I have to caution anyone who reads this that doing physical activity while feeling bad or after recovering from an illness, can make your illness worse or cause a relapse.
What I'm mostly referring to here is if you feel down emotionally, or have some congestion or a cold, that doesn't mean you have to stay inside by a nice warm fire, even though that sounds pretty awesome right about now.
I was following Body for Life many years ago and one of the things Bill Phillips said once was that you don't have to stop working out just because you have a cold. You may not feel like working out but you don't have to lie around on the couch or in bed.
I hope no one takes this as medical advice because I am an engineer and not a doctor or nurse, but I believe there is some truth that you can get up and do things but just make sure you are dressed appropriately and don't exhaust yourself.
I guess the next best thing to do if you're not feeling well, besides reading a book in front of a fire, is to take a scenic drive and at least see something beautiful.
I would love to hear your thoughts or Comments on this or send me an Email.
Back to Home Page
Sale
Bestseller No. 1
Waterfly Crossbody Sling Backpack Sling Bag Travel Hiking Chest Bag Daypack
Keep Everything in Order: Size: 7 x 3.5 x 15 inches /18 x 9 x 38 cm. The front zipper bag and buckle bag allow you to store iPad mini, iPhone 7 Plus, power band, etc., with several separate small compartments inside, it can effectively keep your small items like makeup, tissue, keys and so on. The side mesh pocket is 6 inches height, it can hold 2.4 inch(diameter) bottle.
Hidden Earphone Hole: There is a hidden earphone hole on the front, providing easy access to your earphones, you can enjoy music anytime and anywhere.
Adjustable Reversible Shoulder Strap: Designed with 3 D-rings on the lower part, the adjustable shoulder strap can be connected with the left or right D-ring for your preference, so that it is convenient to wear on your left or right shoulder. The shoulder strap pouch is 3.5 x 1.5 x 7.5 inches (L x W x H), it hold the phone screen size under 7 inches easily. Shoulder strap can be adjusted from 31 " to 39.5 ".
Superior Material: The shoulder strap and the back is made of breathable material, make you feel comfortable when travel, hiking and so on.
【After-sales guarantee】If you have any problem with broken or damaged items you purchased,please do not hesitate to contact us with your order ID. We will reply and address your issue within one day, so please purchase with confidence.
Bestseller No. 2
Columbia womens Newton Ridge Plus Waterproof Amped hiking boots, Oxford Tan/Dusty Green, 8 US
ADVANCED TECHNOLOGY: The Newton Ridge Plus Waterproof Amped Hiking Boot features a seam-sealed construction, combined with our TECHLITE lightweight midsole, for long-lasting comfort with superior cushioning and high energy return.
DURABLE HIKING BOOT: This women's boot is inspired by classic mountaineering style. A durable mid cut waterproof hiker that provides great traction and comfort. This classic Columbia hiking boot, will deliver years of comfortable service.
ALL TERRAIN TRACTION: Our signature Omni-GRIP non-marking traction rubber outsole provides high grip across a wide variety of terrain, and versatile three season use.
HANDY FEATURES: Treacherous days out on the trail are comfortable and worry-free with this hiking boot's waterproof combination of supportive leather and suede construction.
REINFORCED TOE AND HEEL CONSTRUCTION: Designed for extended years of use, we've reinforced the toe and heel barriers, and extended the outsole toe overwrap to guard these key wear points.
Bestseller No. 3
Salomon Women's X Ultra 3 GTX Hiking Shoes, ARTIC/Darkest Spruce/Sunny Lime, 8
Waterproof Hiking Shoes: Whether you are hitting the trails or looking for a solid work shoe, these extra durable, waterproof hiking shoes are specifically designed for women and offer maximum traction on all terrains
A Better Way Down: Designed with Descent Control Technology, the X Ultra 3 Gore Tex hiking shoe efficiently tackles technical hikes and really shines during tough descents, even in wet conditions
Adventure Awaits: Whether you love a local day hike or hitting the trails for a multi-day adventure, Salomon makes innovative hiking and backpacking shoes and boots for men and women to help you go the distance
Time To Play: Whether you are into trail running, hiking, backpacking, or mountaineering, Salomon has shoes and gear for kids, men and women to help you conquer a new distance, personal record, or event
Since 1947 Salomon has created innovative outdoor sports gear; From running and hiking to backpacking, skiing and more, our shoes, boots, bags, apparel and accessories help make any path your own
Bestseller No. 4
PUQIK 5 Pack Women's Hiking Socks,Multi Performance Cushion Crew Socks for Cycling Trekking Outdoor
√【Size】 Women's shoes size US 5-8, innovative memory elastic material, automatically adapt to all foot types.
√【Color】 5 colors, 1 pair for each color, 5 pairs in total.
√【Function】Adaptive elastic welt to protect the blood circulation of the foot. The heel position adopts elastic design to prevent foot sprain. Moisture wicking, keep your feet dry. The toe position cushioning material prevents the toe from blistering. Waveform shock absorption design releases the impact of sports. Breathable design, keep your feet breathable and comfortable. Add suitable for women running, walking, hiking or other outdoor activities.
√【Applyl】 These durable socks are suitable for different foot types and provide perfect foot comfort for running, hiking, walking or any other outdoor activities.
√【Good gift】Everyone needs socks. These socks are perfect gifts for outdoor sports, hiking, backpacking, mountaineering, sports, camping, and daily wear. They can be used as mother socks gifts, girlfriend socks gifts, lover socks gifts, daughter socks gifts, wife socks gifts, birthday socks gifts, sisters Socks gifts, friends socks gifts, colleagues socks gifts, Christmas socks gifts, etc. are given out.
Bestseller No. 5
Venture Pal 40L Lightweight Packable Travel Hiking Backpack Daypack, A2 Purple Leaf, One Size
【Upgraded Wet Pocket Design】Venture Pal backpack stands out with more humane design for easy and convenient use. One waterproof wet pocket is added to the main compartment, a zipper on the back of this backpack which led to the internal wet pocket, to better separate sweaty clothes, towels or other personal things after swimming or taking exercise.
【Durable Material】This backpack is made of high quality tear and water resistant nylon fabric,heavy duty metal zippers and enhanced by bar-tacks at major stress points provide long-lasting durability against daily activities.The extra strength provided by the double-layer bottom piece makes it possible to carry more stuff.
【Compact & Comfortable】It weighs only 0.7 pounds, can easily fold into its own pocket for storage,and unfold it when you need it. Breathable mesh shoulder straps with plentiful sponge padding help relieve the stress from your shoulder. The chest clip with a whistle buckle work perfectly to distribute the pack's weight and keep it steady and centered. A must have for sports , hiking, camping and traveling.
【Large Capacity & Multi Compartment】With 40L storage space, this backpack features with multi-compartment design includes one main zipped compartment, one zipped front pockets and two side pockets. One separator and one small zippered pocket in the main compartment are convenient enough to help you further organize things.Large capacity helps you easily organize all your essential items.
【Purchase Tips】- If there is any problem, just contact with us, we will handle with it immediately.