Do you feel bad? Go Hiking!
Yesterday I was feeling like I had a slight tickle in my throat, which was most likely congestion of some sort. Other than that I was feeling pretty good.
I woke up at 6 am and was at the trailhead ready for a beautiful hike at 7:45 am. Nothing had changed with my health but the congestion was still there. It wasn't a full-on cough, but a slight tickle in my throat. At least that's how I would describe it.

It was a great hike in the snow in the Rocky Mountains at Mount Falcon, near Indian Hills, Colorado. The only issue was that the sky was mostly over cast, but it was still a gorgeous day.
I felt great on the hike but as soon as I climbed into my truck, and turned on the engine, my head started burning up, the same way you would feel if you had a full on fever.
I was burning up and chilled all the way home and all evening. I headed to bed early and didn't set my alarm as I was hoping some rest would help.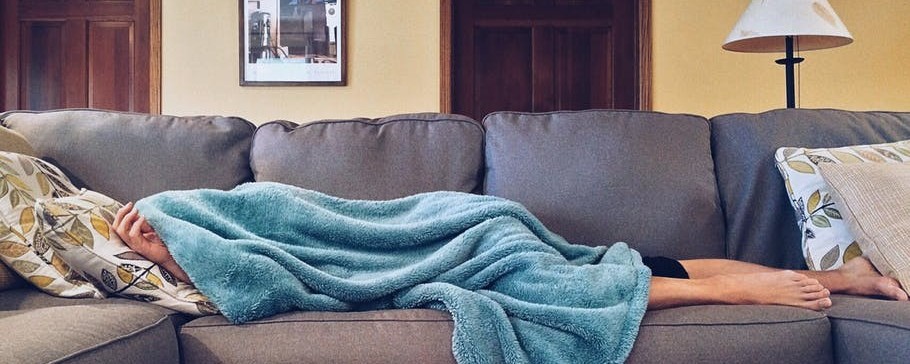 I started sweating around 11 pm and I don't think I stopped sweating until 3 am. I have learned through life experiences and some advice that sweating at night typically means your fever has broke.
I woke up feeling pretty much back to normal, except for a sore throat.
I decided to get my butt out of bed and head to work. I had to make a quick stop at Lowe's and I started talking the cashier when checking out and I told here what had happened since my hike yesterday.
She's the one that told me, "if you feel bad, take a hike."
I thought that was a cool saying but I have to caution anyone who reads this that doing physical activity while feeling bad or after recovering from an illness, can make your illness worse or cause a relapse.
What I'm mostly referring to here is if you feel down emotionally, or have some congestion or a cold, that doesn't mean you have to stay inside by a nice warm fire, even though that sounds pretty awesome right about now.
I was following Body for Life many years ago and one of the things Bill Phillips said once was that you don't have to stop working out just because you have a cold. You may not feel like working out but you don't have to lie around on the couch or in bed.
I hope no one takes this as medical advice because I am an engineer and not a doctor or nurse, but I believe there is some truth that you can get up and do things but just make sure you are dressed appropriately and don't exhaust yourself.
I guess the next best thing to do if you're not feeling well, besides reading a book in front of a fire, is to take a scenic drive and at least see something beautiful.
I would love to hear your thoughts or Comments on this or send me an Email.
Back to Home Page
Bestseller No. 1
Bestseller No. 2
Banff and Lake Louise in Summer
Amazon Prime Video (Video on Demand)
Eric Hanson (Actor)
Sam Burrows (Director) - Ken Whiting (Producer)
English (Playback Language)
English (Subtitle)
Bestseller No. 3
Six Million Steps: A Journey Inward
Amazon Prime Video (Video on Demand)
Abby Capstick, Tom Emme (Actors)
Will Oxley (Director) - Stacie Allen Chapman (Producer)
English (Playback Language)
English (Subtitle)
Sale
Bestseller No. 4
Survival Kit, Verifygear 17 in 1 Professional Survival Gear Tool Emergency Tactical First Aid Equipment Supplies Kits for Men Women Families Hiking Camping Adventures
【17 in 1 Survival Kit】This is a 17-in-1 professional emergency survival equipment kit. Included: waterproof box, tungsten fountain pen, tactical compass, flashlight, water bottle clip, two screw drivers, multifunctional spork, wire saw, folding military survival knife, 5-in-1 survival rope bracelet, collapsible fire tube, fire starter, carabiner, multifunctional card, ruler, first aid blanket.
【High-quality Emergency Equipment Set】All tactical gear is made with high-quality, long lasting materials that will stand up to the elements. Keep surviving with failure-free emergency supplies gear even after prolonged use, allowing you to enjoy the adventure time of camping, wild adventure or mountain climbing.
【Widely Used】The 17 in 1 professional survival gear tool kit includes emergency supplies that are suitable for outdoor survival or camping. It is ideal for those who like hiking, hunting, wilderness survival, fishing, outdoor adventure, hiking and outdoor camping.
【Lightweight & Portable】The Verifygear survival tactical gear kit is lightweight and compact for carrying and storing conveniently. The professional tactical survival tool kit can be easily placed in a backpack, car, drawer, pocket or bag. It can also be fixed to a harness, climbing equipment or mountain bike. It is the perfect first aid kit for going out on an adventure, camping or hunting trip.
【After-sale Guarantee】These survival kits are suitable for birthday gifts or Christmas presents for dads, boyfriends or children. We are committed to selling high quality wilderness survival kits, so if you have questions or comments about our products, please feel free to contact us.
Sale
Bestseller No. 5
Atomic Bear Paracord Bracelet (2 Pack) - Adjustable - Fire Starter - Loud Whistle - Perfect for Hiking, Camping, Fishing and Hunting - Black & Black+Orange
▶ Be Ready To Survive Without Stuffing Your Backpack – Find the 5 survival gear essentials in just one bracelet : fire starter, reliable compass, loud emergency whistle, ferro rod striker and 12 feet of military-grade paracord.
▶ Don't Stress About Getting The Size Right – Unlike other options, the Cobra bracelet is adjustable to fit small and big wrists. Perfect outdoor enthusiast's gift and gadget.
▶ Did You Know That Cold Is The #1 Cause Of Death? – Beat the statistics. In emergency, use the flint steel to start a fire and secure a shelter using the paracord to fight hypothermia.
▶ Be Ready When SHTF – Add the Cobra to your tactical gear or wear it when hunting, fishing, hiking, camping, etc.
▶ Limited Time Offer – Currently comes in a pack of 2 bracelets: one black and one orange+black (see pictures). Includes a lifetime warranty and instructions on how to make a fire. Buy Now.