Do you feel bad? Go Hiking!
Yesterday I was feeling like I had a slight tickle in my throat, which was most likely congestion of some sort. Other than that I was feeling pretty good.
I woke up at 6 am and was at the trailhead ready for a beautiful hike at 7:45 am. Nothing had changed with my health but the congestion was still there. It wasn't a full-on cough, but a slight tickle in my throat. At least that's how I would describe it.

It was a great hike in the snow in the Rocky Mountains at Mount Falcon, near Indian Hills, Colorado. The only issue was that the sky was mostly over cast, but it was still a gorgeous day.
I felt great on the hike but as soon as I climbed into my truck, and turned on the engine, my head started burning up, the same way you would feel if you had a full on fever.
I was burning up and chilled all the way home and all evening. I headed to bed early and didn't set my alarm as I was hoping some rest would help.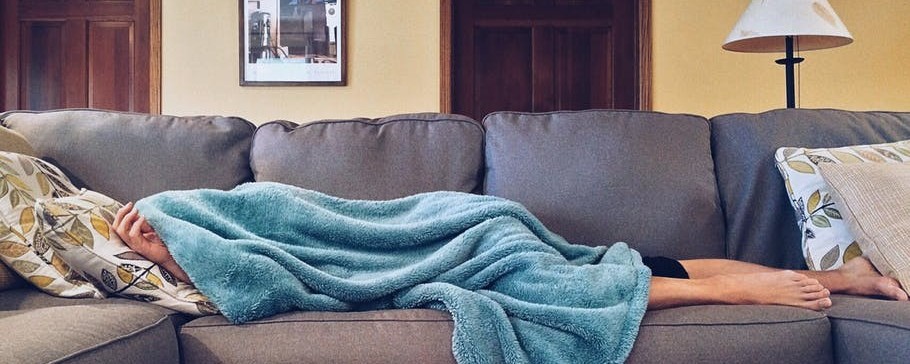 I started sweating around 11 pm and I don't think I stopped sweating until 3 am. I have learned through life experiences and some advice that sweating at night typically means your fever has broke.
I woke up feeling pretty much back to normal, except for a sore throat.
I decided to get my butt out of bed and head to work. I had to make a quick stop at Lowe's and I started talking the cashier when checking out and I told here what had happened since my hike yesterday.
She's the one that told me, "if you feel bad, take a hike."
I thought that was a cool saying but I have to caution anyone who reads this that doing physical activity while feeling bad or after recovering from an illness, can make your illness worse or cause a relapse.
What I'm mostly referring to here is if you feel down emotionally, or have some congestion or a cold, that doesn't mean you have to stay inside by a nice warm fire, even though that sounds pretty awesome right about now.
I was following Body for Life many years ago and one of the things Bill Phillips said once was that you don't have to stop working out just because you have a cold. You may not feel like working out but you don't have to lie around on the couch or in bed.
I hope no one takes this as medical advice because I am an engineer and not a doctor or nurse, but I believe there is some truth that you can get up and do things but just make sure you are dressed appropriately and don't exhaust yourself.
I guess the next best thing to do if you're not feeling well, besides reading a book in front of a fire, is to take a scenic drive and at least see something beautiful.
I would love to hear your thoughts or Comments on this or send me an Email.
Back to Home Page
Sale
Bestseller No. 1
Merrell Men's Moab 2 Vent Mid Hiking Boot, Walnut, 9.5 M US
Removable Insole. Breathable mesh lining
5mm lug depth ; Molded nylon arch shank ; Bellows, closed-cell foam tongue keeps moisture and debris out ;Merrell air cushion in the heel absorbs shock and adds stability
Merrell M Select FIT.ECO+ blended EVA contoured footbed with added zonal arch and heel support
Sale
Bestseller No. 2
Sale
Bestseller No. 3
Columbia Men's Newton Ridge Plus II Waterproof, Cordovan/Squash, 11
ADVANCED TECHNOLOGY: Columbia Men's Newton Ridge Plus II Waterproof Hiking Boot features our lightweight, durable midsole for long lasting comfort, superior cushioning, and high energy return as well as an advanced traction rubber sole for slip-free movement on rough ground.
HANDY FEATURES: Treacherous days out on the trail are comfortable and worry-free with this boot's waterproof full-grain leather and mesh bootie construction and its durable mesh tongue for breathability.
ADJUSTABLE FEATURES: The Newton Ridge Plus II Waterproof Hiking Boot features a lace-up closure for an adjustable, secure fit.
VERSATILE STYLE: This men's waterproof hiking boot delivers style and durability with its contrasting color combinations and soft mesh exterior.
OMNI-GRIP: This multi-terrain traction system matches specially formulated compounds and treads to specific environments. A dual-zone winter tread pattern ensures solid footing on surfaces such as ice and snow.
Bestseller No. 4
Sale
Bestseller No. 5