Do you feel bad? Go Hiking!
Yesterday I was feeling like I had a slight tickle in my throat, which was most likely congestion of some sort. Other than that I was feeling pretty good.
I woke up at 6 am and was at the trailhead ready for a beautiful hike at 7:45 am. Nothing had changed with my health but the congestion was still there. It wasn't a full-on cough, but a slight tickle in my throat. At least that's how I would describe it.

It was a great hike in the snow in the Rocky Mountains at Mount Falcon, near Indian Hills, Colorado. The only issue was that the sky was mostly over cast, but it was still a gorgeous day.
I felt great on the hike but as soon as I climbed into my truck, and turned on the engine, my head started burning up, the same way you would feel if you had a full on fever.
I was burning up and chilled all the way home and all evening. I headed to bed early and didn't set my alarm as I was hoping some rest would help.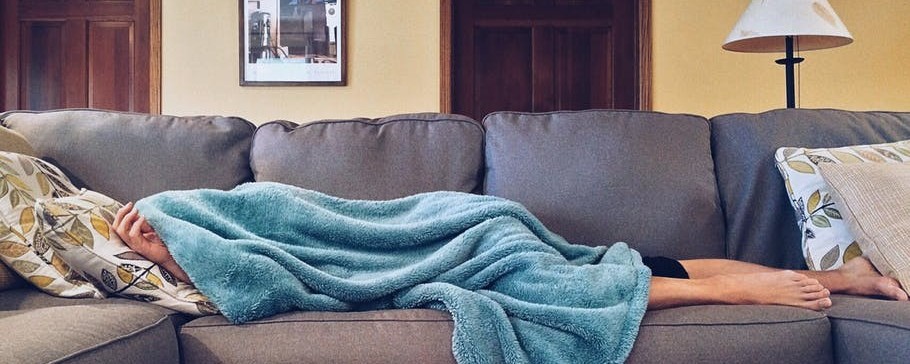 I started sweating around 11 pm and I don't think I stopped sweating until 3 am. I have learned through life experiences and some advice that sweating at night typically means your fever has broke.
I woke up feeling pretty much back to normal, except for a sore throat.
I decided to get my butt out of bed and head to work. I had to make a quick stop at Lowe's and I started talking the cashier when checking out and I told here what had happened since my hike yesterday.
She's the one that told me, "if you feel bad, take a hike."
I thought that was a cool saying but I have to caution anyone who reads this that doing physical activity while feeling bad or after recovering from an illness, can make your illness worse or cause a relapse.
What I'm mostly referring to here is if you feel down emotionally, or have some congestion or a cold, that doesn't mean you have to stay inside by a nice warm fire, even though that sounds pretty awesome right about now.
I was following Body for Life many years ago and one of the things Bill Phillips said once was that you don't have to stop working out just because you have a cold. You may not feel like working out but you don't have to lie around on the couch or in bed.
I hope no one takes this as medical advice because I am an engineer and not a doctor or nurse, but I believe there is some truth that you can get up and do things but just make sure you are dressed appropriately and don't exhaust yourself.
I guess the next best thing to do if you're not feeling well, besides reading a book in front of a fire, is to take a scenic drive and at least see something beautiful.
I would love to hear your thoughts or Comments on this or send me an Email.
Back to Home Page
Bestseller No. 1
TETON Sports Oasis 18L Hydration Pack with Free 2-Liter water bladder; The perfect backpack for Hiking, Running, Cycling, or Commuting
SATISFY YOUR THIRST FOR ADVENTURE: Lightweight and comfortable; This hydration pack is a terrific companion for all your day-long or overnight hydration needs
FREE HYDRATION BLADDER: 2-Liter; Durable, kink-free sip tube and push-lock cushioned bite valve; Large 2-inch (5 cm) opening for ice and easy cleaning
CUSTOMIZABLE COMFORT: Backpack for men, women, and youth; Adjusts to fit all frames comfortably; Notched foam stabilizer and mesh covering means you can wear this pack for hours
TRUSTED QUALITY: Over 1,000 verified 5-star reviews testifying to the quality and design; Large main pocket protects gear, clothes, and lunch; Bungee cord system for cycling and climbing helmets
TETON SPORTS PROMISE: Reach out to our AMAZING product support team if you have any questions or concerns; YOU CAN COUNT ON US to get you taken care of and back OUTDOORS with TETON Sports
Bestseller No. 2
4Monster Camping Towels Super Absorbent, Fast Drying Microfiber Travel Towel, Quick Dry Ultra Soft Compact Gym Towel for Swimming Beach Hiking Yoga Travel Sports Backpack
【Portable Travel Towel Case】Why choose an ordinary woven bag when you can choose an EVA box that is cooler, more portable and easier to store your towel? Not to mention that this box can better protect the towel and save space for the backpack and pocket.
【Skin Friendly】High quality microfiber provides soft and smooth feeling on your skin,suede and comfortable feel after each use.
【Absorption and Quick Drying】More absorbent than ordinary towels,and can be air dried and reused in a short time.It's also very light weighted, you can hardly feel it when you put it around your neck.Ideal for wiping sweat during camping,hiking,traveling,swimming and gym.
【Professional Manufacturer】Natural Plant Dyeing, no fade after use; 100% clean fabric;durable stitching and other accessories;no smell after use. We only provide the best products to our customers.
We want to make sure you have an amazing experience with us. 30 day no hassle returns / free exchange,12 month warranty.We make sure you'll have nothing to worry about.
Sale
Bestseller No. 3
Sale
Bestseller No. 4
BALEAF Women's Hiking Pants Quick Dry Lightweight Elastic Waist Water Resistance Joggers Casual Pant for Summer Black Size M
Crafted of lightweight, breathable, water-resistant, and quick dry fabric, the women's hiking pants keep you cool and fresh all day.
Stretch-woven fabric with built-in UPF 50+ provides excellent protection against harmful ultraviolet rays.
The women's hiking pants with four zip-closure security pockets offer great convenience. The elastic waist with a drawstring and articulated knees make the pants a perfect fit.
Featuring adjustable cord locks around the cuffs, allowing leg opening adjustment to keep bugs out when hiking, making them more convenient for sports. Great for hiking, climbing, traveling, or your favorite outdoor pursuit.
According to our customer's feedback, these women's lightweight hiking pants may run a litter larger. Please choose one size down If you prefer a snug fit. Machine washable.
Sale
Bestseller No. 5
innotree 5 Pack Women's Cushioned Hiking Walking Running Socks, Crew Ankle Socks
【MATERIAL】 50% Cotton, 45% nylon, 5% Lycra spandex. SIZE: S (Womens 5-7 US Size) / M (Womens 6-10 US Size). Each pair ankle socks weight 0.11lb/49g.
【COMFORATABLE】 Fine gauge knitting technology makes the hiking socks super comfortable, breathable and fast drying. Great elasticity and stay up-compressed top holds the quarter socks securely on the calf.
【PERFORMANCE】 Half thickness and cushioning along the bottom of the foot provide the perfect amount of support while a smooth, performance fit assures there's no slipping and no blisters.
【FUNCTIONAL】 Moisture wicking, Ideal for hiking, camping, mountain biking, trail running, backpacking, travel, trekking and other athletic outdoor activities and wide variety of summer and winter sports.
【DURABILITY】5 pairs micro crew socks in one set, great for gift idea. Great durability, buy with confidence. Please don't hesitate to contact us via Amazon message system if at any time you aren't completely happy with your purchased.