Do you feel bad? Go Hiking!
Yesterday I was feeling like I had a slight tickle in my throat, which was most likely congestion of some sort. Other than that I was feeling pretty good.
I woke up at 6 am and was at the trailhead ready for a beautiful hike at 7:45 am. Nothing had changed with my health but the congestion was still there. It wasn't a full-on cough, but a slight tickle in my throat. At least that's how I would describe it.

It was a great hike in the snow in the Rocky Mountains at Mount Falcon, near Indian Hills, Colorado. The only issue was that the sky was mostly over cast, but it was still a gorgeous day.
I felt great on the hike but as soon as I climbed into my truck, and turned on the engine, my head started burning up, the same way you would feel if you had a full on fever.
I was burning up and chilled all the way home and all evening. I headed to bed early and didn't set my alarm as I was hoping some rest would help.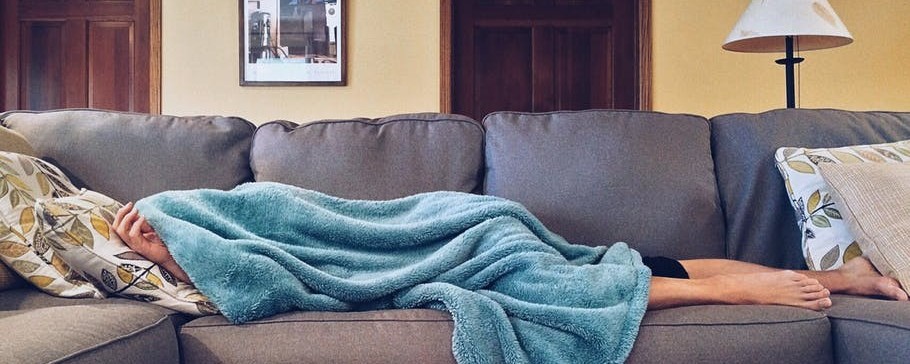 I started sweating around 11 pm and I don't think I stopped sweating until 3 am. I have learned through life experiences and some advice that sweating at night typically means your fever has broke.
I woke up feeling pretty much back to normal, except for a sore throat.
I decided to get my butt out of bed and head to work. I had to make a quick stop at Lowe's and I started talking the cashier when checking out and I told here what had happened since my hike yesterday.
She's the one that told me, "if you feel bad, take a hike."
I thought that was a cool saying but I have to caution anyone who reads this that doing physical activity while feeling bad or after recovering from an illness, can make your illness worse or cause a relapse.
What I'm mostly referring to here is if you feel down emotionally, or have some congestion or a cold, that doesn't mean you have to stay inside by a nice warm fire, even though that sounds pretty awesome right about now.
I was following Body for Life many years ago and one of the things Bill Phillips said once was that you don't have to stop working out just because you have a cold. You may not feel like working out but you don't have to lie around on the couch or in bed.
I hope no one takes this as medical advice because I am an engineer and not a doctor or nurse, but I believe there is some truth that you can get up and do things but just make sure you are dressed appropriately and don't exhaust yourself.
I guess the next best thing to do if you're not feeling well, besides reading a book in front of a fire, is to take a scenic drive and at least see something beautiful.
I would love to hear your thoughts or Comments on this or send me an Email.
Back to Home Page
Sale
Bestseller No. 1
LifeStraw Personal Water Filter for Hiking, Camping, Travel, and Emergency Preparedness, 1 Pack, Blue
Removes Bacteria & Parasites: The Microfiltration Membrane Removes 99.999999% Of Waterborne Bacteria (Including E. Coli And Salmonella), And 99.999% Of Waterborne Parasites (Including Giardia And Cryptosporidium)
Removes Microplastics: Removes The Smallest Microplastics Found In The Environment (Down To 1 Micron), And Reduces Turbidity Down To 0.2 Microns
Rigorous Testing: All Claims Are Verified With Laboratories Using Standard Testing Protocols Set By The Us Epa, Nsf, Astm For Water Purifiers
Long Lifetime: The Microbiological Filter Will Provide 4,000 Liters (1,000 Gallons) Of Clean And Safe Drinking Water With Proper Use And Maintenance
Make An Impact: For Every Lifestraw Product Purchased, A School Child In Need Receives Safe Drinking Water For An Entire School Year.Bpa Free Materials
Sale
Bestseller No. 2
Columbia Men's Glennaker Lake Rain Jacket, Black/Grill, XX-Large
WATERPROOF TECHNOLOGY: You'll love our Columbia Men's Glennaker Lake Rain Jacket, it features our Hydroplus waterproof nylon fabric for the ultimate in lightweight, wet weather, protection and comfort.
COMPACT AND PACKABLE: A versatile waterproof jacket with an attached hood to ensure complete rain coverage, while its packable design lets you stow it away into its own chest pocket. Perfect for when the last drizzle subsides.
HANDY FEATURES: Featuring a convenient stow-away hood, zippered hand pockets, adjustable sleeve cuffs, and a drawcord adjustable hem locks in the dry and keeps out the wet.
VERSATILE FIT: This rain jacket features a timeless, versatile fit, that's perfect functional rainy-day wear.
BUILT TO LAST: Columbia's attention to detail is what sets our apparel apart. Specifying only the highest quality materials, expert stitching and craftsmanship. This is a long-lasting jacket you will enjoy for seasons to come.
Bestseller No. 3
Sale
Bestseller No. 4
Henoty Crampons, 19 Spikes Ice Cleats Traction Snow Grips for Hiking Boots, Shoes Women Men Kids, Safe Protect for Hiking Fishing Climbing Mountaineering
[Quality deliver Safety] With stronger stainless steel welded chain, 5mm reinforced high-elastic TPE rubber and 19 strengthened spikes these ice traction cleats give you more confidence while walking on the ice or snow, stability secured.
[Balance Enhanced] 19 spikes per foot. Each wide heel plate with 3 spikes is for secure downhill traction and each spike is 1/2' long. The spikes are made from heat-treated stainless steel for excellent durability and corrosion resistance.
[Durable and stretchy material] Made from thermoplastic elastomer(TPE), 5mm thicker than ordinary rubber, strong performance under -45°C.Easy to put on&off with adjustable strap. Won't tear or snap, ensure long lasting comfort and durability.
[Versatile In Use] Well suited for walking, jogging, hiking, tracking, fastpacking, ice fishing, and more. Wear them while conquering wet, muddy, snowy, icy, or angled surfaces. Suitable for all types of footwear regardless of sex, age, or intentions.
[60 Days 100% Satisfaction] If you are not 100% satisfied with this product for any reason, please contact customer service within 60 days, and we will immediately help you to solve the problem.
Sale
Bestseller No. 5
Yaktrax Pro Traction Cleats for Walking, Jogging, or Hiking on Snow and Ice (1 Pair), Small , Black
Traction cleats that fit over shoes for safely walking, hiking, or jogging on packed snow or ice
Made of high-strength, abrasion-resistant 1.4 mm stainless-steel coils and heavy-duty rubber; secured to shoes with durable rubber straps
Provides 360 degrees of traction on cold surfaces for all-direction stability
Durable rubber foot frame with removable over-foot strap ensures an excellent fit
Tested safe from breakage in temperatures as low as -41 degrees F; available in S, M, L, and XL sizes to fit most shoes