Trail Information
Trail Name: Dunes Overlook Sand Ramp Trail
Location: Great Sand Dunes National Park, Colorado
Date: February 8, 2020
Time at the Trail Head: 9:00 am
Trail Length: 3.6 miles
Elevation Gain: 380 feet
Elev. at Trail Head: 8,378 feet
# of Hikers Passed: 2
# of Mnt. Bikers Passed: 0
# of Horses Passed: 0
Mosquitoes: 0
Trail Research
We had a significant snow storm over the last few days with 1.5 feet to 2 feet in the mountains and 6 inches to 8 inches in much of the area from Colorado Springs to Denver and on to Fort Collins, so we needed to look to the south in order to find and area that did not get a lot of snow.
I had heard a lot about the Great Sand Dunes National Park and Preserve near Alamosa, Colorado. A lot of people drive dune buggies and also do things like sand surfing in the summer but we thought it might be good to visit there in February.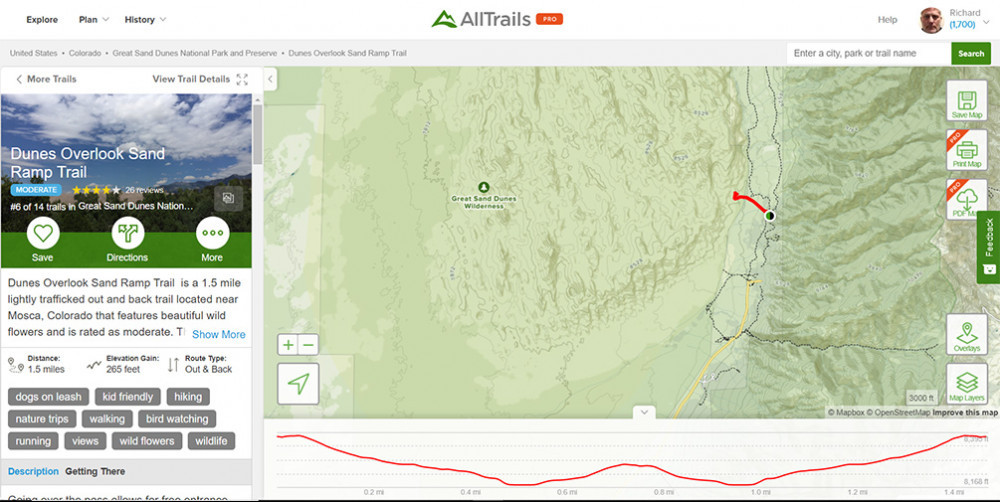 I did some research using AllTrails and found that some of the roads are closed in the winter and other roads are only open to 4-wheel drives but there are several trails that are open to 2-wheel drive vehicles, so we decided to take our shot at this trail, but had a back up trail in mind in case we couldn't reach it.
I need to warn you about this trail and how it is shown on AllTrails. The trail is accurate up to the river but once you cross the river and enter the sand dunes, forget trying to find a trail. The best you can do is find ridge lines with a more gradual ascent and just have a good time hiking in the sand.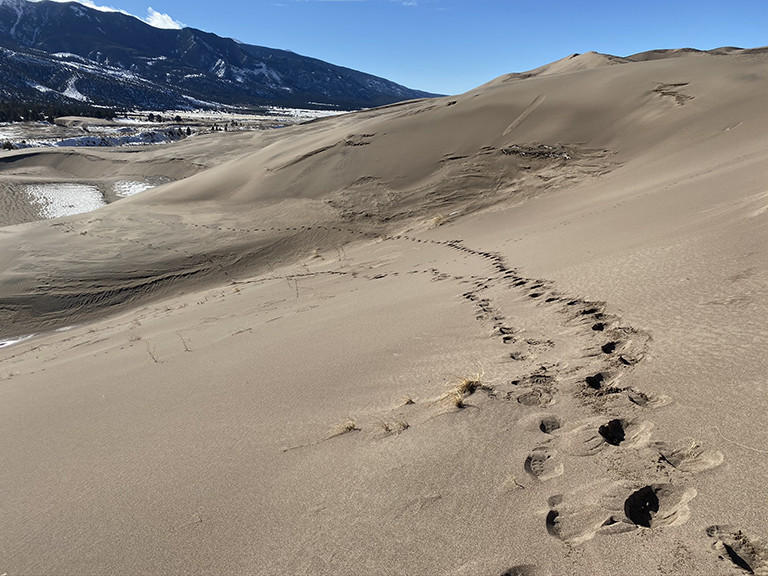 The good thing for us is that it was easier hiking on the sand in the winter then the summer, however, my son thought it would be more fun to scale the steep sections of the sand dunes. Right! Well, we eventually made it to the peak of one of the highest sand dunes and were rewarded with some incredible views, but I still wanted to beat him up a little.
Drive to the Trail
The drive to the trail was absolutely stunning. It was beautiful driving south on I-25 from the Dever area, past Colorado Springs, Pueblo and to Spanish and from there we drove through what is called the Spanish mountains to just east of Alamosa, Colorado.

The views were incredible and I almost felt as though I didn't need to go on the hike after the beautiful drive.
My Day on the Trail
The trailhead is fairly small and there are not bathroom facilities there but there is a nice visitors center about 1 mile back.
The trailhead is at the Point of No Return, where only 4-wheel drive vehicles are allowed past that point. Fortunately for us, our trail started right there.
The trail is almost 1 mile long to the river and it s easy to follow up to the river, however, the sand dunes start immediately on the west side of the river, so forget trying to follow a visible trail after you cross the river.
The river was frozen solid but the top was melting so we had to be careful that the ice was strong enough to support us.
After crossing the river, the trail disappeared and I wanted to choose the most gradual ascent to what I thought we might be heading towards, but my son had other ideas. He wanted to head into no mans land and go up the steep slopes. Fortunately for us in is winter here and it is easier to walk on the sand then it would be in the summer.
To say the least, I was calling him some name, all in good fun.
The hike was difficult but it was easier to hike in the darker, wet sand, but no…he wanted to go straight up the hard softer stuff. I really was about to disown him at that point.
We finally did reach some more firm darker sand and I was able to catch my breath and realized I might just make it back home alive, when my son saw a high point on the dunes that would offer some incredible views. I agreed it would but the challenge was getting there, after he decided to take the hard way up.
He was thinking this was all really funny to see me suffering from the fun path he had chosen for us.
Osprey Packs Talon 22 Men's Hiking Backpack, Medium/Large, Black
Dual-zippered access to main compartment
External hydration sleeve accommodates up to a 3L reservoir (sold separately)
Adjustable shoulder harness to dial in perfect fit
Stretch mesh pockets on both sides of pack provide convenient storage for bottles and smaller items.
Two zippered hipbelt pockets and LidLock helmet attachment
I agreed that there was a potential to reach the summit, but we should wait until we climbed higher to get a better view.
Things were not looking much better, the closer we got, but as all great hikers do, we headed on up what would be some painful climbing.
Well, we finally reached the top of the steep section and I couldn't kill my son right then and there as I was trying to breath and not be taken off the dunes in a stretcher.
The hard work was over…after I got my breath back, and the remaining stretch to the top was easy, compared to what we had just accomplished.
The last several hundred feet wasn't bad and we were about to see some outstanding views.
This was actually an incredibly fun hike and you can see from these views that it was well worth the pain.
I hope these panoramic pictures do these views some justice.
Who would believe that you would have these incredible sand dunes in the middle of the gorgeous Rocky Mountains.
We took some time to enjoy the magnificence of Colorado before taking, "My" easier way down. We still found a few places to run down some steep sand dunes which reminded my of some fun when I was younger in Southern Oregon.
After this point, we just needed to cross the river, of course at its widest point, as per my son's wishes. It was a little concerning but we stayed close and had our trekking poles ready to assist in pulling the other one out of the water if the ice broke.
We emptied the sand out of our boots and headed home but had to stop for one last picture.
On the way back to Castle Rock, we had to reward ourselves with the biggest burgers I have ever eaten and I'm still not sure how we managed to get our mouths around these burgers.
Trail Recommendations
This was one awesome trail and the dunes made this one of the most fun hikes here in Colorado in the last 6 months.
I would be prepared for some difficult hiking in the sand, especially if you try this when the weather is warmer.
We loved the trail and this area of Colorado, so make sure this is one of your stops when you visit Colorado.
Lessons Learned
The trekking poles helped a lot when ascending the steep sand dunes.
LEKI Micro Vario Carbon Trekking Pole Pair - 110-130 Blue
Exclusive AERGON grip features a hollow core construction to save weight and create an edgeless, rounded grip for comfortable gripping at all angles especially for "palming" on steeper terrain. Thermo foam grip material for extra comfort, light weight and insulation in colder weather. Built in 8deg Positive Angle in LEKI grips keeps wrist in neutral position and provides more efficient pole plants.
Air-textured "no bulk" security strap maintains design dimensions of grip; efficient wicking and fast drying; adjusts and secures strap adjustment without buckles. Extended foam grip for traversing and climbing. SPEEDLOCK 2 lever locking mechanism is simply THE strongest external locking system in the world as rated by TUV, and the only locking systems to meet the minimum holding force recommended by TUV.
100% High Modulus Carbon shaft sections for reliable, lightweight performance in all conditions. PE coated, Kevlar reinforced tension cord for long term reliability. ELD (External Locking Device) gives easy access to release the assembly tension of the pole for quick knock down and packing. Maximum tension between shaft sections made possible by internal (serviceable) spring in lower shaft.
Carbon section ends are protected by machined Aluminum sleeves for extra long wear. Machined Aluminum connectors help to center shaft sections for quick, snag free assembly. LEKI's original Carbide Flextips provide secure hold on all terrain and surfaces for years of adventure; easily replaced in the field.
Interchangeable basket system allows a variety of different sized LEKI baskets to be easily screwed on/off for different seasons/uses thanks to offset threads that keep the baskets securely in place.
Check out this Full length video of the Dunes Overlook Sand Ramp Trail on YouTube.
I would love to know if you have had any experience on this trail or have other trails you love to hike. Leave a Comment Below or send me an Email.
Return to Home Page