Trail Information
Trail Name: Lincoln Mountain Loop
Location: East side Larkspur, Colorado
Date: May 27, 2020
Time at the Trail Head: 6:00 am
Trail Length: 4.1 miles
Elevation Gain: 367 feet
Elev. at Trail Head: 7,037 feet
# of Hikers Passed: 2
# of Mnt. Bikers Passed: 0
# of Horses Passed: 0
Mosquitoes: 0
Trail Research
I wanted to find another local tail near Castle Rock that is easy to hike mid week and I found what I believed to be a nice trail east of Larkspur, between Castle Rock and Colorado Springs.
This is a nice trail, close to where I live. It's not hard nor does it have fabulous views, but then again, the views are pretty incredible. It depends on who you ask.
Drive to the Trail
I woke up early in order to get to the trail by sunrise. I arrived at the trail a little after sunrise but the sun rising on my drive turned out to be pretty spectacular.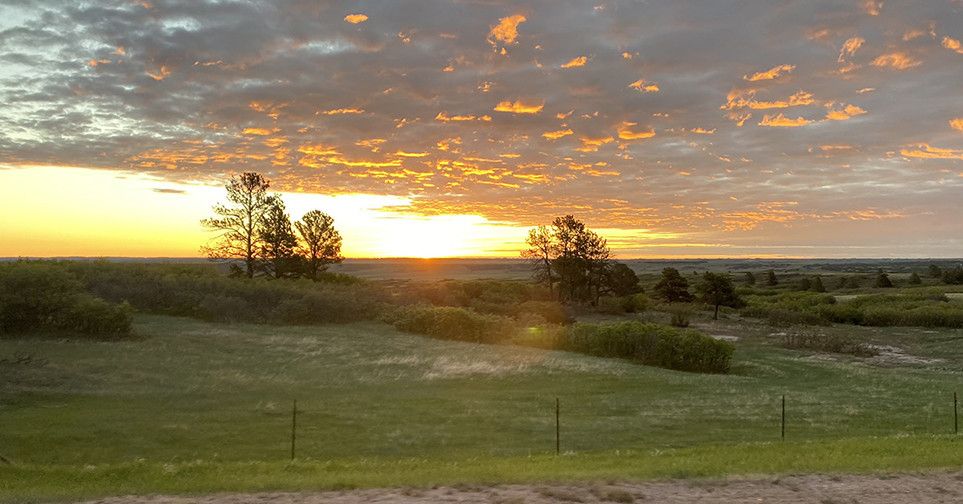 We turned south on to Highway 83 and had some really nice views of Pikes Peak in the distance next to Colorado Springs.
I knew this trail wasn't going to have the spectacular pictures I usually hope for but I think you'll find that they turn out pretty well.
My Day on the Trail
The trailhead is large as a lot of people bring their horses here in their horse trailers. There weren't any horses here this morning but they left a lot of tracks on the trail
There are bathroom facilities here but again, they are outhouses, so just be thankful that there is something there.

Here is a view of the trailhead from the top of Lincoln Mountain.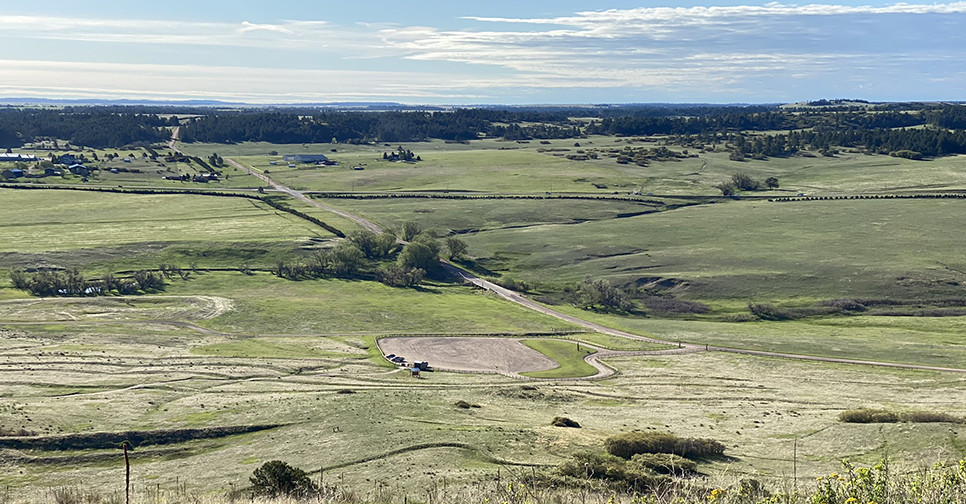 This trail is classified as moderate by AllTrails but I would lean to it being easy. The hike to the top of Lincoln Mountain is gradual as it has a lot of switch backs in the trail.
The hike up to the top of Linclon Mountain is entirely on the east side of the mountain so you will only get photos towards the east, but if you get to the trail early enough, you will get some great sunrise shots.
We finally reached the top of Lincoln Mountain and could see in every direction, up to Longs Peak in the Rocky Mountain National Park (RMNP) and down to Pikes Peak in Colorado Springs.
This first photo is looking southwest towards Colorado Springs and Pikes Peak.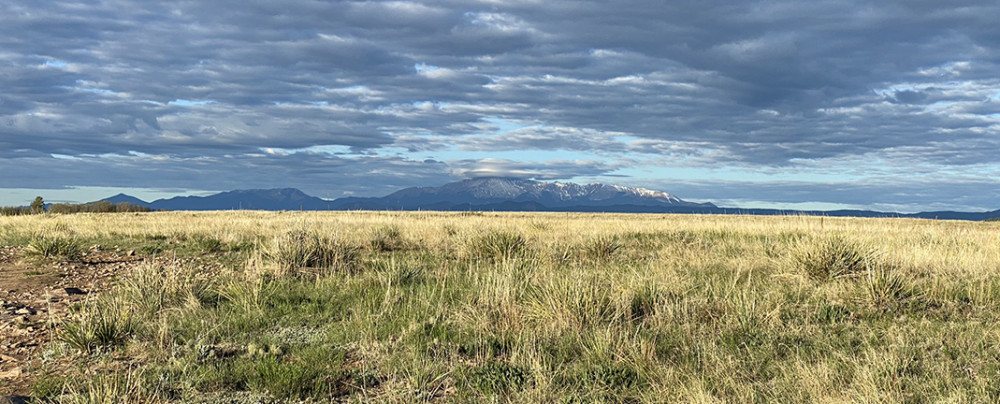 You can see to the west and northwest up to Mount Evans and to the right, Long's Peak in the Rocky Mountain National Park (RMNP).

This next photo is looking southeast to south, towards the town of Monument, which is on the north side of Colorado Springs.
Once you reach the top of Lincoln Mountain, the trail stretches out to the west where I was able to get some better views of the Rocky Mountains and the surrounding area. Here are several photos in a row to show some of the beauty you can see from here.
There were some really nice homes with acreages around a small lake to the north which I thought would be a great place to live.

And a little to the north or northwest, there were more ranches in the valley with the Rocky Mountains out in the distance.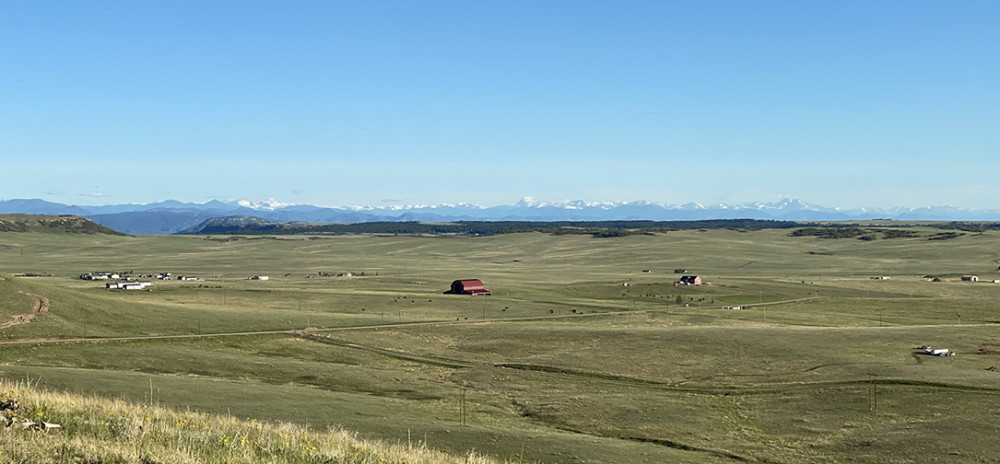 The most impressive mountain in the area is definitely Pikes Peak, on the west side of Colorado Springs. There were a lot of clouds around Pikes Peak when I started the hike, but the clouds kept lifting or burning off the farther I got into the hike.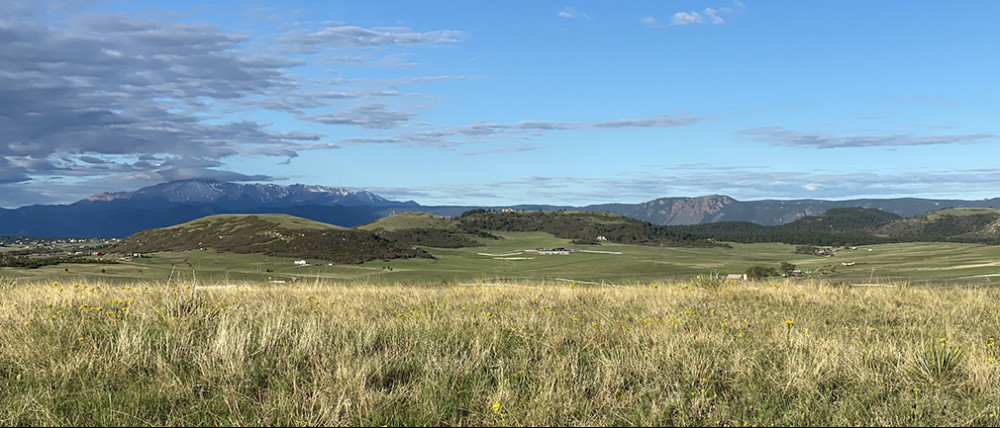 There are several places to sit and enjoy the views from the top of Lincoln Mountain as you can see in this next photo.
There were several beautiful ranches, looking to the south and west. I have always wanted to have a ranch in an area like this with magnificent views of the mountains.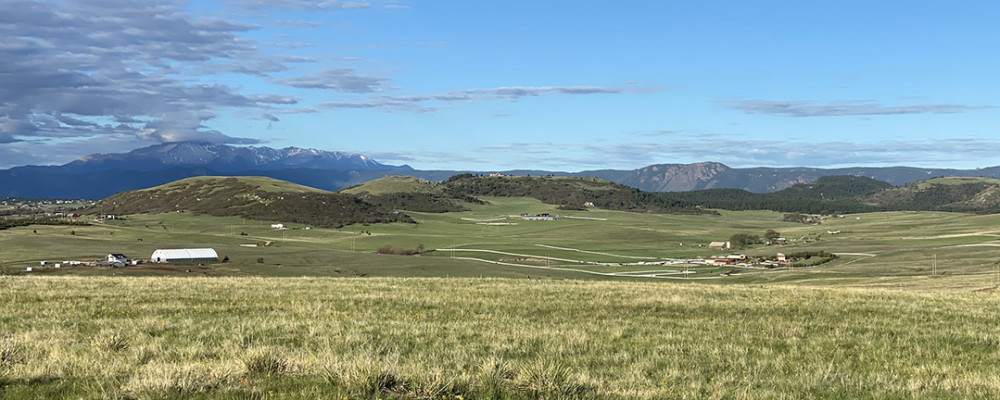 It's so beautiful in the early mornings here in Colorado to get out and enjoy the day. The winds are lighter, there are fewer people on the trail and I think the colors are more magnificent as the sun is rising.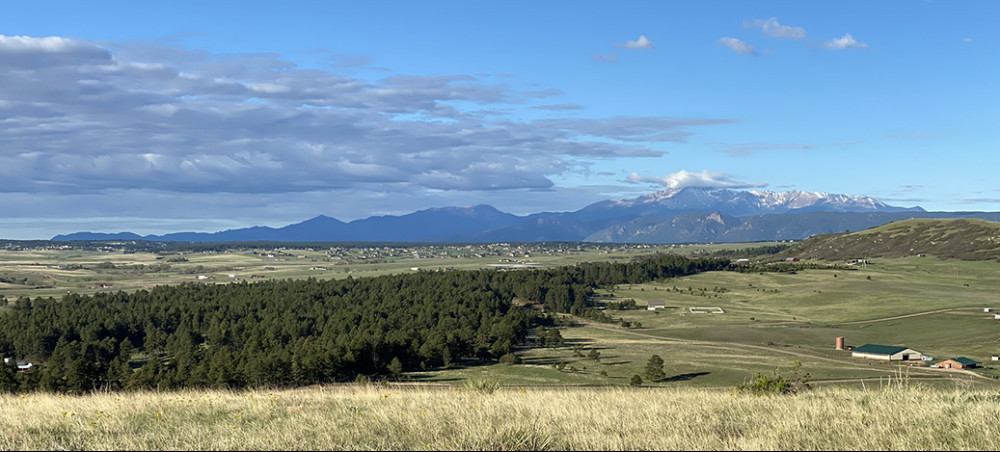 There was one beautiful ranch, nestled in the pine trees, that really caught my eye. I love having a beautiful view of the Rocky Mountains, but I also love to be surrounding by pine trees.
Here is another photos of it.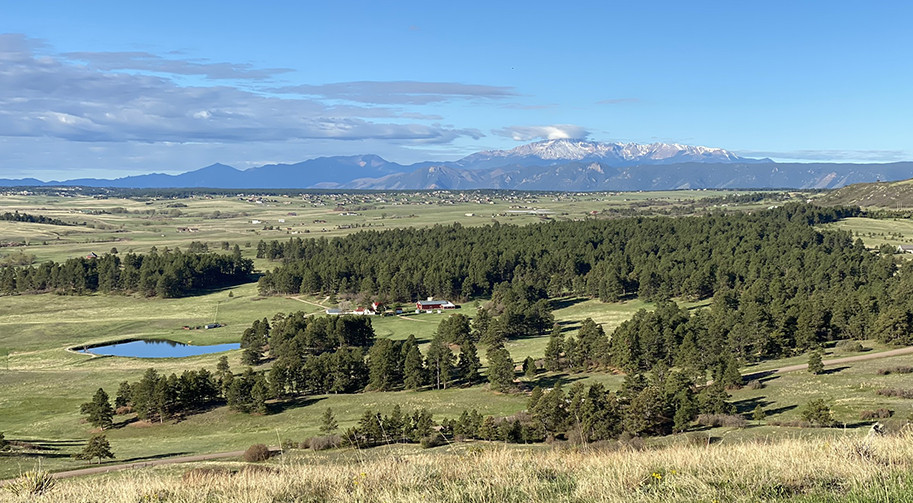 Well, it was time to head back down, but not before getting another photo looking to the northeast and Franktown, Colorado. you can't see Franktown but it would be off in the distance over the rolling hills.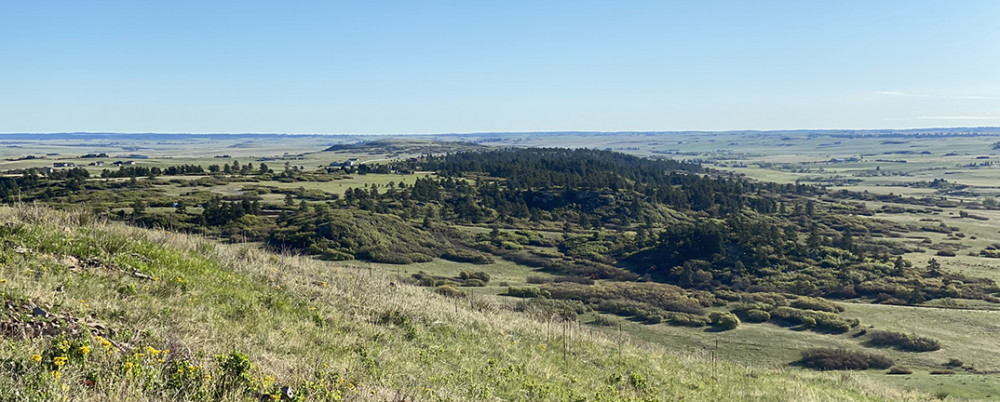 Trail Recommendations
This trail is easy to get to from Castle Rock and is an easy to moderate hike. It has some great views but not necessarily grand views, however, it is a nice hike to get away to when you don't have a lot of time.
Lessons Learned
Even on shorter hikes, close to home, it's best to always have your backpack with emergency supplies and first aid kit. Many times we're confident that nothing will happen but it sure can. I also always carry a snake bite kit as rattlesnakes do live in these mountains.
Ven-Ex Snake Bite Kit, Bee Sting Kit, Venom Extractor Suction Pump, Bite and Sting First Aid for Hiking, Backpacking and Camping. Includes Bonus CPR face Shield by Archer MedTech.
Archer MedTech Brand Ven-Ex venom extractor kit with Bonus keychain CPR shield.
Keep a Ven-Ex bite and sting extractor kit handy for all of your outdoor activities. It's a handy addition to your First Aid Supplies, car glovebox, backpack, etc.
This bee sting kit can be helpful helpful in extracting bee, wasp or spider venom from the wound site. The pump is easy to use even with only one hand.
Ven-Ex snake bite kit is light, compact and highly portable. It comes in a hard-shell case with two sizes of extraction cups and a tourniquet band to help control the spread of the venom until it can be extracted.
Ven-Ex snake bite kit by Archer MedTech is a sturdy, reliable First Aid tool for extracting subcutaneous venom from snake bites, bee stings, wasp stings, etc. Note, venom extractors work well to pull venom from just beneath the skin but not from within the muscle tissue. Effectiveness will vary depending upon where the bite/sting occurred and how deep it is. Always seek professional medical attention immediately.
Check out this short video of the Lincoln Mountain Loop on YouTube.
I would love to know if you have had any experience on this trail or have other trails you love to hike. Leave a Comment Below or send me an Email.
Return to Home Page