Trail Information
Trail Name: Maroon Bells Wilderness Loop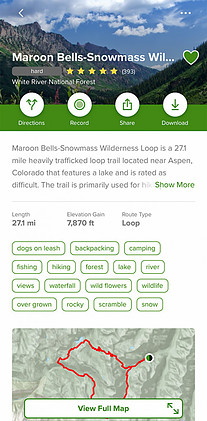 Location: West of Aspen, Colorado
Date: July 4, 2020
Time at the Trail Head: 6:00 am
Trail Length: 27.1 miles
Elevation Gain: 127 feet
Elev. at Trail Head: 7,870 feet
# of Hikers Passed: 0
# of Mnt. Bikers Passed: 0
# of Horses Passed: 0
Mosquitoes: 0
Trail Research
I have been wanting to visit the area around Aspen for some time and just recently found out about the Maroon Bells Wildneress Area. We did our research and hit the road, but we found out that we didn't do enough research.
Lessons Learned
We had exited off from I-70 and were passing through the Carbondale area when I saw the first electronic sign saying everyone needed to make reservations in order to enter the Maroon Bells Wilderness Area.
We quickly looked online at the Maroon Bell Reservation website and were amazed that we couldn't get a parking permit reservations for the next two months. There are options for Shuttle Bus Reservations, 1 Day Parking Permit Passes and 2 Day Parking Permits Passes.
I like to be at the trailhead at sunrise so I chose a 2-Day Parking Permit Reservation. There were no reservations available in July or August. You can't even make a reservation in September until August 1st.
Shuttle Bus Reservations are available and this will be your best option if you haven't made a reservation early enough.
I will be updating this trail review in September or October when we hike the Maroon Bells Snowmass Wilderness Loop. This is a hard hike and will require a 2 night overnight stay on trail. I know we'll be testing our luck in October with potential snow storms but I think that's when I want to hike the area as the aspens will be in their full yellow beauty.
Check out this Short Video on YouTube.
There are not a lot of places to shelter in the area so they recommend you take good waterproof gear and be ready for rain storms.
Make sure to take some time and visit Aspen, Colorado.
I would love to know if you have had any experience at the Maroon Bells Wilderness Area. Leave a Comment Below or send me an Email.
Return to Home Page