Trail Information
Trail Name: Chautauqua Mountain & Balanced Rock Loop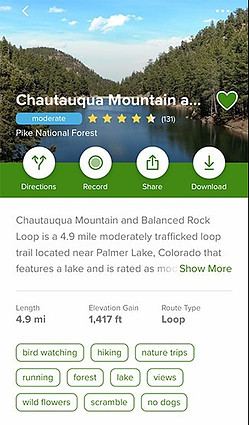 Location: West side of Palmer Lake, Colorado
Date: January 04, 2020
Time at the Trail Head: 9:30 am
Trail Length: 4.9 miles
Elevation Gain: 1,417 feet
Elev. at Trail Head: 7,224 feet
# of Hikers Passed: 17
# of Mnt. Bikers Passed: 2
# of Horses Passed: 0
Mosquitoes: 0
Trail Research
For some reason, this trail was harder to choose this week, as I wanted to travel farther west into the Rockies but family events caused me to have to look for a trail closer to home, and one that I had not been on this year. I finally found a trail that looks promising on the west side of the town of Palmer Lake, Colorado.
Palmer Lake pretty little town situated north of Monument and Colorado Springs. Palmer Lake is in town but we chose to hike up into the mountains to the Palmer Lake reservoir. there are actually two reservoirs on this hike.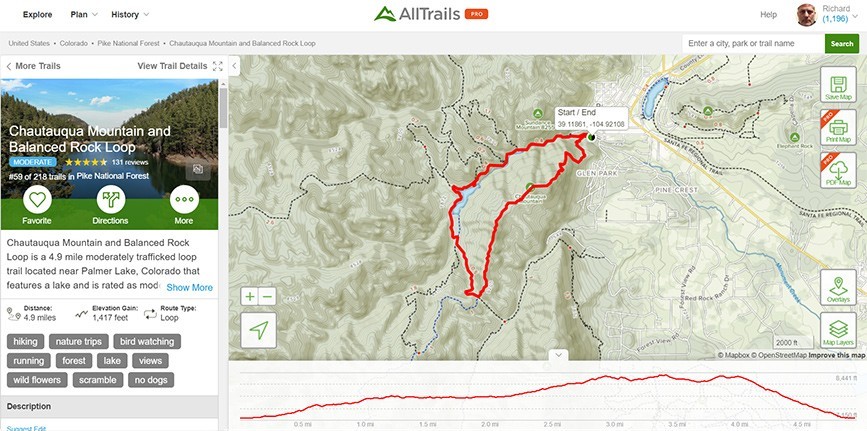 No one recommended this to me so I'll have to see if my research pays off on this hike.
Drive to the Trail
The drive to the trailhead is a beautiful drive, no matter if you're driving from Denver or Colorado Springs, but my favorite way to make the drive down Perry Park Road. The road is only posted at 55 MPH speed limit, so you need to relax and enjoy the beauty of the Colorado Rockies.
The drive takes you south of Sedalia, west of Castle Rock and Larkspur, and then east of Perry Park before arriving in Palmer Lake, Colorado.
There are many beautiful mountains, ranches and red rocks the farther south you drive, especially as you drive near Perry Park.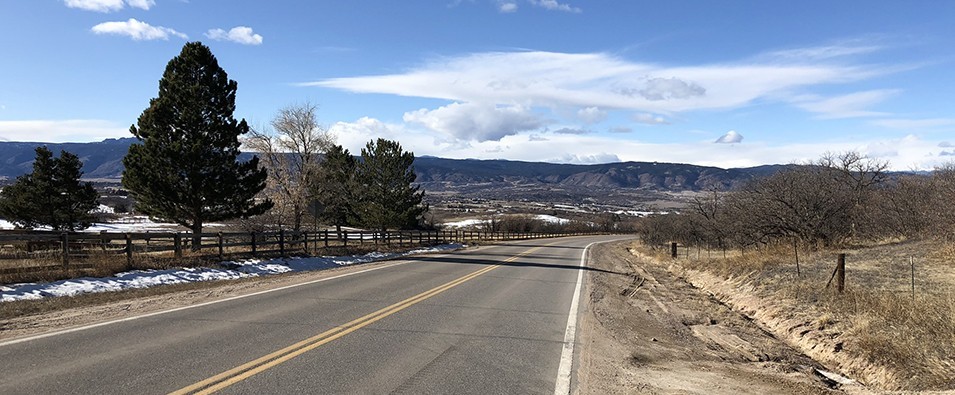 Prior to reaching the trail I checked out Google Earth to see if there are any facilities on the trail. There are no facilities at the trailhead but I believe there is a beautifully furnished outhouse several hundred yards down the trail. I hear it has a 5 start rating…out of 100.
As you can tell, I'm not a fan of these but they do serve their purpose well when nature comes calling.
Note: After hiking up to the "outhouse" we discovered that it was a building owned by the city, but not a luxurious bath house.
My Day on the Trail
The trailhead is easy to reach as it is on the west side of the town of Lake Palmer, Colorado. The parking lot is large enough for maybe 30 cars but there are no bathroom facilities there.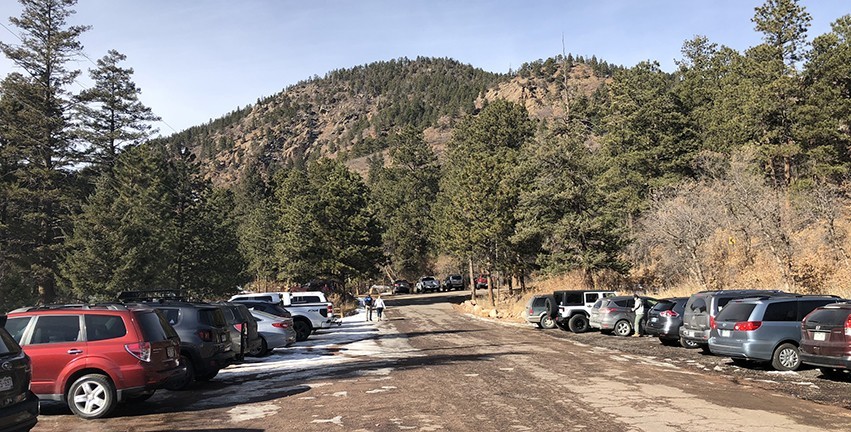 You should take the trail counter clockwise as this is a longer path which makes the climb not as intense. If you go clockwise, you will climb around 1,400 feet in less then 1 mile. It is an extremely intense climb. The hike down this section is steep and can be difficult with snow and ice.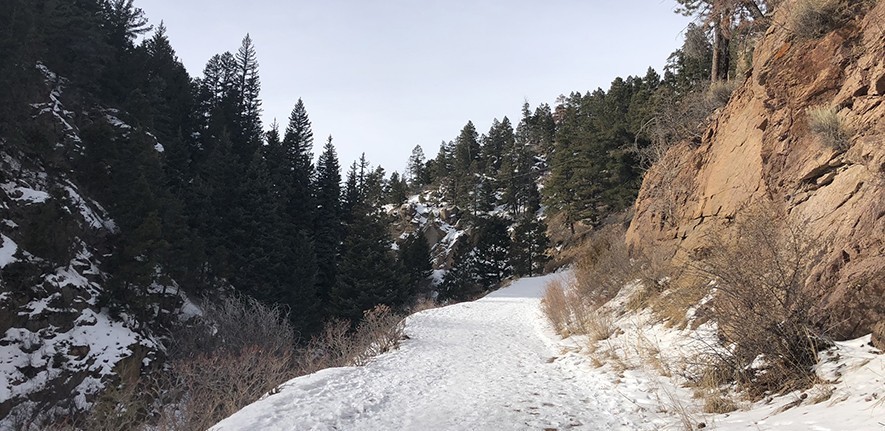 There are two reservoirs on this hike. The first one is a small lake but the second lake is much larger and is beautiful in the winter and I can only imagine how spectacular it is in the summer with the blue lake.
The first reservoir is about 1 mile up the trail. The trail is a wide graveled trail that is easy enough to hike but it may be challenging if you're not use to the altitude.
The 2nd reservoir is about 1.5 miles up the trail. The trail to the 2nd lake is also an easy enough hike but as you move around the lake to the west side, the trail turns into more narrow trail and this is where the trail becomes more steep and narrow in sections.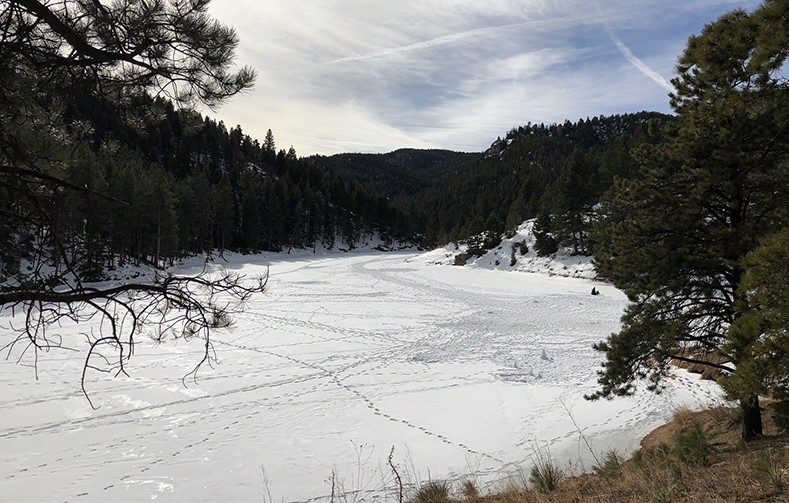 It was wonderful seeing the lakes in the winter, that were all lced over. There were several groups on the lake walking around, ice fishing and building snow men. I know it's been cold here but I honestly didn't think people would be able to walk out on to the lakes yet.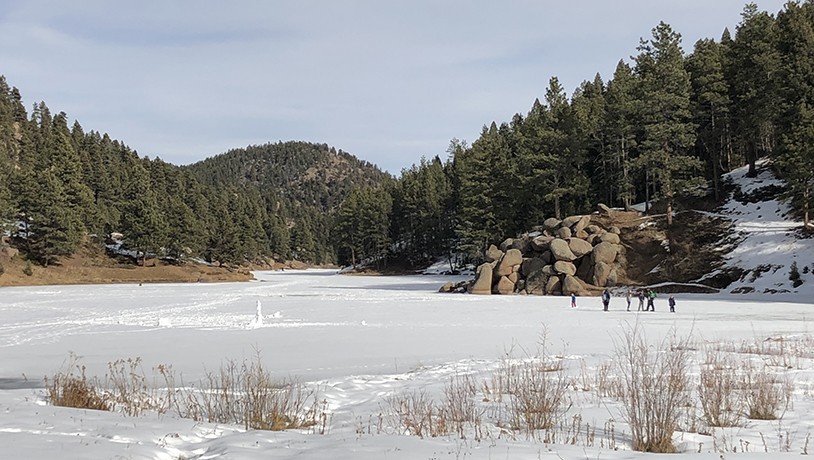 We rounded the southwest side of the lake and headed up the mountain. This looks like a gravel road and I was told later on that this road ends up in Woodland Park, approximately 10 miles away.
It was a beautiful day and the temperatures reached about 50 degrees on this January day. It's interesting that we get a lot of snow at times but then will have several weeks of nicer and even warmer weather and this day was probably the warmest day we have had in the last month.
We reached the top of the trail near balanced rock but we never did find the rock. There was probably a foot of snow on the mountain and it wasn't easy to get to far off the trail.
There were some beautiful views from this area of the trail but the views were primarily of the mountains close by and we couldn't see Pikes Peak at this location, even though we were only maybe 20 miles away.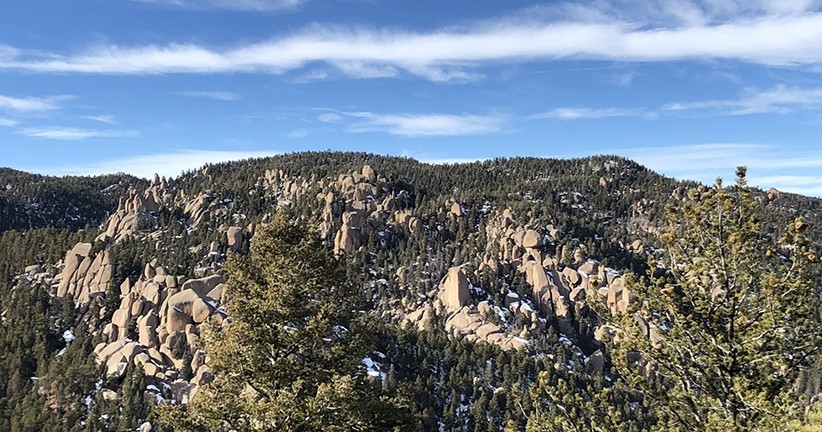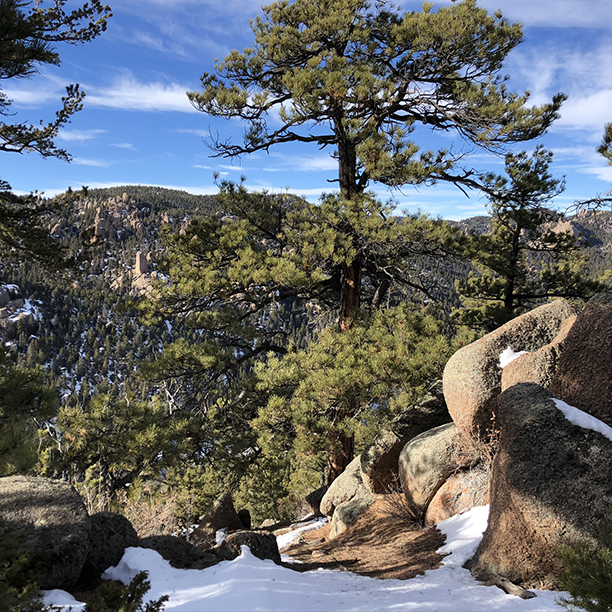 Chautauqua Mountain seemed more like a long ridgeline with no real defined peak. This section of the trail is less traveled and was hard to see the entire way, especially with the snow on the ground.
There were plenty of locations to see some scenery and we even found locations where we could see Pikes Peak.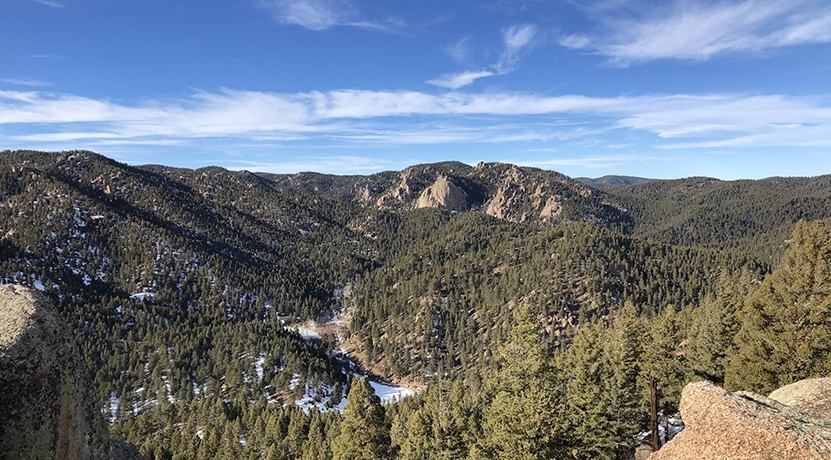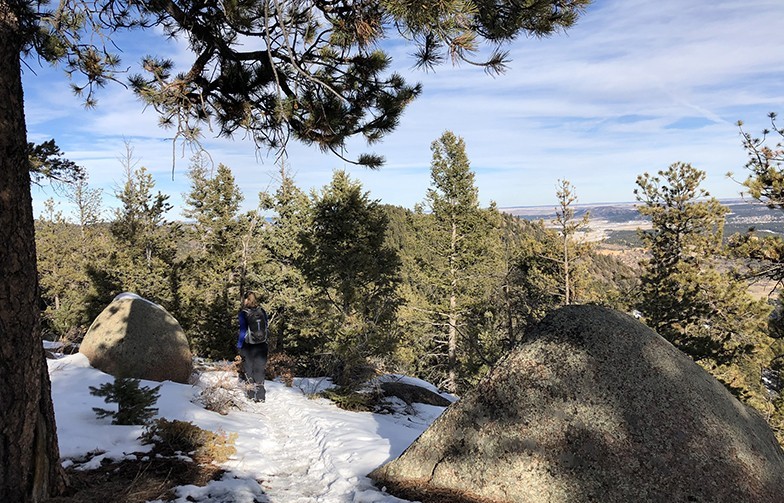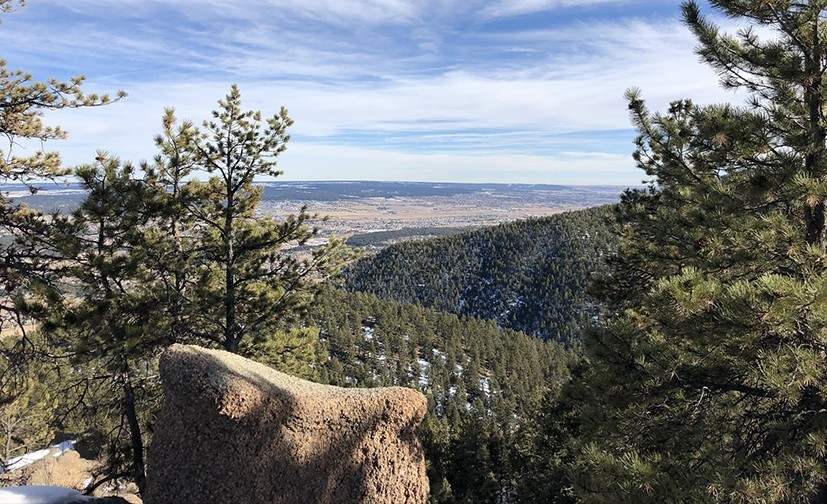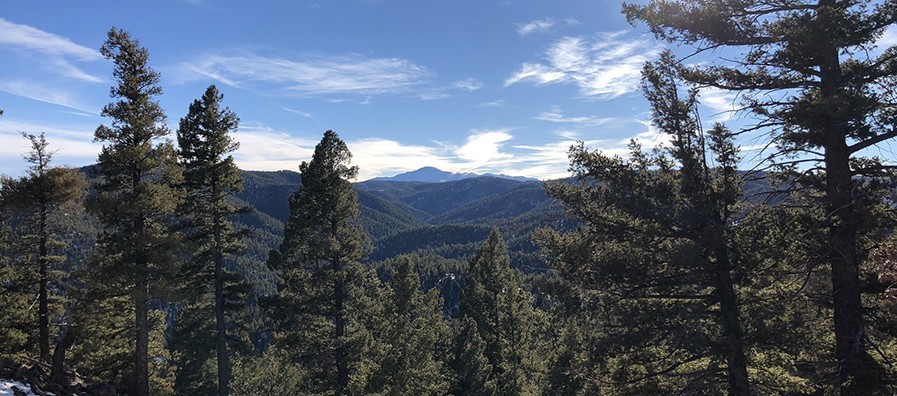 Near the east end of the ridge on Chautauqua Mountain is where we found some nice rocks to relax in the sun for a while. It wasn't the hardest hike we've ever taken, but we were ready to stop and enjoy the views, even if they were of the sky for a few of us.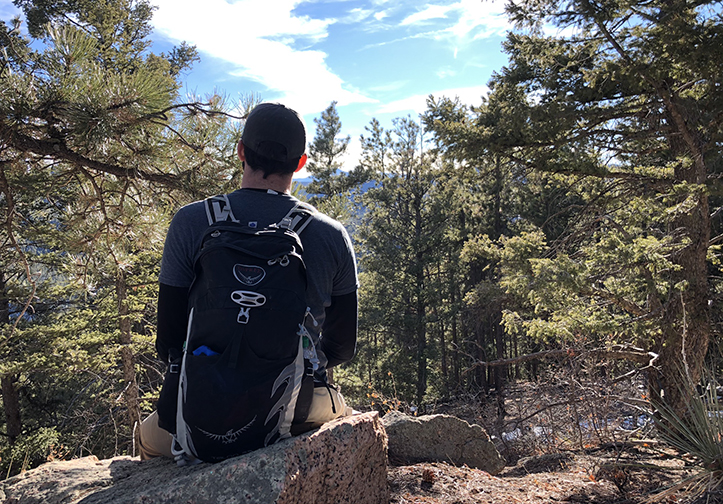 There were also able to see a lot of spectacular views of the area around Palmer Lake, Monument and down to the Air Force Academy.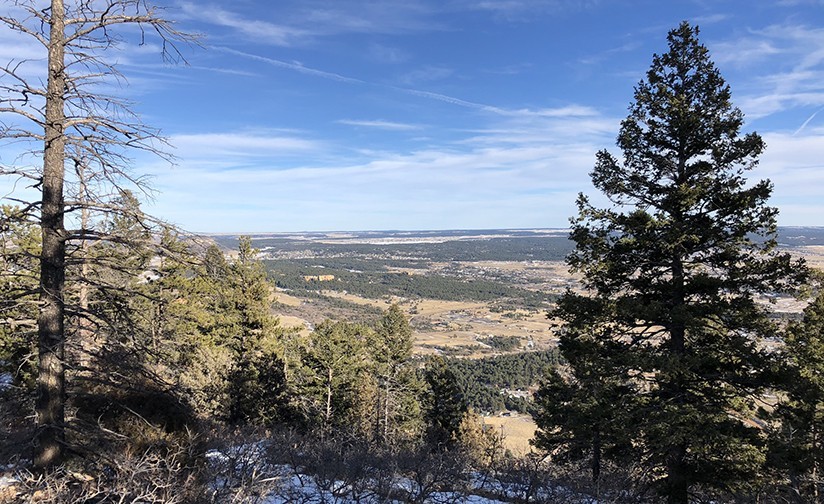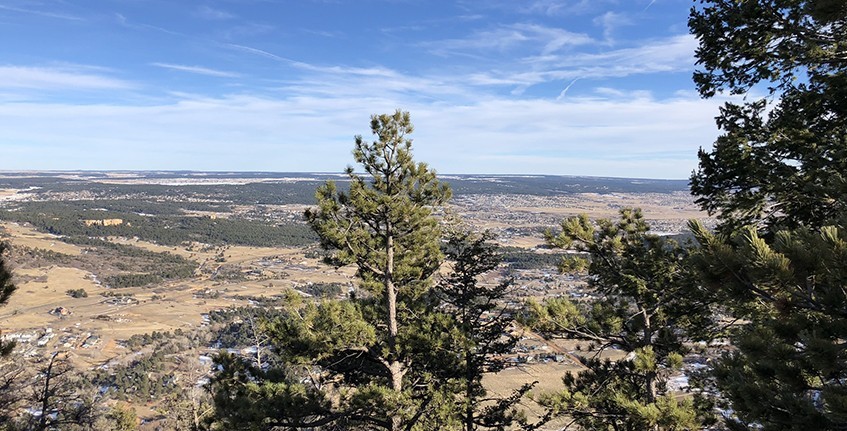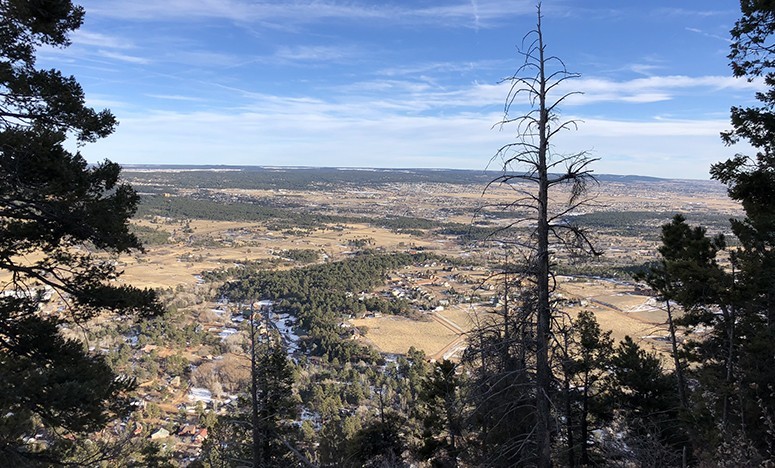 This is the northeast side of Chautauqua Mountain where we started down the mountain. We dropped about 1,400 feet in less then a mile on the ice and snow, so it was a little tricky, to say the least.
My son, daughter and I all had our ICETrekkers on at this time. There was only one fall on this section of the trail and I will not mention who it was, but we would have had a lot of falls if we hadn't had the right gear.
We finally reached the bottom of the trail, and let's just say that walking down a steep trail is easier than going up, however, your knees and hips will not be happy with you, unless you have something in your backpack, such as trekking poles.
I have a pair of Leki Micro Vario Carbon trekking poles and my knees were holding up much better than my younger kids. I would strongly recommend taking trekking poles on any hike you go on as you never know when you will need them.
LEKI Micro Vario Carbon Trekking Pole Pair - 110-130 Blue
Exclusive AERGON grip features a hollow core construction to save weight and create an edgeless, rounded grip for comfortable gripping at all angles especially for "palming" on steeper terrain. Thermo foam grip material for extra comfort, light weight and insulation in colder weather. Built in 8deg Positive Angle in LEKI grips keeps wrist in neutral position and provides more efficient pole plants.
Air-textured "no bulk" security strap maintains design dimensions of grip; efficient wicking and fast drying; adjusts and secures strap adjustment without buckles. Extended foam grip for traversing and climbing. SPEEDLOCK 2 lever locking mechanism is simply THE strongest external locking system in the world as rated by TUV, and the only locking systems to meet the minimum holding force recommended by TUV.
100% High Modulus Carbon shaft sections for reliable, lightweight performance in all conditions. PE coated, Kevlar reinforced tension cord for long term reliability. ELD (External Locking Device) gives easy access to release the assembly tension of the pole for quick knock down and packing. Maximum tension between shaft sections made possible by internal (serviceable) spring in lower shaft.
Carbon section ends are protected by machined Aluminum sleeves for extra long wear. Machined Aluminum connectors help to center shaft sections for quick, snag free assembly. LEKI's original Carbide Flextips provide secure hold on all terrain and surfaces for years of adventure; easily replaced in the field.
Interchangeable basket system allows a variety of different sized LEKI baskets to be easily screwed on/off for different seasons/uses thanks to offset threads that keep the baskets securely in place.
This was a great 4.9 mile hike with some spectacular views and the lakes make it especially beautiful.
Trail Recommendations
This is a great trail to hike, even in the winter, but it is probably best hiked in warmer months when it is easier. Make sure you take some good ICETrekkers and Trekking Poles on this hike when it starts to get colder.
Check out this short video of the Chautauqua Mountain and Balanced Rock Loop on YouTube.
I would love to know if you have had any experience on this trail or have other trails you love to hike. Leave a Comment Below or send me an Email.
Return to Home Page
Chautauqua Mountain & Balanced Rock Loop