Trail Information
Trail Name: Chief Mountain Trail
Location: Near Idaho Springs, Colorado

Date: November 24, 2019
Time at the Trail Head: 7:30 am
Trail Length: 3.1 miles
Elevation Gain: 984 feet
Elev. at Trail Head: 10,729 feet
# of Hikers Passed: 27
# of Mnt. Bikers Passed: 0
# of Horses Passed: 0
Mosquitoes: 0
Trail Research
I was talking to one of my colleagues in the office and he told me about one of his favorite trails to hike in the Rockies near Denver, called Chief Mountain. He told me it had some incredible views of the surrounding mountains and was he ever right.
I quickly did some research on AllTrails and learned what I needed to know and also checked the weather before I chose the day to hike the trail, as we have had several snow storms in the area recently.
Everything turned out exactly as my friend had told me and what I had learned from AllTrails.
Drive to the Trail
There are several beautiful drives you can take to Chief Mountain. You can drive through the beautiful town of Evergreen or choose the magnificent dive up I-70 towards Idaho Springs, Colorado. You can reach the trail from two directions if you drive up I-70 but the one that takes you up closer and higher by Mount Evans may be more difficult in the winter months.
We chose to drive through Evergreen, Colorado, and that is a drive I never tire of. My wife are seriously considering buying a home there in the next year.
The roads were clear of snow and ice in Evergreen but it wasn't long after leaving the area around Elk Meadow that we encountered winding mountain roads, where much of it is in the shadow of the mountain, which means packed snow and ice which doesn't like to melt right away.
My Day on the Trail
It was obvious that the trail would be packed snow the entire way. I told my kids that I would be using trekking poles and IceBreakers on this hike and they both laughed and said "not us." Well, I made it to the top of a short incline, using my trekking poles but not my IceBreakers and that's where I stopped and put my YakTrax on.
Let's just say that after pulling on my ICETrekkers and using my Leki Trekking Poles, I never fell even once, and don't even remember slipping. Compared to my hike up Legault Mountain and falling 4 times, this trail was much more enjoyable to hike, due to the hiking gear.
ICETrekkers Diamond Grip Traction Cleats (1 Pair), X-Large (Men's 13), Black
Shoe grips designed to provide aggressive traction in winter walking conditions
Made of case-hardened steel alloy and strung on steel aircraft cable
Riveted to tough rubber sling that fits tennis shoes, boots and dress shoes
Sling remains elastic even in subzero temperatures to keep grips secure
Self-clearing design prevents snow and ice buildup
We were in the woods for most of the hike but it was a short hike and I knew we would be breaking out to see some incredible mountain views.
Now, things started to look up. It was cold but it was a beautiful day. The closer we got to the top of Chief Mountain, the colder it became and the stronger the winds blew.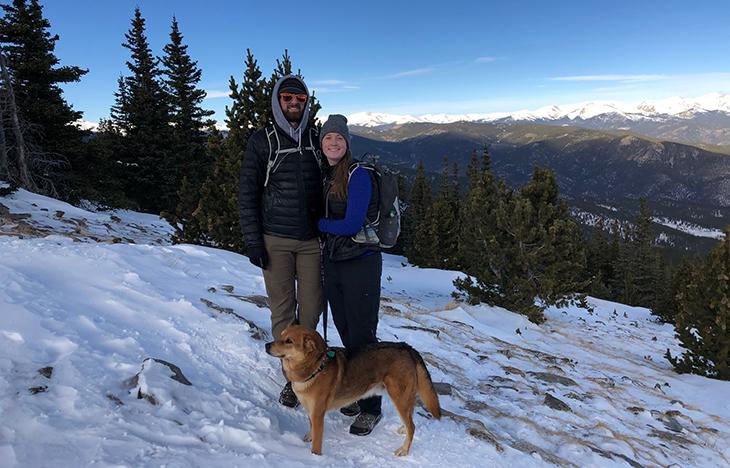 This is the point where Ranger, my daughter's dog, started to get wiped out due to his playfulness in the snow. I wasn't sure if he would make it but we were not far from the summit of Chief Mountain so we kept going. The wind really started picking up at this altitude.
It was only a few more minutes before we crested the top of Chief Mountain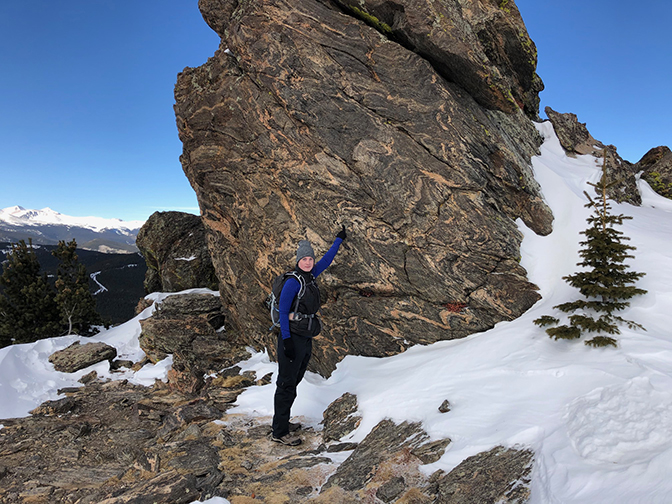 It was time to put the trekking poles up and climb up the remaining 30 feet to the top of Chief Mountain. You don't need to be a technical climber. You just need to have some determination and take a little care with the drop offs.
This was a spectacular hike and the views at the top of Chief Mountain were worth the pain as we stood atop the mountain and took in 360 degree views.
I wish we could have stayed there longer but the wind was really strong and our fingers were freezing off as we took our gloves off to take some pictures. I need to find a way to take pictures while staying warm.
I'll leave you with this panoramic photo so you can see a little more of what we were blessed with.
Trail Recommendations
This was a trail that I learned about from a co-worker and had meant to hike it for the last several months. I finally did hike it in the snow and I am so glad that I have made the decision to hike in all 4 seasons.
This trail is best hiked in the summer and up until September, when it is warmer. October and November are incredible times to go but be ready for colder weather and possibly some snow.
Lessons Learned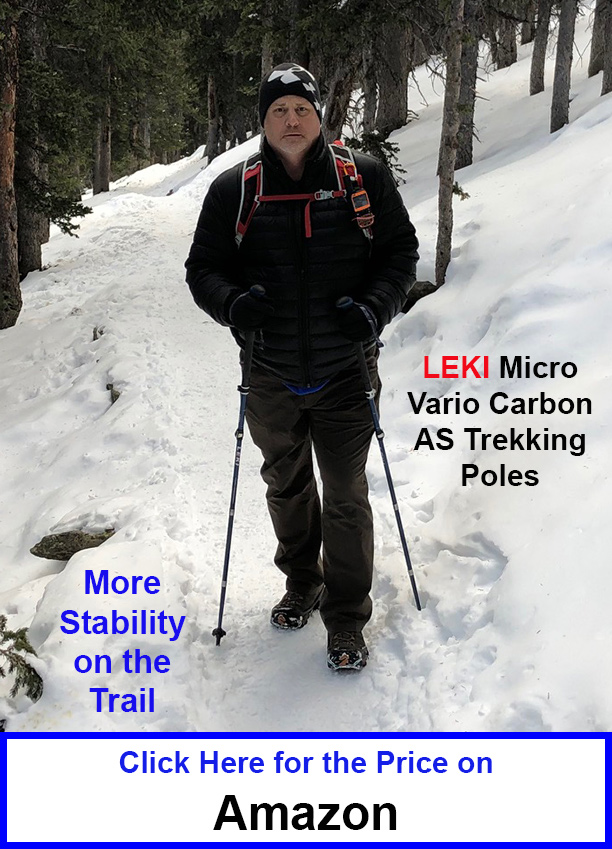 I learned that my kids are not the wisest when they refuse to wear the right gear to make their hike more enjoyable and safer. I guess we all have to grow up a little as we grow older and make some mistakes along the way that hopefully are just minor mistakes.
The Leki Trekking poles made the hike, up and down the mountain, much more enjoyable and not slipping and falling was so much nicer with the use of my ICETrekkers.
I did realize that I needed a face warmer, after my face froze off at the top of Chief Mountain. A smarter and more experienced hiker and photographer had a face warmer on and I wished I would have learned this lesson prior to this hike.
Seirus Ultra Clava Black SM/MD
POLARTEC FLEECE - Provides a thermal insulation with proven durability, lightweight warmth and fast drying characteristics. A versatile combination for all cold weather activity
WINDPROOF AND WATERPROOF - Seirus exclusive Weathershild tri-laminate fabric keeps you warm in the coldest, wettest conditions
COMFORTABLE - Weatherproof combination of Lycra outer and Fleece inner with a wicking lining keeps your skin dry
4-WAY STRETCH - Will stretch to fit over goggles and central breathing holes provide increased ventilation
VERSATILE - 3-in-1 Ultra Clava can be worn as a face mask, neck gator, full hood, or a combination of these
You can see some of my hike in this YouTube video.
Please leave a Comment below or Email me. I would love to hear about great trails you know about.
Return to Home Page