Trail Information
Trail Name: Ridgeline Open Space Loop
Location: Near Castle Rock, Colorado
Date: November 23, 2019
Time at the Trail Head: 2:00 pm
Trail Length: 2.3 miles
Elevation Gain: 360 feet
Elev. at Trail Head: 6,486 feet
# of Hikers Passed: 2
# of Mnt. Bikers Passed: 0
# of Horses Passed: 0
Mosquitoes: 0
Trail Research
I recently moved to Castle Rock, Colorado and some of my new neighbors told me about several places to hike nearby. One of the places they told me about was the Ridgeline Open Space, so I opened up my AllTrails App, checked it out, and then opened up AllTrails on my laptop.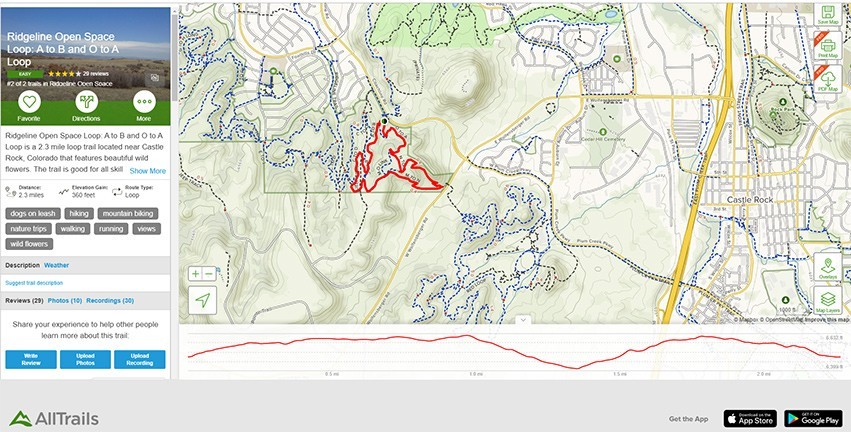 I found that the Ridgeline Open Space trailhead was within 0.5 miles of my home and there were two trails to choose from.
I didn't have the time to hike the 9.0 mile loop but I knew I could fit in the 2.3 mile Ridgeline Open Space Loop. I will take the longer loop soon.
Drive to the Trail
The drive to the trail was on a city street but was pretty, even though it only took me 1 minute to arrive at the trailhead.
If you are driving from Denver or Colorado Springs, you will see some beautiful bluffs in the area, in addition to Castle Rock and the Rocky Mountains off in the distance.
The trailhead is about 3 miles from I-25 and there are several easy ways to arrive at the parking lot.
The bluffs around Castle Rock blocks many of the Rocky Mountain views to the west and southwest but the views to the northwest and north are grand, in my opinion.
My Day on the Trail
We had a recent snow storm which left about 3 inches on the ground two days prior to this hike. I guess you can't call 3 inches a snow storm, but then again, that depends on where you're from.
I experienced 4 falls on a recent hike so this time I came prepared with Yaktrax and trekking poles, even though I wasn't sure I would need them. I'm thankful I brought them along as the trekking poles were extremely helpful, but my Yaktrax never made it out of my daypack.
Immediately, I could see the trail was going to be a soggy, snowy and a slippery mess. I felt that I didn't need the Yaktrax but I immediately put my trekking poles to good use. More then 50% of the trail was muddy and the trekking poles helped me as I slipped in the mud plus helped me to hike up in the snow alongside of the trail to help me stay out of the mud a little.
I was wondering if there would be any great views from this trail but it didn't take long for me to get my answer. I crested the hill to see a beautiful view of the Rockies to the northwest and north of Castle Rock. You could basically see from the area from Mount Evans, all the way north to Longs Peak in the Rocky Mountain National Park (RMNP).


I always love seeing the grand views of the Rockies and today was a beautiful clear day with impressive views. The only thing is you can't see much of the southwest and south Rockies down to Pikes Peak near Colorado Springs, Colorado.
There are a few homes in the hills around the Ridgeline Open Space but they are spread and don't detract from the views.
I continued around the loop and did not see any views to the southwest until I made it to the highest point on the trail. I was able to see the magnificent views to the northwest again and I was finally able to see the top part of Pikes Peak.
There are several lower mountains and bluffs around Castle Rock that block out part of the Rocky Mountain views.

Side Note: This is one of the reasons my wife and I are considering buying a home in a different area so we can either be in the foothills of the Rocky Mountains or be farther away from the mountains where you can see the Rockies from the south, near Pikes Peak to the north, near Longs Peak, with Mount Evans in the middle.
There are not many trees in this area but it is a nice trail with some great views and even some wildlife to watch, if you pay attention and try to be a little quiet. I saw a large buck with a rack that most hunters only dream of seeing, or most likely, mounting over their fireplace.
The trail is easy to hike but on this day I would rate it as moderate, due to the mud and snow. It may be difficult for some hikers if you don't have the right gear, which could either be Yaktrax and/or trekking poles. You can check out the ICETrekkers and Leki Trekking Poles I use HERE.
LEKI Micro Vario Carbon Trekking Pole Pair - 110-130 Blue
Exclusive AERGON grip features a hollow core construction to save weight and create an edgeless, rounded grip for comfortable gripping at all angles especially for "palming" on steeper terrain. Thermo foam grip material for extra comfort, light weight and insulation in colder weather. Built in 8deg Positive Angle in LEKI grips keeps wrist in neutral position and provides more efficient pole plants.
Air-textured "no bulk" security strap maintains design dimensions of grip; efficient wicking and fast drying; adjusts and secures strap adjustment without buckles. Extended foam grip for traversing and climbing. SPEEDLOCK 2 lever locking mechanism is simply THE strongest external locking system in the world as rated by TUV, and the only locking systems to meet the minimum holding force recommended by TUV.
100% High Modulus Carbon shaft sections for reliable, lightweight performance in all conditions. PE coated, Kevlar reinforced tension cord for long term reliability. ELD (External Locking Device) gives easy access to release the assembly tension of the pole for quick knock down and packing. Maximum tension between shaft sections made possible by internal (serviceable) spring in lower shaft.
Carbon section ends are protected by machined Aluminum sleeves for extra long wear. Machined Aluminum connectors help to center shaft sections for quick, snag free assembly. LEKI's original Carbide Flextips provide secure hold on all terrain and surfaces for years of adventure; easily replaced in the field.
Interchangeable basket system allows a variety of different sized LEKI baskets to be easily screwed on/off for different seasons/uses thanks to offset threads that keep the baskets securely in place.
I only saw two hikers on the trail today and this is not the norm for this area but most people don't like to hike in the mud and this trail had plenty of it due to the recent snow storm and warmer temperatures in the few days after the storm.
Note: We are getting hit with another real snow storm tonight that is scheduled to dump from 1 foot to 3 feet of snow over the Denver area. Follow up note: We were blessed with 13 inches of snow and due to the cold temperatures, all 13 inches are still with us 5 days later.
I really liked this trail as it was easy to access and had some great views of the Rockies. There was some road noise near the city street but that quickly went away as I made my way around the trail.
Trail Recommendations
I would recommend this trail to people nearby who want a nice nature walk and want to see some beautiful views of the Rockies. It is an easy hike and one I will often make, as it is nearly outside my back door.

I would recommend other trails in the area over this one that have better views of the Rockies and have more trails to choose from, such as Castlewood Canyon State Park. It has views of the Rockies, combined with beautiful views of canyons and a creek.
Lessons Learned
I really didn't learn any new lessons on this hike with the exception that this was my first hike using my Leki trekking poles and it may a huge difference in my ability to stay out of the mud and have confidence to walk in the snow on the slopes of the trail, which I couldn't have done with out the poles. See the Leki trekking poles I use HERE.
You can see the video of my hike at the Ridgline Open Space Loop here:
I would love to hear your experience with the Ridgeline Open Space Loop or any other trail that you love to hike. Please leave a Comment below or send me an Email.
Return to Home Page
Bestseller No. 1
ICETrekkers Diamond Grip Traction Cleats (1 Pair), Large (Men's 9.5-12/Women's 10.5)
Shoe grips designed to provide aggressive traction in winter walking conditions
Made of case-hardened steel alloy and strung on steel aircraft cable
Riveted to tough rubber sling that fits tennis shoes, boots and dress shoes
Sling remains elastic even in subzero temperatures to keep grips secure
Self-clearing design prevents snow and ice buildup
Bestseller No. 2
Bestseller No. 3
Bestseller No. 4
ICEtrekkers Shoe Diamond Grip (1 Pair), Small
The greatest innovation in Ice Cleats is the Diamond Grip Chains
Great on Snow, packed Snow, and Ice High performance Ice Trekkers
Sturdy rubber sling designed to hold to your shoe and maintain flexibility in sub zero temperatures.
ICEtrekkers are the ultimate ice cleats
Bestseller No. 5
ICEtrekkers Shoe Spikes (1 Pair), Small
Proven best selling Ice Cleat works great on Ice
6 point replacable spikes for maximum traction
Tungsten Carbide Spikes with easy on strap system
ICEtrekkers are the ultimate ice cleats
Ridgeline Open Space Loop