Trail Information
Trail Name: Siamese Twins Loop Trail
Location: Garden of the Gods, Colorado
Date: October 8, 2019
Time at the Trail Head: 1:00 pm
Trail Length: 0.5 miles
Elevation Gain: 104 feet
Elev. at Trail Head: 6,292 feet
# of Hikers Passed: 25
# of Mnt. Bikers Passed: 0
# of Horses Passed: 0
Mosquitoes: 0
Trail Research
The trail research was easy on this one. Several of my family members wanted to go see the Garden of the Gods, so we hopped in the truck and headed to Colorado Springs. My nephew picked the Siamese Twins, as he had been there before and really liked it.
Drive to the Trail
It's always a great day when you get to drive along the Rocky Mountains and end up in the Garden of the Gods. The scenery is always spectacular and the views are amazing.
Pikes Peak is so tall and stands alone that it is nearly always visible from many parts of Denver.
My Day on the Trail
I hadn't written a trail review on the Siamese Twins Loop Trail because it was just my family and I hanging out in Colorado Springs, and then I realized that I had some cool pics that all of you might enjoy, and everyone seems to want to visit the Garden of the Gods.
We walked around the central garden area and saw many rock climbers climbing and repelling several of the rocks in the area. We even shot some video of the rock climbers you can see at the end of this review.
Everyone was extremely nice and we even talked to several of the rock climbers and were given a little lesson in what they were doing. Some of the climbers we talked to had come in from Utah.
It was a beautiful warm October day in Colorado and it seems everyone had chosen this day to come to the Garden of the Gods. There was a lot of traffic but it wasn't hard to get around the park, but finding a place to park in some locations was a challenge.
The trail in the central area of the park is not so much or a trail, as it is a 10-foot wide concrete sidewalk, but it makes it nice when you have so many visitors walking through the park.
There are so many magnificent rocks and trails here at the Garden of the Gods, but the one thing I remember hearing a lot is, I didn't bring enough water. The sun is more intense at the higher altitudes so make sure you're prepared for that. Bring a nice ball cap or broad rimmed hat.
Sale
Columbia Unisex Bora Bora II Booney Hat, Moisture Wicking Fabric, UV Sun Protection Grill, One Size
OMNI-SHADE: UV protection at its best, Omni-Shade materials block UVA and UVB rays to help prevent sunburns and long-term skin damage. The tight weave construction offers lasting sun protection against the full spectrum of sunshine
OMNI-WICK: The ultimate moisture wicking technology for the outdoors. Omni-Wick quickly moves moisture from the skin into the fabric where it spreads across the surface to quickly evaporate—for a dry fit that keeps you cool and comfortable
ALWAYS SUNNY: This sun hat features built-in UPF 50 shielding, an ultra-sweat-wicking headband, and a mesh vent panel for those hot outdoor days
HANDY FEATURES: A high-performance hat that features a full 3" brim, equipped with an adjustable drawcord, and toggle size adjustment at the back for a perfect fit
BUILT TO LAST: Columbia's attention to detail is what sets our apparel apart. Specifying only the highest quality materials, expert stitching and craftsmanship. This is a long-lasting hat you will enjoy for seasons to come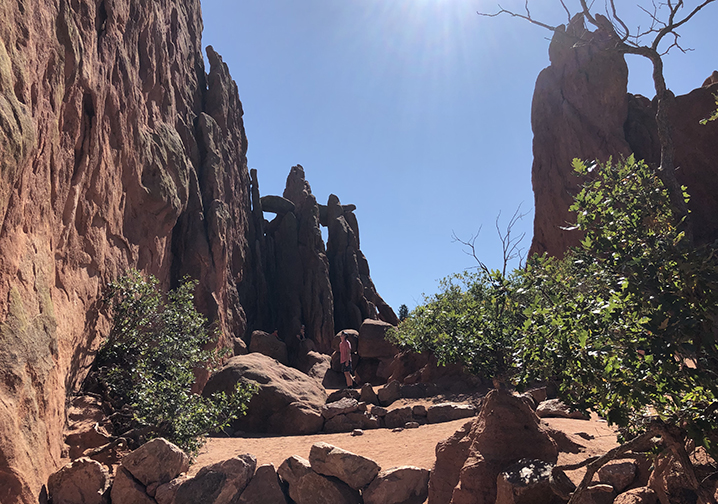 We stayed and watched the climbers for about 30 minutes before heading off to another area of the park. One of my nephews thought the Siamese Twins were cool enough to re-visit, so off we went.
Of course, this next picture is one of the iconic pictures of the Garden.
The mountain in the background is Chyenne Mountain.
It wasn't long before we started on our short hike and had some incredible views of the Siamese Twins.
The trail is easy to walk in this area. It's not a hike at all, but it may feel like it to some. Just make sure to bring a hat and some water on a sunny day.
You can see Pikes Peak really well from the Garden of the Gods.
Trail Recommendations
Everyone needs to visit the Garden of the Gods if you're are anywhere close to Colorado Springs. It is a beautiful park with some of the most incredible rock formations.
Remember to be prepared for a little more walking then you might expect, and pack some extra water, sun screen and a nice hat.
Food
We were all hot, thirsty and hungry so we stopped at Rudy's on the way home. It was nice and cool inside and the brisket sandwich was incredible.
If you would like to see more, then check out this short video of the Garden of the Gods on YouTube.
I would love to know if you have had any experience on this trail or have other trails you love to hike. Leave a Comment Below or send me an Email.
Return to Home Page