Trail Information
Trail Name: Lakeshore Perimeter Trail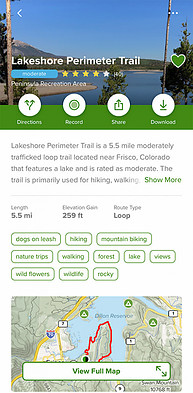 Location: Dillon Reservoir, Frisco, Colorado
Date: June 14, 2020
Time at the Trail Head: 5:45 am
Trail Length: 5.5 miles
Elevation Gain: 259 feet
Elev. at Trail Head: 9,068 feet
# of Hikers Passed: 32
# of Mnt. Bikers Passed: 2
# of Horses Passed: 0
Mosquitoes: 100
Trail Research
My family and I all love the area around Silverthorne, Frisco and Keystone, so I started looking for a reasonable length trail, rather than the long loop around the entire lake.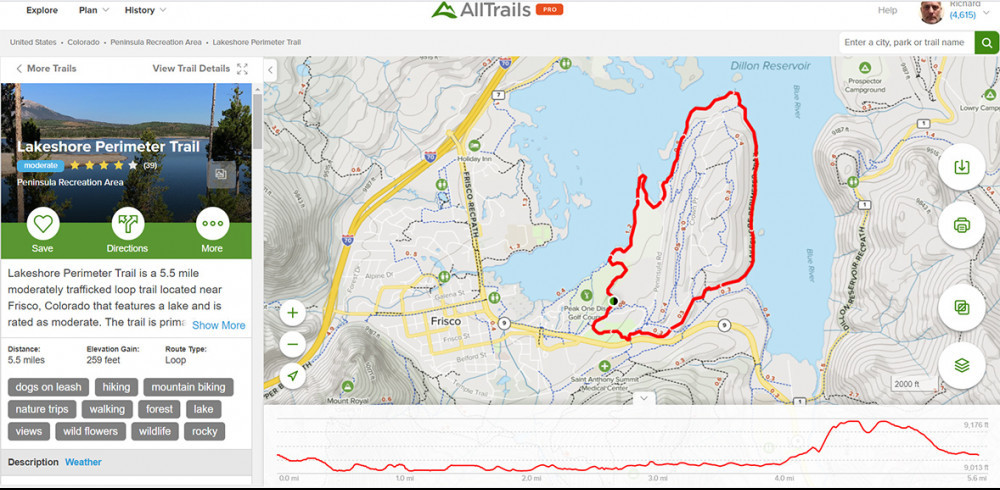 I found the Lakeshore Perimeter Trail that was about 5.5 miles long and set off to prepare for the hike.
Drive to the Trail
I woke up at 3 am and was out the door at 3:45 am, as I always like to start my hikes at sunrise. I made it to the Dillon Reservoir before sunrise and had some great views of the lake.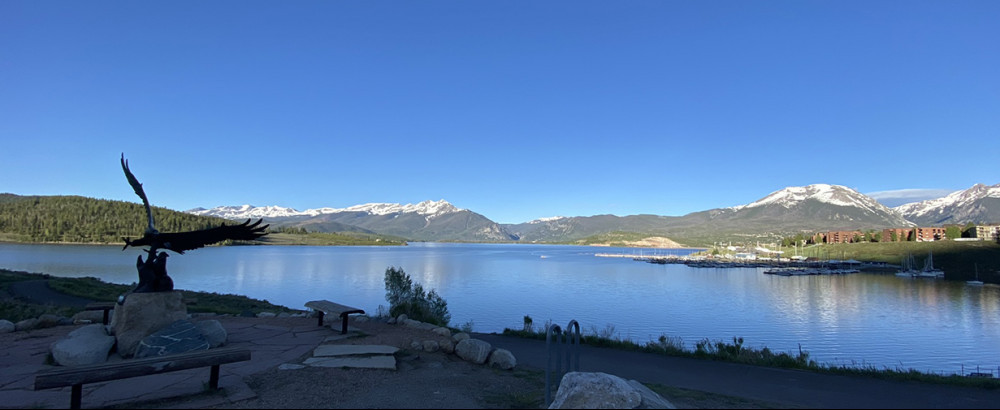 The above photo was near the Dillon Marina, looking west towards to Frisco, Colorado.
I made it around to the south side of the lake and found a few more great vantage points.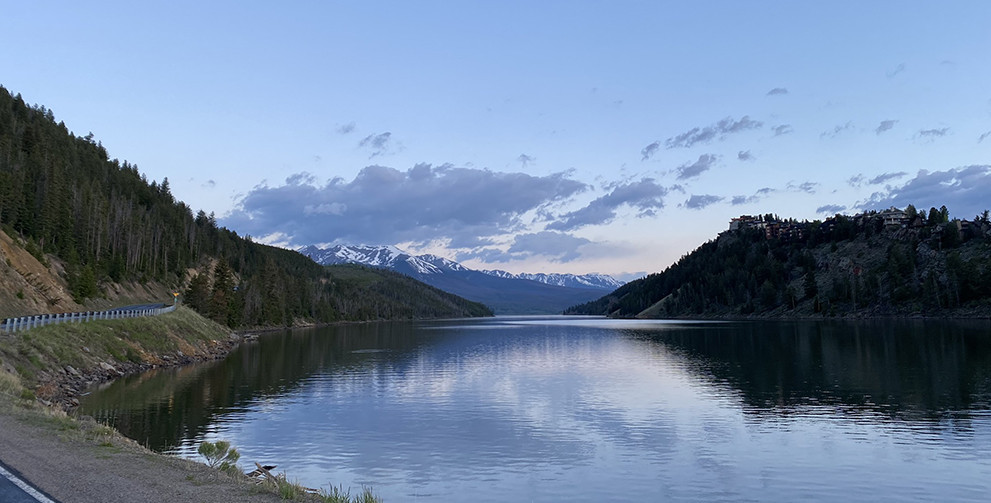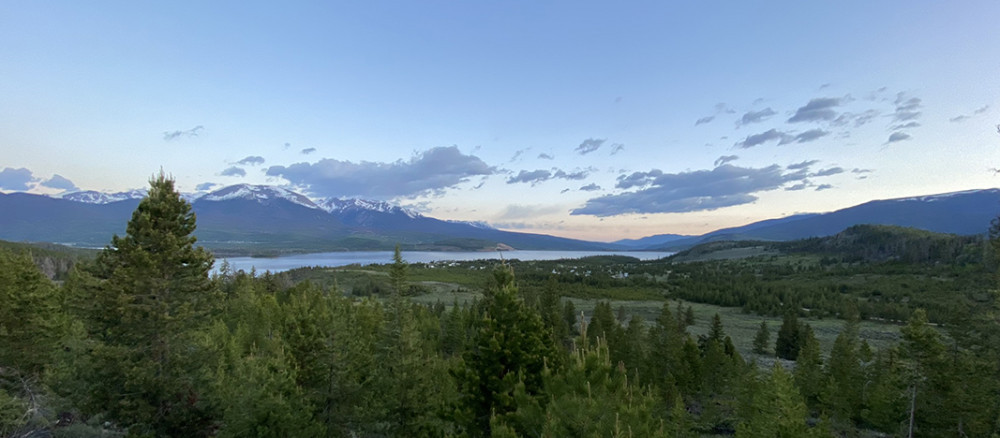 I could tell that this was going to be a beautiful day and an incredible hike.
My Day on the Trail
I was one of the first hikers at the trailhead and Ranger and I grabbed our gear and headed out to the trail. Ranger is my 4-legged hiking buddy and was not worried about any gear.
I knew this was going to be an easier hike but being on the lake, we were bound to see some great scenery.
Note: I have to warn you ahead of time that I will be showing you a lot of photos because it was such a majestic hike around the lake.
Let's start with the beautiful sunrise.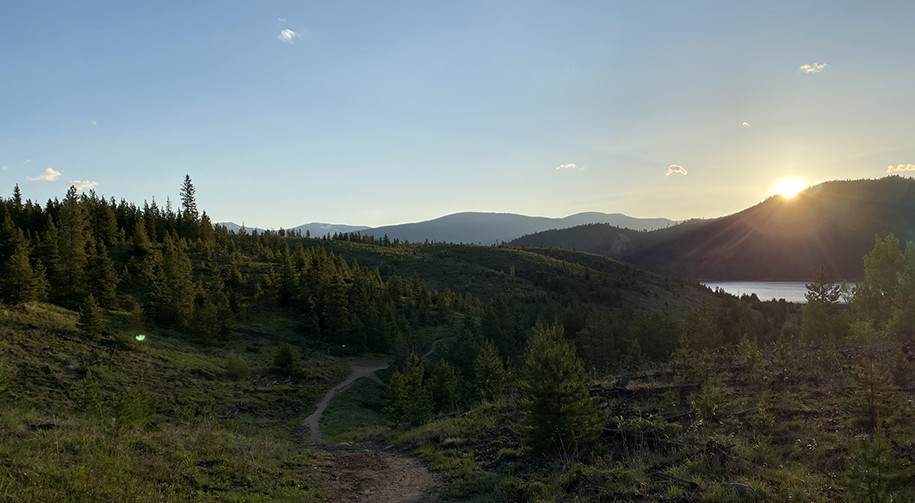 I always love the soft light that the morning sun spreads across the landscape, and of course when Ranger is in the photo.
We finally made it down to the lake after about 1/2 mile into the hike and this is where the scenery became incredible.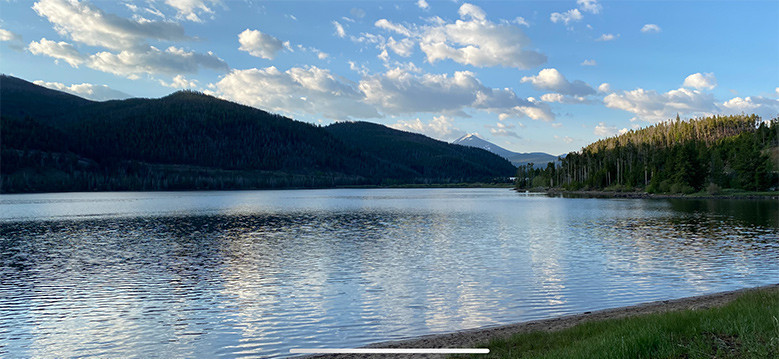 I started hiking to the north, counter clockwise around the lake when I noticed a small island in the distance.
It was a gorgeous morning, even though the lake wasn't completely glassy, and I kept taking pictures. It's hard to stop taking pictures when I keep seeing magnificent views on the lake.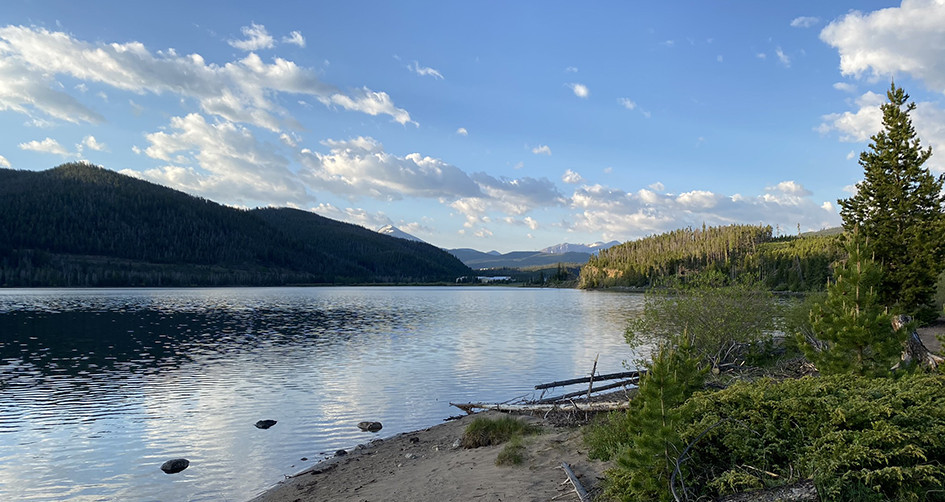 Ranger was going crazy, running back and forth, into and out of the lake as we approached the island. I was able to get a great video of him having the time of his life. See the video at the bottom of this trail review.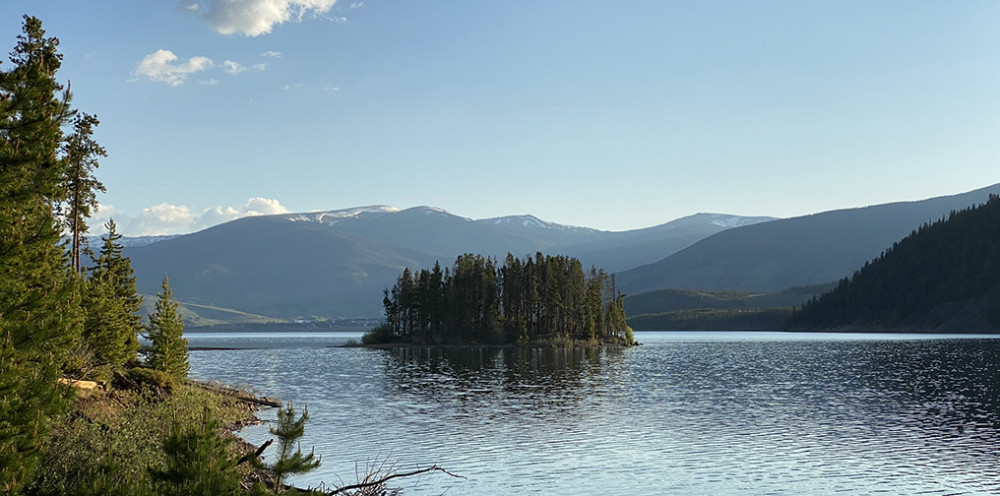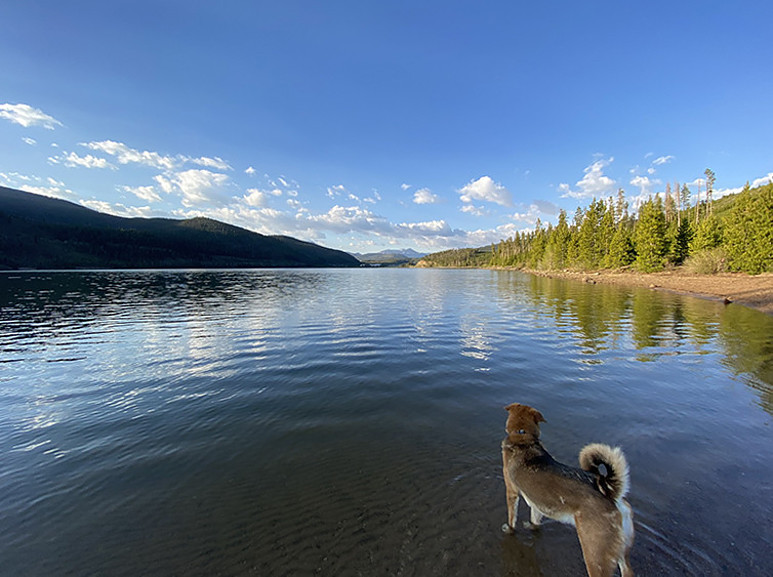 This was one of the most beautiful locations on the hike this morning and Ranger and I took time to hang out and enjoy the area before starting back on the trail.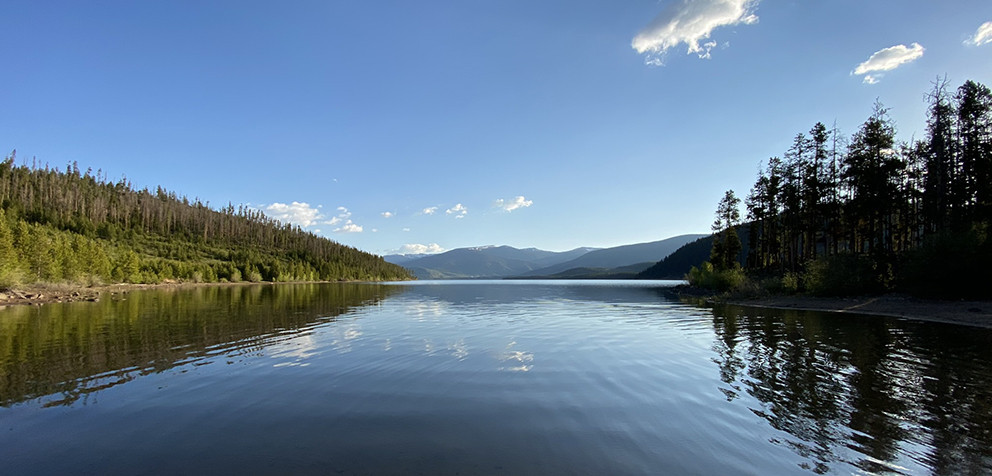 I am going to show you several more photos without me writing about each one, as there are so many to show you.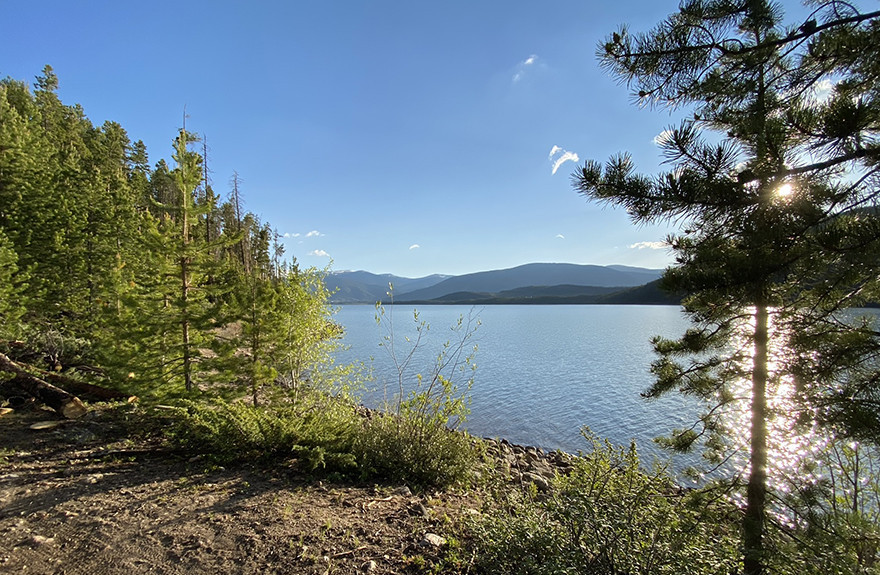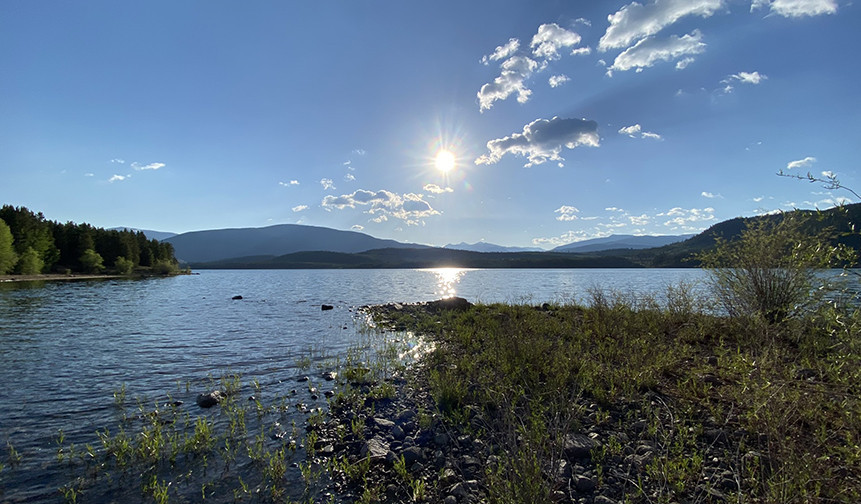 This photo above is at the most northern point of the trail, looking towards the town of Dillon and Silverthorne.
This next one is looking north from the trail. This is a larger island and there are actually many islands on Lake Dillon.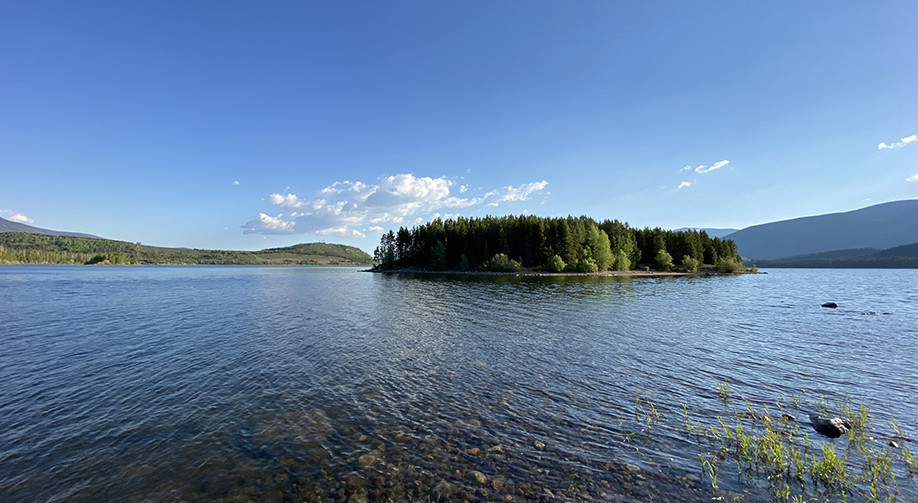 Mosquito Alert: This is where I need to let you know that June seems to be the general time frame that mosquitoes hatch and come out to pester us peaceful hikers. I didn't see any mosquitoes from September last year to May this year, but just remember to pack some bug spray with you when the weather starts warming up.
I finally made it around to the west side of the trail, which faces towards the town of Frisco.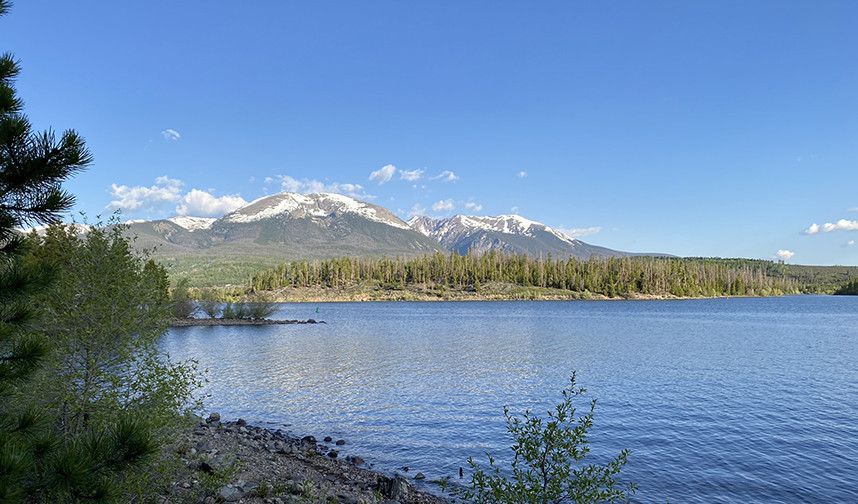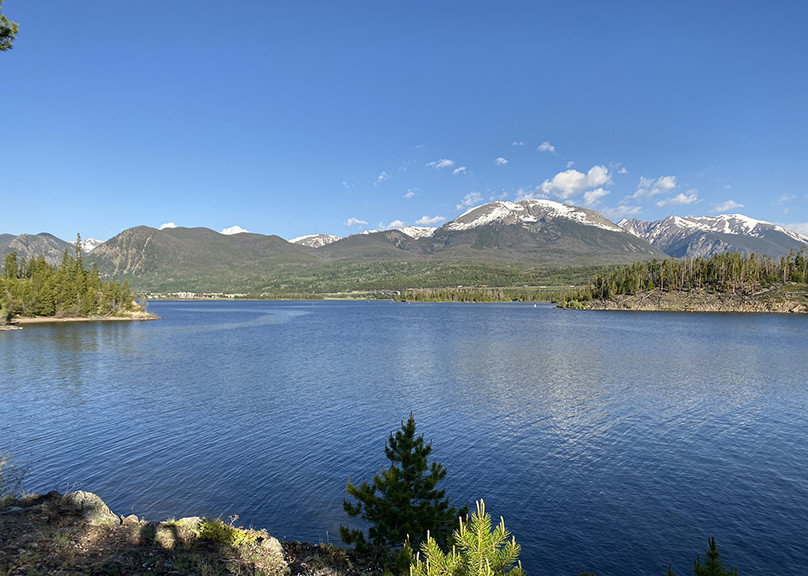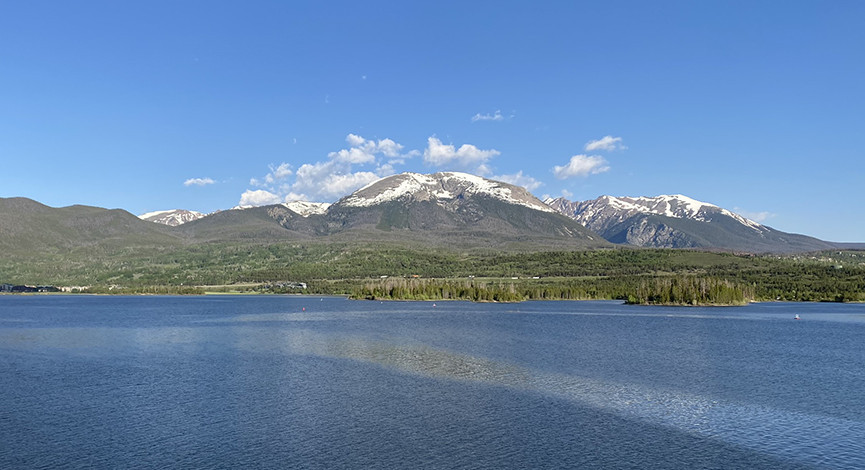 There are a lot of islands on Lake Dillon and it's a great to explore in kayaks or canoes.
Enjoy some of these photos of Lake Dillon looking west towards Frisco.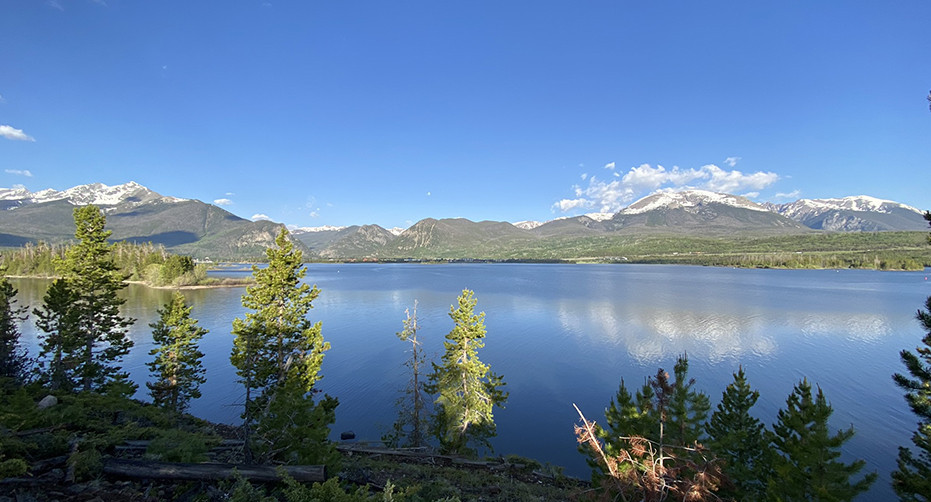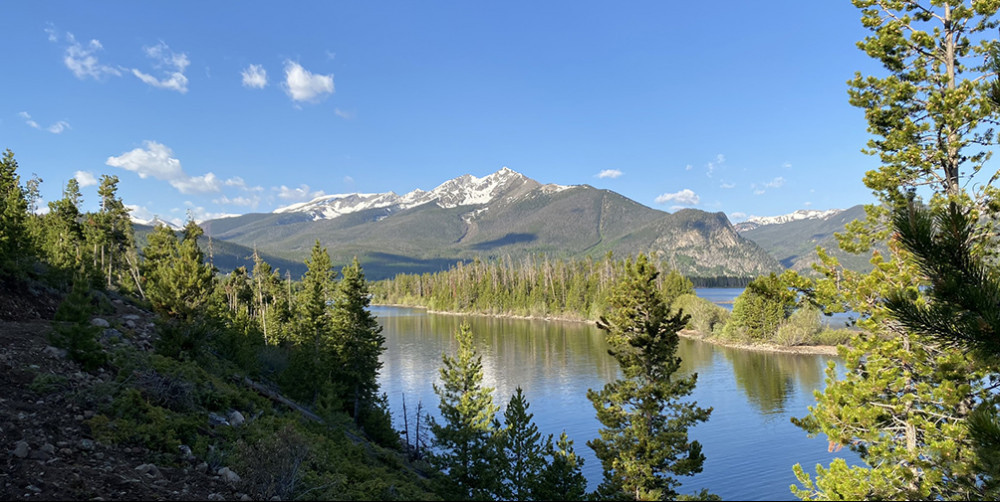 I should probably stop with all of these photos but I was really impressed with the scenery.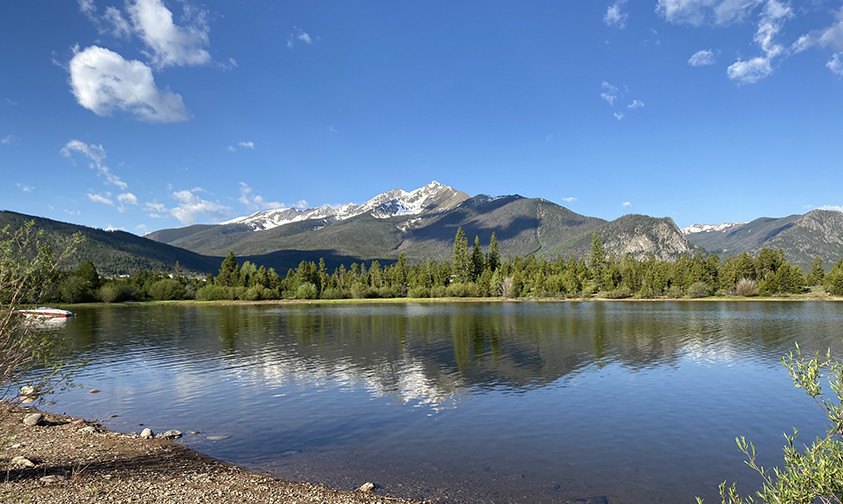 This was the point I came across several sheriff vehicles, a Search and Rescue truck and a Marine Rescue boat. I had a chance to talk to some of the officers and they told me they were launching to recover a fatality on the lake, and it was the 5th body recovery in the last 5 days.
These officers were incredible to talk to and I thanked them for their service and all they do to help the community. Here are a few photos of them and one as they were launching the boat into the lake for the recovery.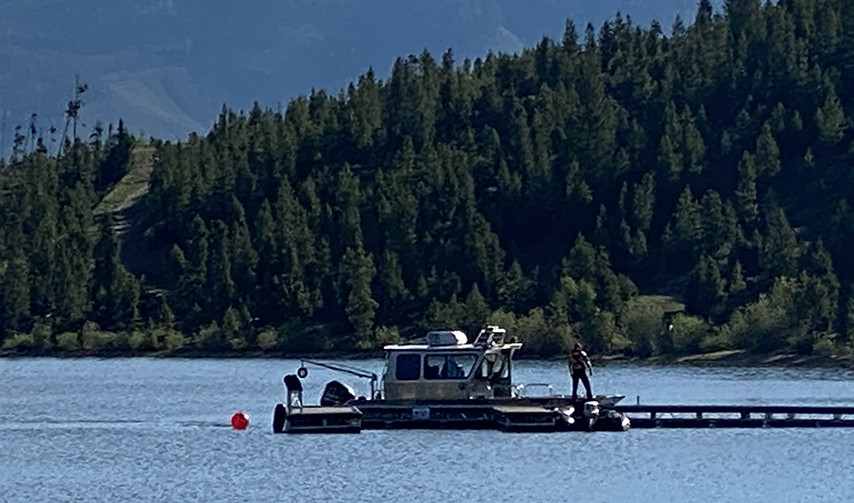 The day was about over and I only have a few more beautiful lake photos to show you.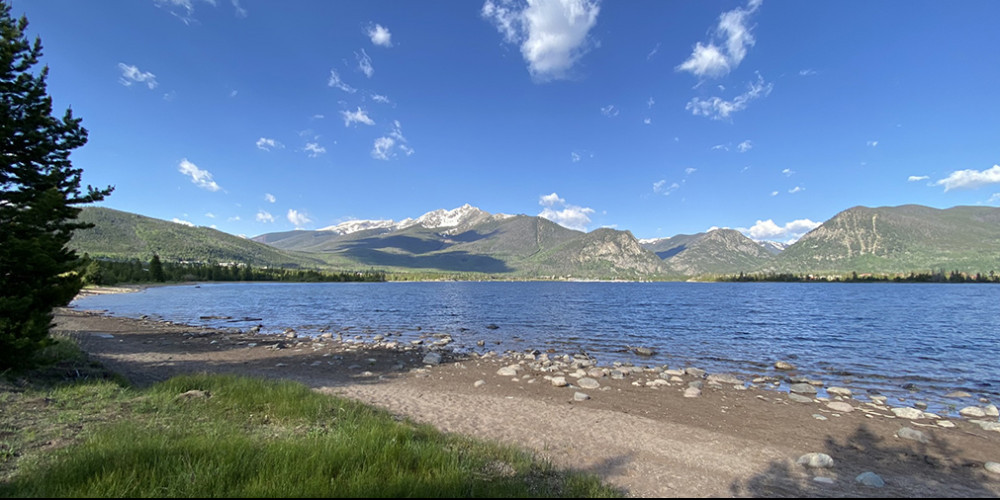 Here is a couple out in their canoe on Lake Dillon.
Lake Dillon or the Dillon Reservoir is really a place you should add on your places to visit and explore.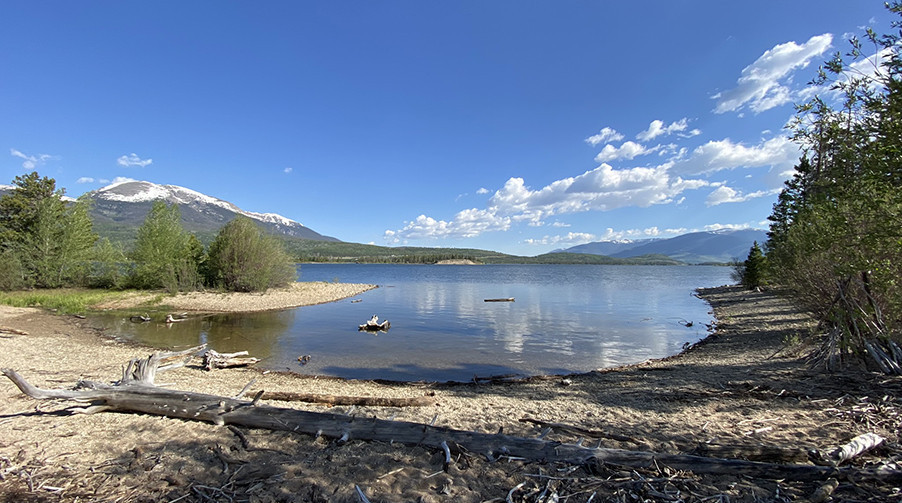 Trail Recommendations
I love this trail as it was easy to hike and the scenery was magnificent. It may not be a challenging trail for a lot of hikers, but there are many incredible views, and is a trail that most people can handle.
So, if you have family and/or friends that can't handle the harder hikes or are not use to the altitude, this may be the perfect trail for them.
Lessons Learned
Make sure you wear long hiking pants, a long sleeve shirt and carry some bug spray, if you value you blood. The mosquitoes seem to love me more then most other hikers.
Check out these items below that I wear and use on the trails I hike.
I personally like to use OFF, as it is not as strong, but it still does the job. I have tried a few others that can really irritate my skin or cause problems if you make a mistake and get it to close to your eyes.
Sale
OFF! FamilyCare Insect & Mosquito Repellent Spritz, Unscented Bug spray with Aloe-Vera, 7% Deet, 6 oz (Pack of 2)
DEET insect repellent
Mosquito repellent that protects against mosquitoes that may carry the Zika, Dengue, or West Nile viruses
Repels biting flies, gnats, no-see-ums, ticks, chiggers and mosquitoes
Non-greasy formula; contains fragrance to mask DEET smell
Bug repellent that works on outer surfaces of clothing: spray shirts, pants, socks, and hats; will not damage cotton, wool, or nylon
I bought this lightweight, long sleeve shirt a few weeks back and it is an incredible shirt that also helps keep the mosquitoes off me.
Columbia Men's Standard Silver Ridge Lite Long Sleeve Shirt, Azul, XX-Large
ADVANCED TECHNOLOGY: This men's everyday flannel shirt features signature wicking fabric that pulls moisture away from the body so sweat can evaporate quickly.
The Package Height Of The Product Is 27 Centimeters
ADJUSTABLE FEATURES: Front button closures and button-down cuffs add adjustable comfort.
CASUAL FIT: With 100% cotton fabric, this men's flannel features a casual fit perfect for everyday wear.
Columbia Men's Silver Ridge Long Sleeve Shirt is perfect for everyday wear.
Lunch in Frisco Colorado
After the hike I headed into Frisco and found a great restaurant called the Log Cabin Cafe. They serve breakfast and lunch until 2:30 pm. They have some great breakfast items on the menu and the burger I had was incredible so I recommend you stop by and enjoy breakfast outdoors under the beautiful Colorado sky.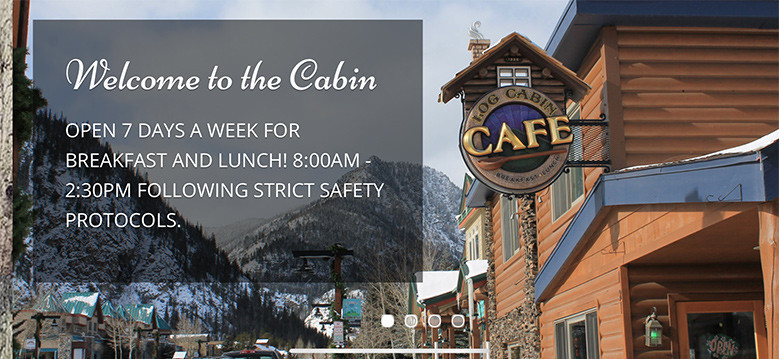 Update: I took my daughter back to the same trail and restaurant two days later. This time we had breakfast out on the sidewalk on another gorgeous day in Frisco, Colorado.
Grace ordered the Log Cabin Omelet and I ordered the Breakfast Burrito. We also shared some biscuits and gravy.
I have to admit to you that Grace really liked her  omelet and the breakfast burrito was one of the best I have eaten. We finished stuffing ourselves on the biscuit and gravy under the Colorado Rockies Sunshine. I'm not sure if there is such a thing, but it felt like it on this day.
This was one incredible morning and it's only about 1 and a half hour from Denver up I-70 to the west.
Check out this short video of the incredible Lakeshore Perimeter Trail on YouTube.
I would love to know if you have had any experience on this trail or have other trails you love to hike. Leave a Comment Below or send me an Email.
Return to Home Page
Lakeshore Perimeter Trail