Trail Information
Trail Name: Timberline Lake Trail
Location: East of Leadville, Colorado
Date: June 7, 2020
Time at the Trail Head: 7:00 am
Trail Length: 5.5 miles
Elevation Gain: 905 feet
Elev. at Trail Head: 10,036 feet
# of Hikers Passed: 46
# of Mnt. Bikers Passed: 0
# of Horses Passed: 0
Mosquitoes: 20
Trail Research
I wanted to hike the Timberline Lake Trail in late May but there was still a lot of snow in the area. The interior part of Colorado is colder and the snow stays around longer then in the Front Range of Colorado or in the southern parts of the state.
I have been looking at finding trails in other areas of Colorado that I have not hiked before and several people told me about the Leadville area, so I pulled up AllTrails and started my research.
This looked like an easier trail, at only 5.5 miles in length and a little over 900 feet in elevation gain but looks can be deceiving. The creeks were so full of fast moving water from the snow melt, that it made the hike much more difficult, but more on that later.
Drive to the Trail
We always like to get to the trail early, but on this day, we left Castle Rock around 5 am and arrived at the trailhead around 7 am. This is later than I prefer, but it did allow us to see more of the Rocky Mountains as we drove up I-70, as we are normally making this drive in the dark.
We didn't get any pictures of the drive until we stopped for breakfast in Silverthorne, Colorado, which is right next to Keystone and Breckenridge. We grabbed some breakfast and headed over to the west side of the lake to enjoy our breakfast and an incredible view.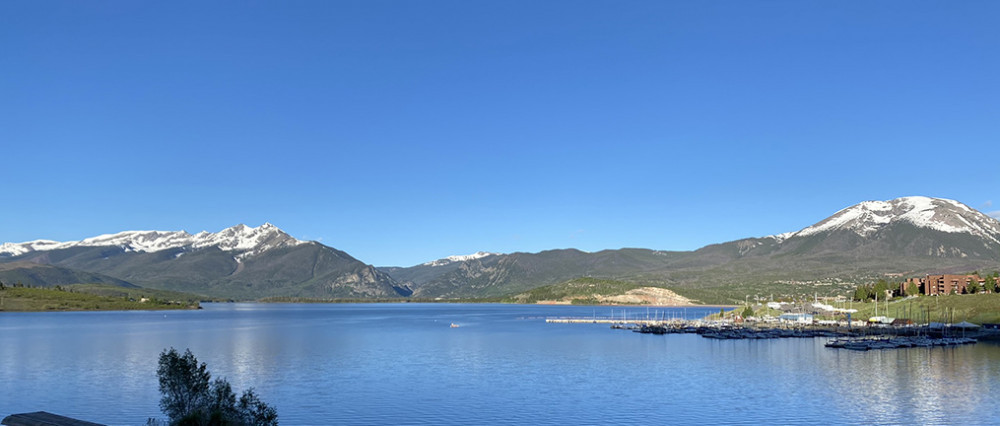 There was also a beautiful carving of an eagle with the lake and the mountains in the background.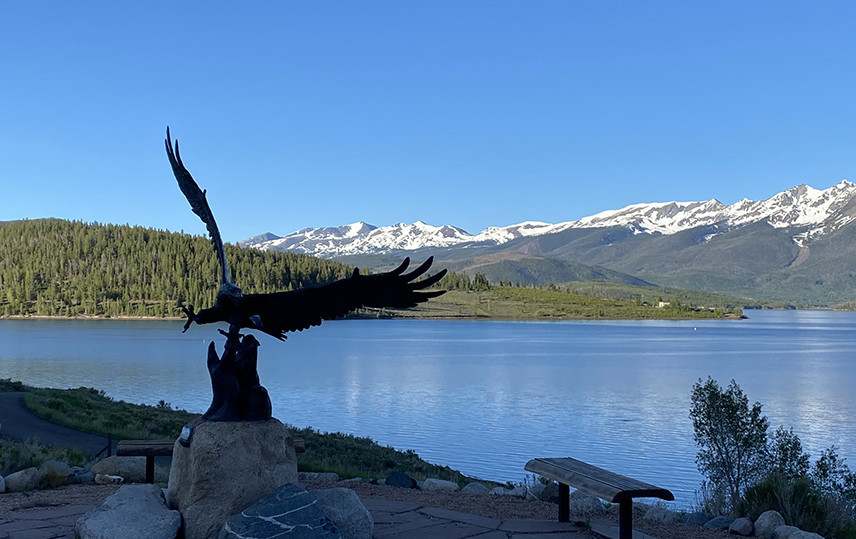 It was time to head on towards Leadville and the scenery was spectacular. Here are two photos on the drive to the trailhead.
These next two photos were on the drive after leaving the Trailhead as we headed into Leadville for lunch.
Here is a view looking south from Turquoise Lake.
Well, enough about the drive. Let's talk about the hike.
Our Day on the Trail
The trailhead was a decent size and could hold about 15 vehicles. However, there are so bathroom facilities there.
I haven't seen any mesquites in Colorado since last August or September, and I had visited this area in late May, and there wasn't one to be found, but they must have hatched since then because we were immediately greeted by several of them. We didn't notice many after leaving the trailhead, so that was a welcome surprise.
Immediately after starting our hike we came across a bridge whit a roaring creek, which should have tipped us off that this was going to be a challenging, wet hike.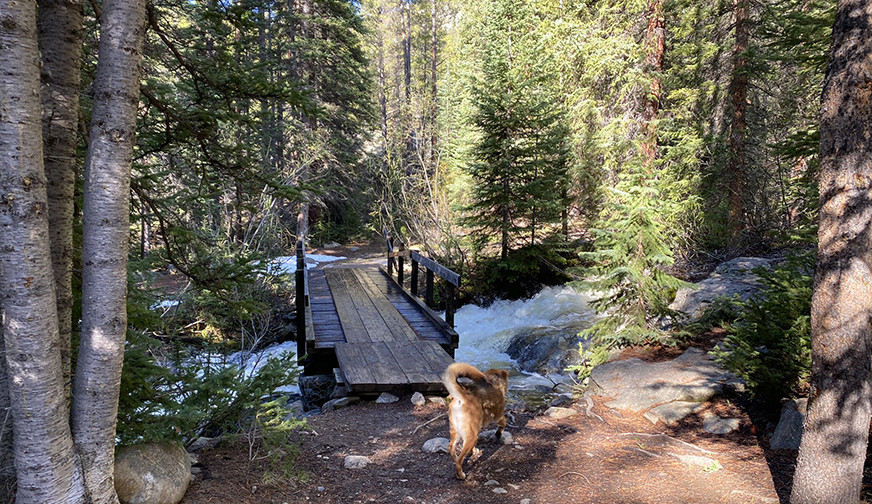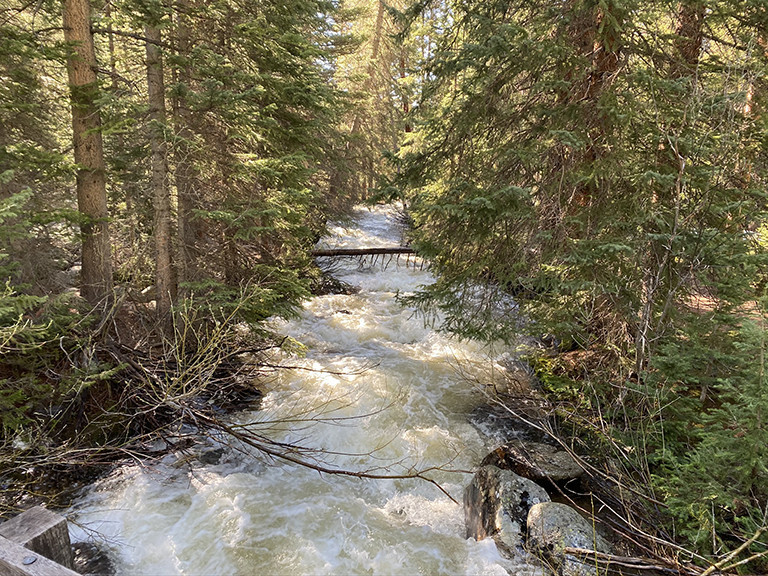 We have a lot of great hiking gear, including waterproof boots and Teva Sandals for crossing creeks and rivers, but we were about to find out just how cold snow melt is.
The weather was beautiful and the views were amazing. There was no shortage of views of the mountains and the full streams.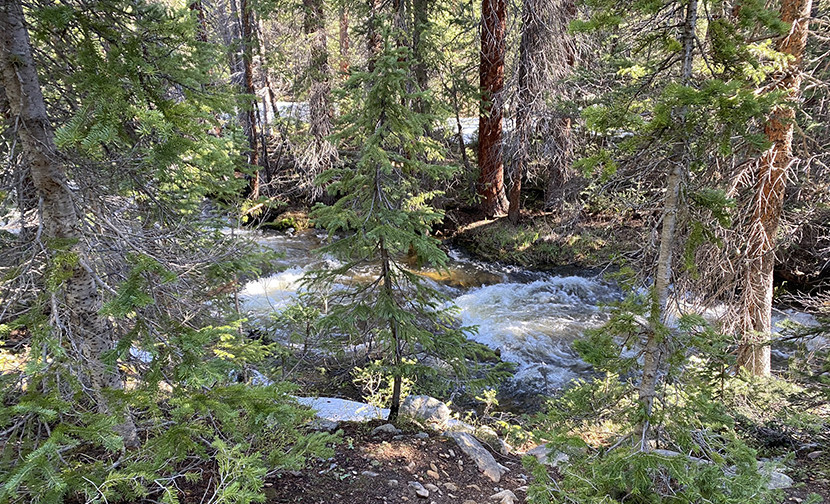 It didn't take long before we reached some open meadows, and of course, there was water running through them. It's a great hike if you have the proper gear, especially waterproof boots and sandals for stream crossings.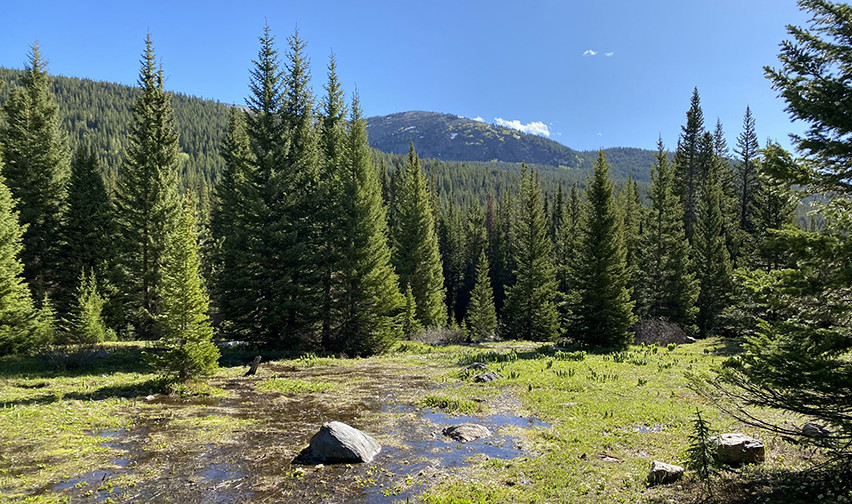 Next, we came across a creek, which was actually our trail, and the water was deep enough that it almost came up over our boots, but we were happy that our feet were still dry.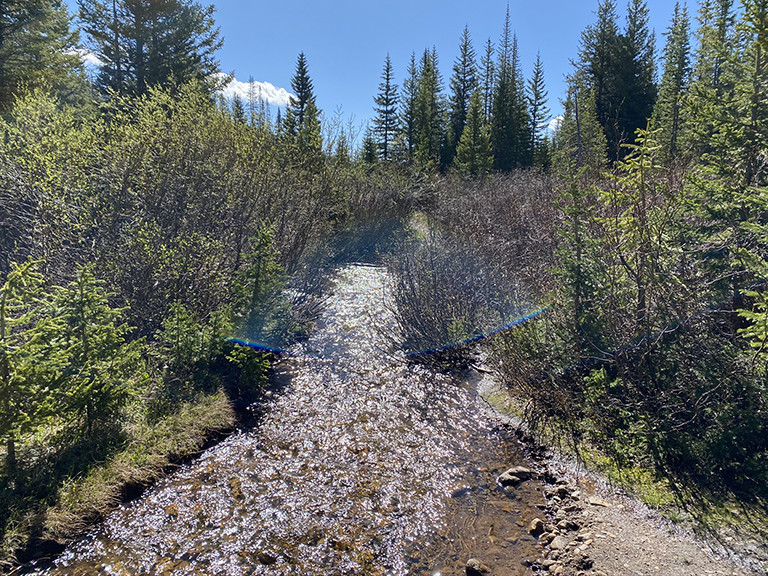 We had just crossed through this creek in the trail when we heard a low roaring ahead and we were delighted to see a small river that would over top our boots in the first step. There was even a rope crossing to keep us from being washed downstream. Actually, the water was very swift moving and Ranger almost went completely under when we were crossing this overflowing creek.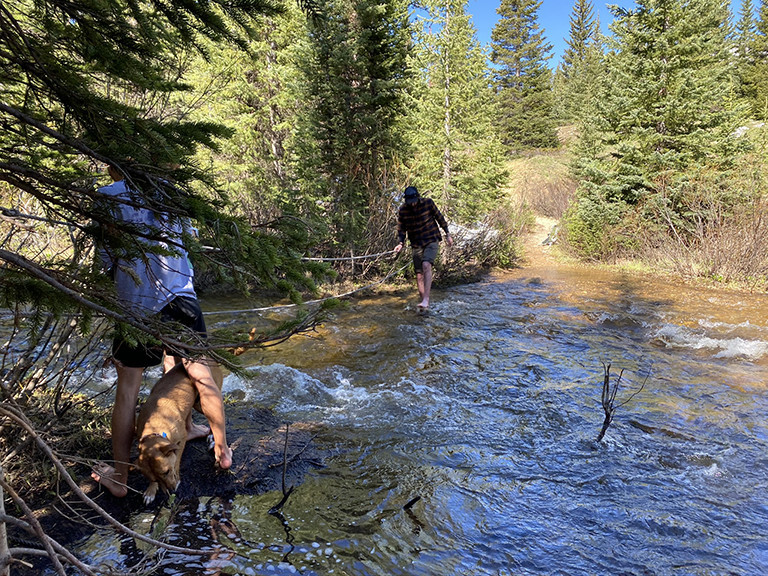 If you look closely, near the right foot of the person closest in the picture, you will see the place that I dropped 3.5 feet up to my waist. This picture doesn't do any justice to this creek and how fast the water was moving. You can get a sense of it if you watch the trail video at the bottom of this trail review.
We dried off, and warmed up our freezing feet, and headed up the trail but kept coming across water, in the creek and on the trail, however, we have great hiking boots so, mostly, it wasn't an issue and was a fantastic hike.
We were getting closer to Timberline Lake and thought we might be finished the creek crossings, but this was not to be.
We were fortunate enough to have logs to cross on, and it's much easier to cross this if you have trekking poles or at least some kind of pole to help you balance on these slippery logs.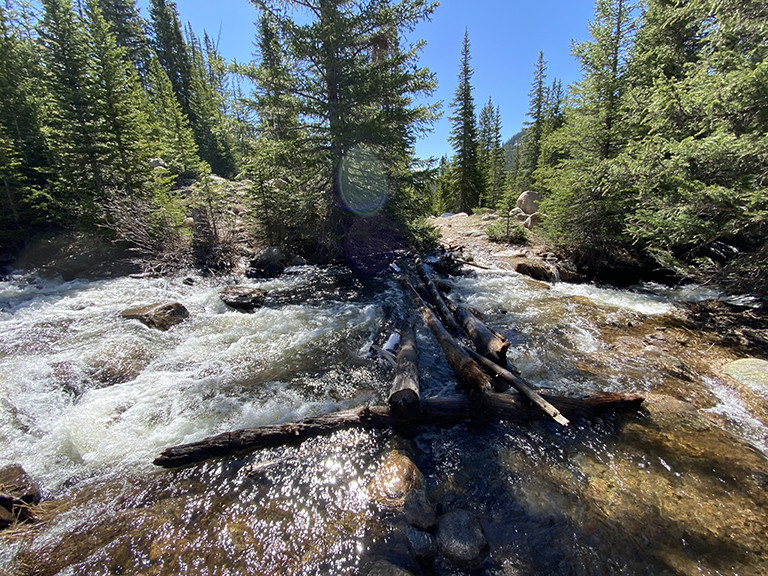 This is a photo looking upstream of the same creek crossing.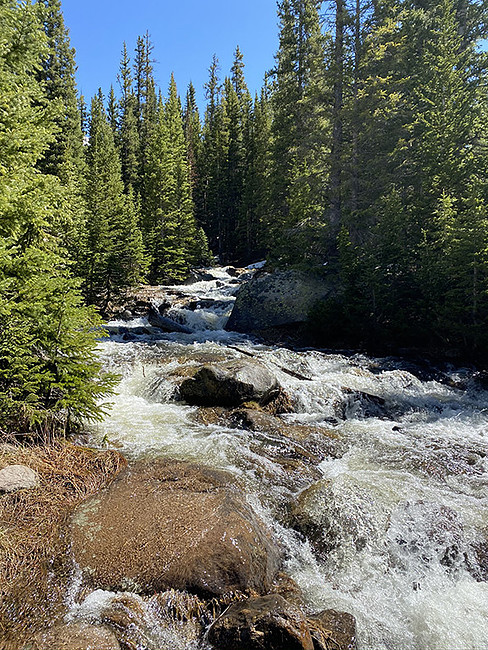 We finally made it to the gorgeous Timberline Lake. There was still snow around the lake and ice on part of it, but it only made to scenery more majestic.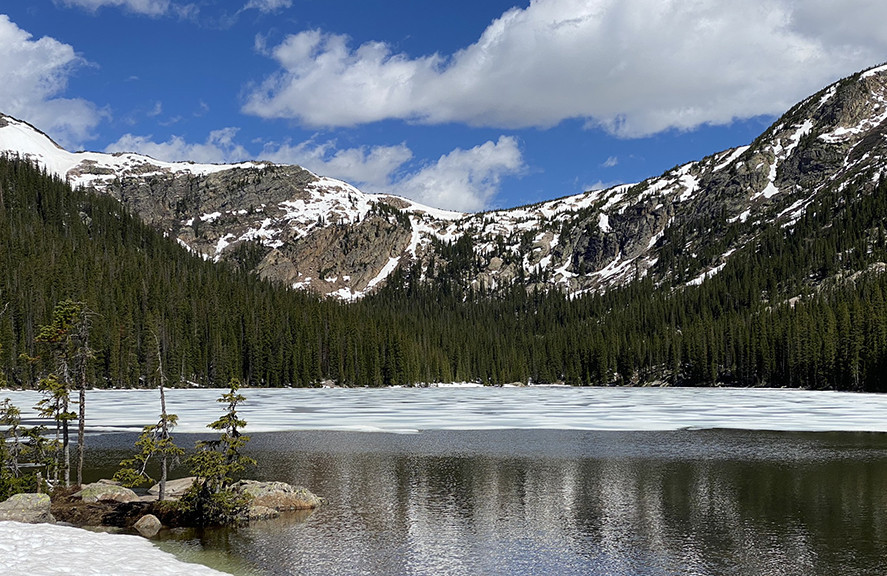 The water was so clear…and cold. I love it when you can see, fish, rocks and logs down in the water.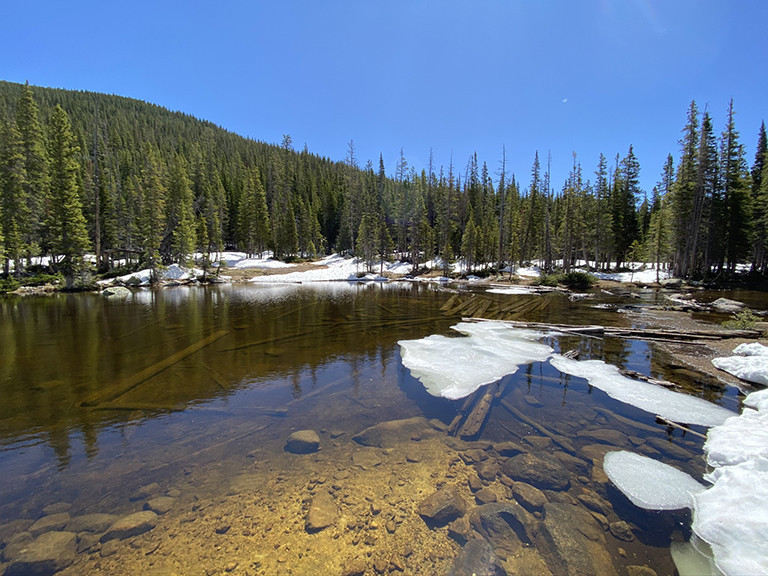 It wasn't an extremely difficult hike, but Caleb took some time to rest on the shore of Timberline Lake.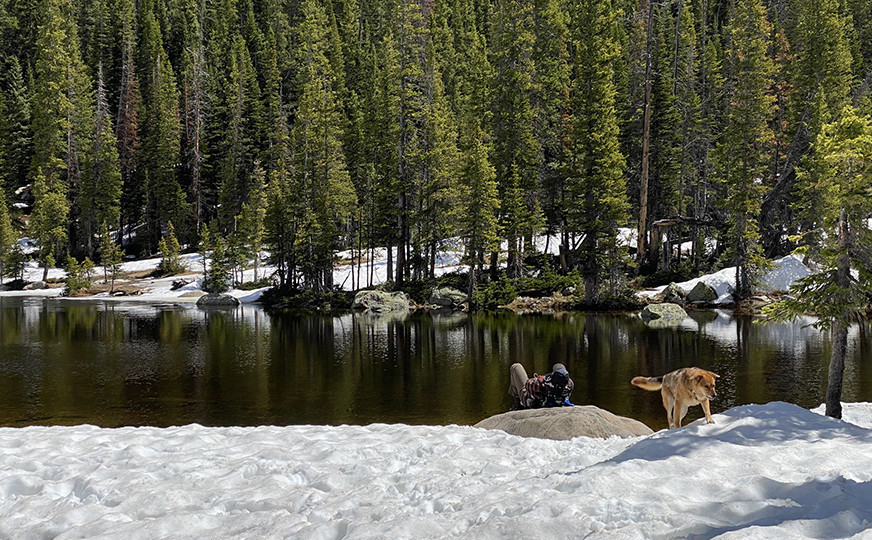 We took some time to hang out and talk up at the lake and Ranger was always on the lookout for us. It's always great having him with us.
Trail Recommendations
This trail is incredible but is best hiked from mid to late June, as there is snow around the lake in early June and the snow melt has the streams flowing extremely full.
We were told about another great hike you start at the same trailhead and it's much better in early June. It's called the Hagerman Tunnel Trail.
Lessons Learned
The snow was melting quickly from the mountains in the area and the creeks were overflowing. My son and I learned the hard way on a previous hike and now, we always take our Teva Sandals's with us hiking.
Most every other hiker on the trail had to walk barefoot through 3 feet of fast flowing, ice-cold water and it's much easier to do with sandals than bare feet.
I recommend that you use sandals with straps around the back of the heel instead of flip-flops. Flip flop will not stay on securely, especially in swift flowing water.
Teva mens Teva Men s Hurricane XLT2 Sport Sandal Black 11 Medium US, Black, US
Quick-dry webbing made from recycled plastic using traceable, verifiable REPREVE polyester yarn by Unifi supports your foot and stands up to abuse
Injection-molded strap ends for quick and easy grip and adjustability, Easy hook-and-loop closure comes on and off quickly and gets the fit just right
Robust EVA footbed for enhanced comfort built for all-day wear
Nylon shank stabilizes and supports your foot on uneven terrain
Best for: day hikes, light hikes
Lunch in Leadville Colorado
Some locals told us about a great burger place in Leadville called Wild Bill's so we decided to stop in and check it out for ourselves.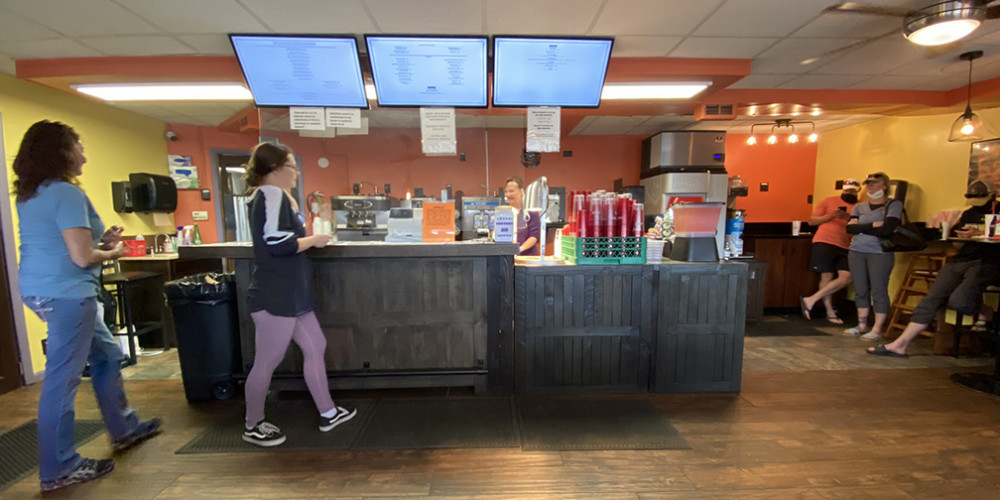 The burgers were incredible, and not just because we finished a hard hike. The fries were awesome and we even bought some chicken nuggets to share with Ranger and they also tasted great. I like coleslaw and noticed they had some so I tried it and was impressed that they knew how to make some really good slaw.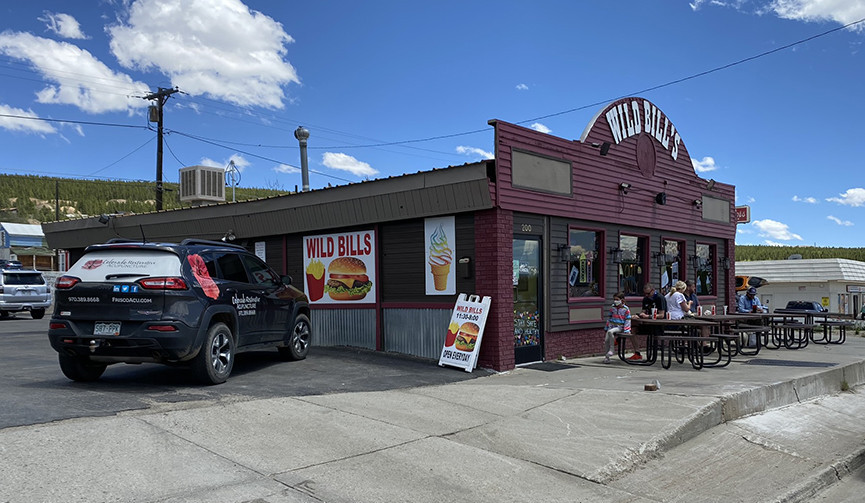 I highly recommend you stop in at Wild Bill's if you ever visit Leadville.
Check out this short video of the Timberline Lake trail in Leadville, Colorado on YouTube.
I would love to know if you have had any experience on this trail or have other trails you love to hike. Leave a Comment Below or send me an Email.
Return to Home Page