Trail Information
Trail Name: Spruce Mountain Trail
Location: Near Larkspur, Colorado
Date: December 14, 2019
Time at the Trail Head: 9:30 am
Trail Length: 5.5 miles
Elevation Gain: 600 feet
Elev. at Trail Head: 7,123 feet
# of Hikers Passed: 17
# of Mnt. Bikers Passed: 0
# of Horses Passed: 0
Mosquitoes: 0
Trail Research
Snow is in the forecast for Denver and there will be more snow in the mountains, so my desire to hike Badger Mountain, near Lake George, Colorado, has been postponed.
I looked closer to home and found what looked like a promising trail, a few miles south of Larkspur, Colorado. It's the Spruce Mountain Trail and it's 5.5 miles long and seems to have some promising reviews and pictures I found on AllTrails.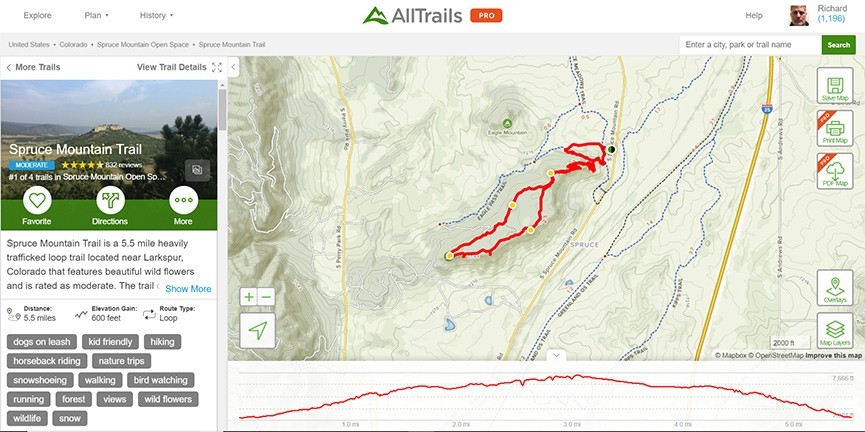 It is December 14th, and it hasn't snowed much in the Denver area for the last two weeks. The trail was still mostly ice packed but it turned out to be a great trail close to my home. I was extremely pleased with what I experienced on the trail today.
Drive to the Trail
The drive from Denver to Larkspur is a beautiful drive with the beautiful Rocky Mountains out the right window to the west. It's gorgeous seeing the mountains, pine trees and open ranch land all the way from Castle Rock to Larkspur.
There are a lot of bluffs in the area at the foot of the Rocky Mountains and it creates magnificent views along the entire drive.
The drive takes you through the small town of Larkspur and into some beautiful ranch land before arriving at the Spruce Mountain trailhead.
My Day on the Trail
The trailhead has a lot of parking spaces and has several lavish outhouses that makes you know you're actually in the mountains. At least there are facilities at the trailhead.
I still wasn't feeling optimistic about the trail and the views but that was about to change.
I thought the trail would be pretty clear of snow and ice as we haven't had snow in nearly two weeks but it is a little colder here in Colorado, so the snow likes stay put, especially in the shade of the trees and mountains.

We soon started up the trail to the top of the bluff and this is where I started to see how special the views were and we hadn't even reached the top of the bluff yet.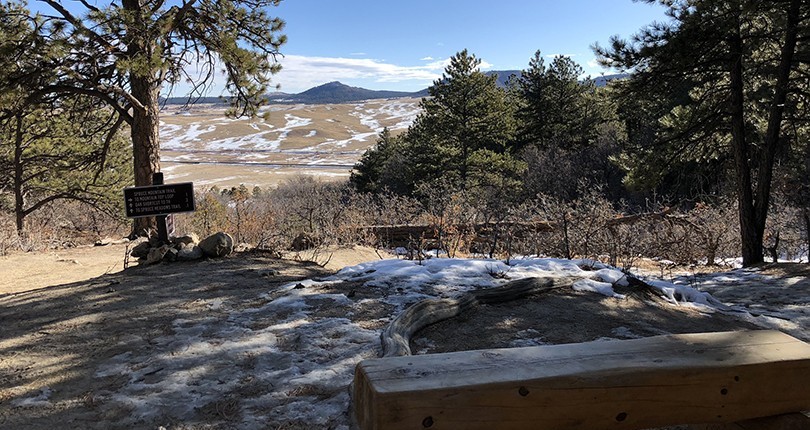 Soon we reached the top of the bluff and this is where I realized this trail was going to be a lot more beautiful then I imagined. It wasn't only the cool rock formations and the views but the hike through the pine trees that made this a great hike.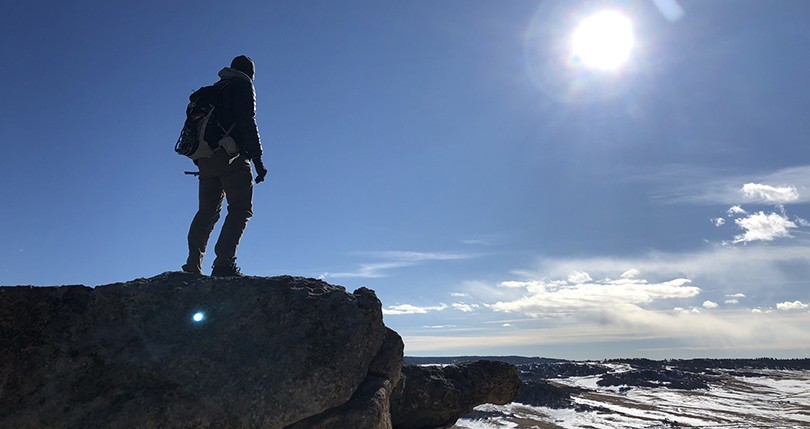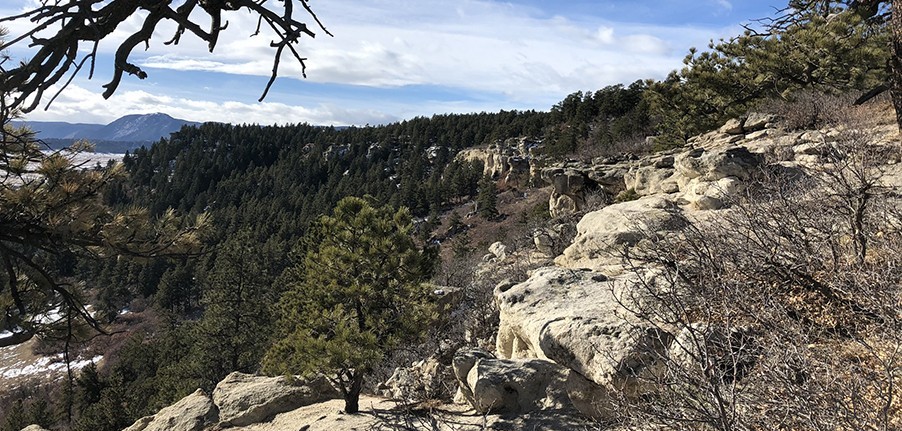 Honestly, the rock formations and beautiful pine trees made this hike truly incredible.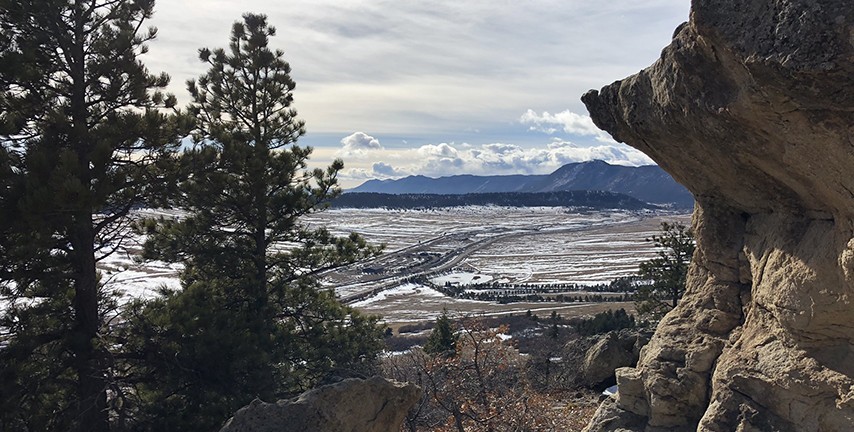 We finally reached the end of the loop on the Spruce Mountain Trail and it was great to see so many places to walk out to the edge of the bluff, on the rocks, to be able to sit in peace and enjoy some spectacular views.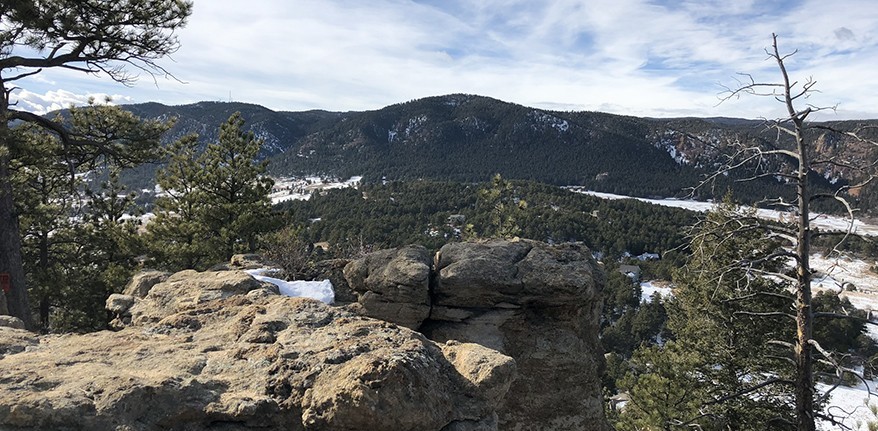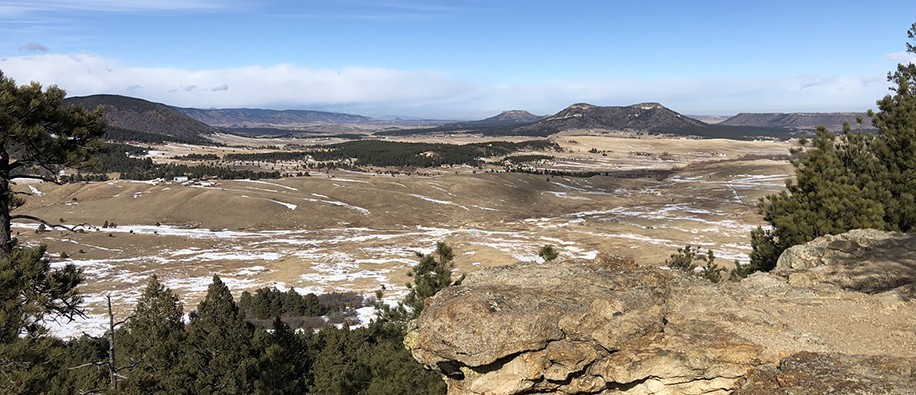 I took a break from writing this trail review and watched a Christmas movie and then went to sleep, knowing this article could wait until the next morning, but I woke up wondering why I liked this trail so much. It doesn't have the most incredible mountain views here in the Rockies. It doesn't have a gorgeous lake or river near it. It isn't located near one of those beautiful Rocky Mountain towns you hear so much about.
So why did I enjoy this trail so much and think that it may be my favorite trail in the front range of the Rockies?
The trail has a lot of gorgeous pine trees without being so many that you can't see the scenery around you.
There is a soft bed of pine needles along much of the trail.
There are potentially hundreds of rock outcroppings you can walk out to and enjoy the surrounding beauty of Colorado.
The Panoramic views, in each direction, were more beautifl then I imagined, especially with all the rocks and pine trees nearby.
All along the trail there are areas you can walk out to and get away from other hikers and sit and relax or just contemplate life.
I think it was all of these things combined that made me realize that this is a special place to come back to often, especially when you consider how convenient it is to drive to.
Take a look at this picture below. It's part of a panoramic picture looking to the north towards Perry Park, Colorado. The distant mountains are not the most spectacular but when you take into account the open ranch land, the mountains, rocks in the foreground, the pine trees and the snow, it is a breathtaking picture, at least it is to me.
These next few photos are several hundred yards down the trail to the east. This photo is looking nearly directly north and is in another one of those easy to reach, private areas to relax and get away from everything.
I had to leave this photo untouched or cropped because it took in the entire view of what I love about this trail. It's not just the views but the rocks and trees all around you as you gaze out over the distant open areas and Rocky Mountains.
The picture below is another beautiful spot as we were descending back to the trailhead. My son kept looking back and had that look in his eye, like "really, another picture? Aren't they all the same thing." Well, to me they're all different and magnificent.
Trail Recommendations
After arriving back at the truck, we took a scenic route home up Colorado State Highway 105 thru parts of Larkspur and Perry Park. This drive is truly beautiful and relaxing and the views are incredible here.
I told my wife all about this incredible trail that was within 20 miles of where we live and how much she would enjoy it, especially in the summer months when there was no ice or snow on the trail that she may slip on. Make sure to take ICETrekkers with you in the winter months.
ICETrekkers Diamond Grip Traction Cleats (1 Pair), Medium (Men's 6.5-9/Women's 7.5-10)
Shoe grips designed to provide aggressive traction in winter walking conditions
Made of case-hardened steel alloy and strung on steel aircraft cable
Riveted to tough rubber sling that fits tennis shoes, boots and dress shoes
Sling remains elastic even in subzero temperatures to keep grips secure
Self-clearing design prevents snow and ice buildup
This trail is one I will be taking my family and friends to when they come to visit and will revisit it myself when I need a quick getaway and a place to think about life and the future.
This picture above sums up this trail for me. It has a gorgeous view, pine needles on the ground everywhere, rock outcropping, pine trees, and even a great log to sit on.
You can watch a short video of the Spruce Mountain Trail on YouTube.
I would love to hear your Comments on this trail or others like it that you also love. Feel free to also send me an Email.
Return to Home Page